Foghorn Alert #1: The message of Luke 2:13-23 on racial reconciliation, "the fairly dark skinned" Mary and baby Jesus, and not pledging allegiance to the American flag
Denomination and location: ECO-A Covenant Order of Evangelical Presbyterians, Houston, Texas
One poor sermon does not adequately depict one's ability to teach or expound the text; this is one of several messages I've heard from this speaker. While I do appreciate what appears to be his genuine willingness to serve, it may prove beneficial for the church to identify where he can best serve outside of the pulpit.
The Luke 2 text read by congregants describes King Herod's order to kill male boys under age two. An Angel of the Lord told Joseph to take Mary and baby Jesus and flee to Egypt for safety.
We next watched a video about a racial reconciliation conference and were encouraged to attend it.
When listening to the message it became clear that instead of hearing why God wanted baby Jesus to be saved or something about angels related to the series entitled, the "Angels of Advent," we heard what Spurgeon describes as mist in the pulpit.
One of the most notable misstatements made emphasized skin color and race. The speaker said, "In order to escape to Egypt, Joseph, Mary and Jesus would have needed to be able to blend in with the Egyptians, which means its very likely that they had fairly dark skin. … They are brown, not white."
He then showed an image of a black woman and child that he received from the City of Refuge Church's Christmas newsletter, and said, "and I love it!" The image was created by Anthony VanArsdale for the National Black Catholic Congress (NBCC), a congress that segregates itself by skin color, which appears to represent the opposite of "racial reconciliation" and the message of the gospel which knows no racial, ethnic or geographic bounds.
The image accompanies NBCC's website post for Jan. 1 called, "Octave of Christmas ​and Solemnity of Mary, Mother of God (Holy Day of Obligation)." Accompanying the image is the Catechism of the Catholic Church 721: "Mary, the all-holy ever-virgin Mother of God, is the masterwork of the mission of the Son and the Spirit in the fullness of time. For the first time in the plan of salvation and because his Spirit had prepared her, the Father found the dwelling place where his Son and his Spirit could dwell among men. In this sense the Church's Tradition has often read the most beautiful texts on wisdom in relation to Mary. Mary is acclaimed and represented in the liturgy as the 'Seat of Wisdom.'"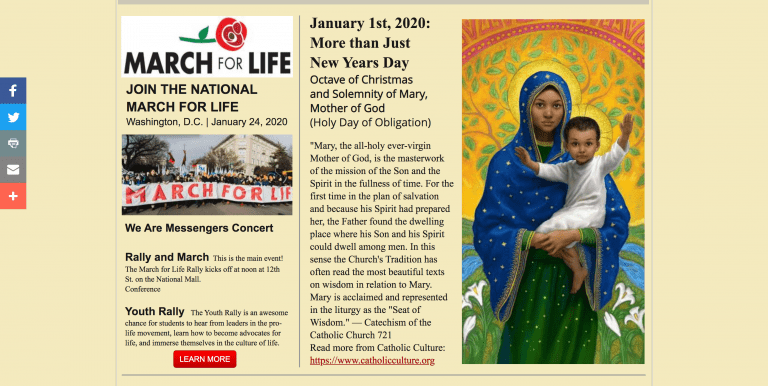 It is hard to believe that a church that is evangelical protestant and Presbyterian in name would use a Roman Catholic icon to illustrate the Luke 2 text. One need only read The Westminster Shorter Catechism (Question 22) to learn why exalting Mary "is utterly false, and against the honor of God."
Furthermore, it appears that the speaker does not understand racial biological classification. Joseph, Mary and Jesus were not brown or black African, as depicted by the icon. Yet he stated as fact that they were "brown not white."
In general, Middle Eastern people have olive skin tones, as do their surrounding neighbors, including many Egyptians living on the northeastern coast of Africa. If Mary and Joseph "were very dark skinned," similar to the picture of the black Mary and Jesus depicted by NBCC, they most probably would have stood out in Egypt (and Israel). More importantly, none of this has anything to do with the text of Luke 2.
He then segued into saying that there "were probably more than three wise men." (The Bible doesn't mention there were three wise men, only that the wise men presented three gifts (gold, frankincense and myrrh).)
In the context of wise men worshipping Jesus, he said, "I don't pledge allegiance to the flag of the United States. I pledge allegiance to Jesus Christ!" The presupposition is that one cannot possibly do both, when in fact we can and do.
One has to wonder what would cause anyone to think that saying the Pledge of Allegiance equates to not following Jesus or that following Jesus means one cannot say this pledge.
The Bible does not prohibit anyone from taking an oath to a country, to give testimony in court, to join a military service, or to serve in a professional vocation. All are common practices in the U.S. The Pledge of Allegiance does not require anyone to take it, nor does it require anyone to deny his or her beliefs to do so.
It also appears that the speaker ignored the teachings of Paul in Romans 13 about civil government, and is unfamiliar with the Presbyterian doctrine explaining the scripture on lawful oaths and vows and the role of the civil magistrate. Wouldn't it have been more useful for him to refer to the teachings of The Westminster Confession of Faith sections XXII, XXXIII, and XXXI on the matter, instead of searching online to find the answer, as he said he did?
Ironically, by inserting the issue of race and skin color into the text, he ignored the actual racial violence that occurred just hours before he gave the message.
Less than 24 hours before the service, a black man used a machete to brutally attack Rabbi Chaim Rottenberg in New York. Prior to that a four-hour police shoot out occurred in Jersey City, New Jersey, after two black gunmen killed six Jews while attacking a Kosher market. Prior to that, a Jewish student at Barnard was brutally murdered by a black man. Prior to that, a black woman attacked three Orthodox Jewish women in Brooklyn, New York.
All made national news. All attacks were unprovoked. All of the victims were unarmed. And they were just a few only occurring in New York and New Jersey.
Yet I have not heard one black evangelical leader who has publicly spoken out against continued Jew-hatred in the U.S. I did not hear a single black congregant or leader at this church mentioned the attack of Jews by blacks, or ask to pray about the fact that Jews are the No.1 victims of religiously-motivated hate crimes in the U.S.
The worst part about the message is what was left out: why baby Jesus was saved. The preservation of his life was to fulfill God's redemptive plan: Jesus had to live a life of perfect obedience to God in order to atone for our sins.
In Matthew 1:21 the angel told Joseph, "Do not be afraid to take Mary home as your wife, because what is conceived in her is from the Holy Spirit. She will give birth to a son and you are to give him Jesus because, he will save his people from their sins." (Emphasis added.)
Whenever we hear someone in authority from a church who doesn't actually teach what the Bible says, and says something that isn't in the Bible, or appears to promote a "racial" agenda, we must remember Spurgeon's analogy, "If there is mist in the pulpit there is a fog in the pew."
This foghorn alert seeks do that by encouraging us to remember what the purpose of preaching is—and—is not, and to encourage us to avoid sitting in fog.