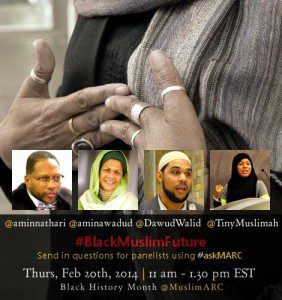 I was asked to share my thoughts for a Huffington Post Religion piece that came out this week, on the diverse spiritualities of African Americans. It's an engaging piece and I was honored to share my thoughts for it. I identify as black, African and American, so I don't feel completely out of place sharing my perspectives. However. While America's diverse black Muslim voices are equally authentic and immigrant-origin black Muslims share experiences of racism and prejudice with our African American sisters and brothers, our histories, cultures and overall experiences are divergent. Thus, I believe that there should have been an African American Muslim voice included in this series. And in fact, I did suggest to them to interview fabulady and Muslim ARC co-founder, Philadelphia academic, Margari Hill. On my Facebook wall , I apologized because it might appear that this was yet another example of an immigrant-origin Muslim talking about Islam – especially egregious because of the topic is literally about African American experiences!
The other part of the problem is illuminated in some of the comments. Islam is still seen as a foreign religion to America. That all Muslims are of immigrant-origin or are recent converts. This is obviously not the case, since Islam has been present in the US since the beginning of the West African slave trade and many Muslim practices even survived the brutality of the Middle Passage and centuries of slavery. As Imam Abdullah Antepli writes in a recent article, "the Muslim black American experience is an authentic and truly homegrown reality and an essential part of black history in this country." In fact, the nationally renowned Atlanta Masjid of Al-Islam's congregation boasts 7 generations of Muslims!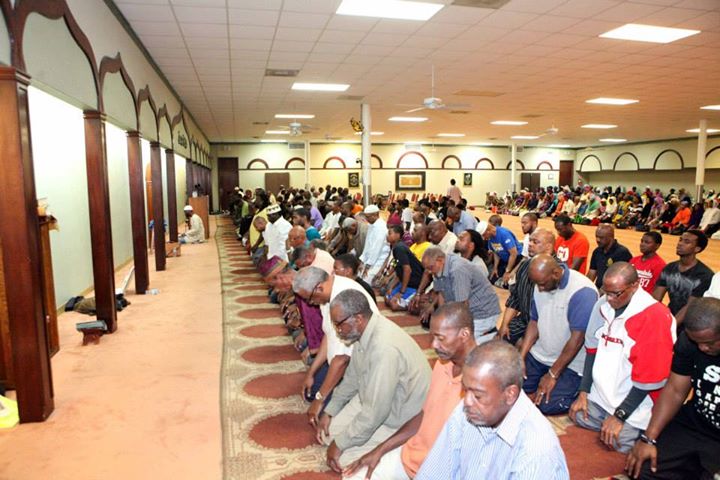 If it sounds like I'm ungrateful for being featured on a national website, please know that I'm not. I genuinely believe that my experiences are authentically black, African and American. And since I always say that the 3 biggest challenges facing American Muslims are misogyny, racism & sectarianism, I'm glad I had a platform to share some of my ideas, especially since I believe they reached out to me due to my work with Muslim ARC. The journalist actually asked me more questions than appeared in the article, so I'll take the liberty and share them in full here:
I was born into a family of devout, practicing Muslims. My parents immigrated to the US from Sudan in the late 70s. My family in Sudan has been Muslim for generations (Islam first came to Sudan in 650 AD) and after my parents came to the US, they wanted their daughters to be connected to Muslim communities here. As children, we were surrounded by a diverse group of Muslims – mainly Arabs; African Americans recently out of the Nation of Islam movement; South Asians; Turks; and a smattering of Caucasian Americans. We developed close relationships with other families through the mosque and my sister and I attended an Islamic high school.

I consider myself to be an observant, practicing Muslim today and have now found a spiritual community in Chicago that is multi-racial and multi-generational – both of which are important to me. But in my estimation, racism, misogyny and sectarianism are the three biggest challenges facing American Muslims today. So, I've been working with various individuals, institutions and groups across the country to address these challenges, using different platforms, including social media, community workshops and research studies.

However, there are conflicts sometimes: historically, African American Muslims vote Democrat, live in urban areas and are plugged into grassroots community activism. Many African American Muslims find Islam to be a spiritual liberation from the racial oppression that has historically described America's relationship with her black citizens. On the other hand, many immigrant-origin Muslims tend to vote Republican (well, they did in large numbers pre-9/11; the PATRIOT Act and subsequent tightening of our civil liberties and the wars abroad, and Guantanamo, etc, have reduced the GOP's appeal massively), live in the suburbs and are busy building community centers that cater to the specific needs of their own cultural base. They didn't necessarily view religion as a counter to America's historically race-based oppression – though that is changing, as American-born Muslims of immigrant backgrounds are connecting post-9/11 experiences of Islamophobia to experiences of racial oppression suffered by African Americans, Latinos, and others.

American Muslims are the most racially diverse religious group in the US and the most ethnically, racially and religiously diverse Muslim community on the planet. And we are still figuring out what it means to be American and Muslim in a post-9/11 world. Building community relationships with each other across racial (and sectarian) lines is still a struggle. I've been working with mosques and other Muslim institutions to reimagine how we can build more inclusive communities, especially as it relates to racial diversity and convert care.

Though African Americans account for roughly 1/3rd of the Muslim community, their voices are typically never heard on national platforms. African Americans are not viewed as normative American Muslims – not by the media, not by many in the interfaith world and not by many immigrant-origin Muslims. Yet, all American Muslims are proud of the legacy of African American Muslim luminaries such as Malcolm X, Muhammad Ali and Kareem Abdul-Jabbar, to mention a few. Many American Muslims – of all backgrounds – are aware of the deep legacy of African American Islam, which began from slavery times. Up to a quarter of the stolen, enslaved Africans who survived the Middle Passage practiced Islam. Many Muslims are aware of this historical legacy, as well as the cultural and political importance of contemporary African American Islam.

I have always lived at the intersection of being black (though not African American) and the child of Muslim immigrants from Africa. It's a peculiar space to occupy – to identify fully as black, African and American – but not African American. I came to realize that there are some huge gulfs that need to be bridged and that challenging internal racism – especially anti-black racism – is critical if Muslims are to remain true to the teachings of our faith and become successful as a community in the US. We need to be able to talk honestly about the challenges plaguing our community. So, the organizers of Muslim ARC decided to launch a series of hashtag conversations during Black History Month, using Twitter as a platform, to begin to address what it means to be black and Muslim.

Reading the comments and participating in the conversation, I was overwhelmed by the reactions to the hashtag. The sheer number of responses – and the fact that the hashtag conversation is continuing, over 24 hours after we launched it – underscores the critical nature of this conversation. #BeingBlackAndMuslim also shows how valuable  "Black Twitter" is; social media is often an excellent place for marginalized voices to be heard – and Black Muslim Twitter is as fervent and vocal as our other Black sisters and brothers.
So that's that! Please join Muslim Arc this week as we hold a Twitter talk, using the hashtag #BlackMuslimFuture, with experts of African American Islam on Feb. 20 between 10 AM – 12:30 PM CST and encourage your imams and khateebs to participate in our Khutbah Campaign with a sermon Friday, Feb. 21, on challenging anti-black racism with our communities. Let's keep the conversation going!