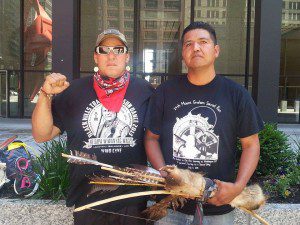 This is Day 27 of Hindtrospectives' #MyMosqueMyStory series for Ramadan 2015
By Ashley Wolford
Every year since I said shahada at IMAN's Community Cafe five years ago, I have had anxiety about the month of Ramadan. Since 2009, the Holy Month has landed smack dab in the middle of the summer, including the Solstice. Just thinking about fasting on the longest day of the year while attempting to stay cool in Chicago's weather stressed me out.  I made a lot of duaa and Allah really had my back this year, in more ways than one. It was an unusually cool June receiving a lot of rain; making the long days of fasting a little bit easier.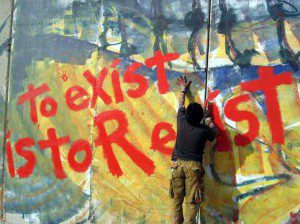 I often find it difficult to really connect spiritually during Ramadan.  Not being knowledgeable in Arabic, my mind drifts, thinking about sneaker apps to download based on Twitter suggestions.
At first, fasting just left me feeling hecka thirsty, hungry, and gave me a sense of being disconnected from Allah. I soon realized that fasting all day and praying all night weren't isolated. Allah is giving me what I really need. I started to feel a sense of spirituality through activism after playing a small role in helping with a fundraiser iftaar for "Existence is Resistance."
I experienced a little bit of a Ramadan miracle. The owner of Al- Hambra Palace donated all proceeds from the evening to the family of Nadeem Nawara, who was murdered by Israeli forces in May 2014. The 17 year old boy was martyred by an IDF sniper while protesting on Al-Nakba Day. I felt a small sense of accomplishment as well as a community knowing that Muslims came together to support a father who wants to bring justice to his son by holding this soldier accountable in Israeli courts.
There really is a lot of baraka in time during Ramadan.
I shot two documentaries in two weeks. One documentary follows my journey during the month as an Indigenous, Choctaw Muslim living in America. The documentary will screen in Saudi Arabia in about six weeks.
The second documentary "Foster Care The Film" has been following me since 2013 and  has allowed me to tell my story of life after growing up in the foster care system and being a ward of the state from the age of 7 to 21.  While shooting scenes for the Ramadan documentary, I visited the Mitchell Museum of the American Indian. I had an emotional breakdown after a White curator made a statement during the tour of Native American couture fashion that I have no connection to my Choctaw culture.
When after the brief tour ended and the curator left; a flood of tears came pouring out of my eyes as the Canadian journalist shot the scene.
How dare this woman tell me that I am less Indigenous or not Choctaw "Enough?"
Since shooting the film last week I've been on a mission to prove this White curator wrong.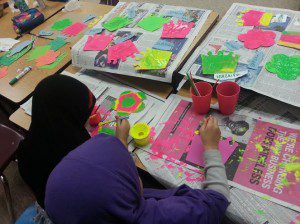 Some more of my duaas were answered; a connection to my culture that I have been craving for so long. The craving has been satisfied recently after I met with a small group of Native women to teach me traditional beading. During the meeting I felt at home. These Native aunties really got me.  When I proclaimed "Dear Lord, There has to be a single Native Guy out there that isn't my cousin,"  the three women laughed so hard they nearly fell out of their chairs. These Indigenous aunties also explained  that the beadwork should have good medicine. If I experience any negative feelings I need to put my project away and continue when in a better state. This mindfulness, this connection, these aunties were all exactly what I have been looking for.  Another Indigenous Ramadan miracle occurred; more duaas answered.
A caravan of Apaches stopped in Chicago on their way to Washington D. C. and I went to the American Indian Center to hear them speak.  The Apache hailing from their ancestral homeland of Oak Flat Arizona want to stop an Australian  transnational mining corporation from destroying sacred land.  Resolution Copper plans to extract a 7,000 year old archaeological site.  Hundreds of acres of land will be given to corporations. This is modern day colonialism.
I hope to continue getting closer to Allah through my political, social, and environmental activism and by working on Indigenous issues. I am unmosqued.  My mosque is the American Indian Center and the Arab American Action Network. My imams are Rami Nashashibi and Rasmea Odeh.
Ramadan unveils our true selves and who are we to cover our realizations once they are unveiled? I hope that even after Ramadan is over I continue to learn about my true self; a powerful, strong Choctaw, Muslim woman.
Ashley is a 29 year old activist, arts and culture guru, preschool teacher's assistant, and nanny.  She spends her free time volunteering at the Inner city Muslim Action Network and plans to attend American Islamic College in the fall to pursue a degree in Islamic Studies. She loves Algerian crepes, world music shows, and hates pretentious Mipsters and Muppies. Follow her on Twitter and Instagram.