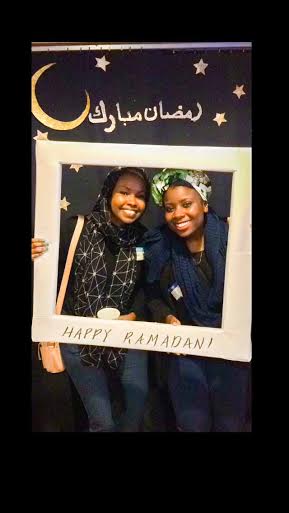 This is Day 19 of Hindtrospectives' #MyMosqueMyStory series for Ramadan 2015
By Ikhlas Saleem
When I moved to Chicago a year and a half ago, I wrote about what I thought the Muslim community would be like. My idea of Chicago was largely framed by my family's regular attendance of the Annual Muslim Convention hosted by the community of Imam Warith Deen (WD) Muhammad every Labor Day weekend. Because of the history of these conferences, I imagined Chicago's Muslim population, particularly African-American Muslims as parallel to Atlanta—with visible Muslim leadership, active civic engagement and a navigable social landscape.
But I did not encounter these things. I spent most of last Ramadan trying to find them and failing. After praying behind a partition for a couple of nights of tarawih, I remembered that I didn't have to. The first time I was angry, the second time it was distracting (especially when the partition was being pushed back during tarawih to make more space for the brothers) and by the third night I decided it wasn't worth it, so I didn't go back.
I went in search of "third-spaces" (masjid alternatives) and found them, a lot of them. They were easy and welcoming, though I did have to work hard to get into them—attending every iftar, staying late, keeping it witty, cool and stylish. I learned a lot from these spaces. I revived my love for the Prophet every Thursday while strengthening budding friendships; Fridays involved bypassing the masjid for jumah at University of Chicago; and on Sundays I continue to gather in homes to debrief the latest happenings in the lives of Black Muslim women.
However, every time I thought these spaces were enough, they weren't. Trips home to Atlanta reminded me what masjid community life has the potential to be. Partition free, mix-gendered, intergenerational, with democratic leadership and participation.
Most recently, I've found community on the south side of Chicago. On at rare Friday I had off work, I traveled down to the South Shore for Jumah. My friend and I were the only young (20-30s) people in attendance. Immediately after praying sunnahs an older sister tapped me on the back and smiled at me. My first reaction was confusion—like, "Do I know her?" And then I remembered that people can be normal. They can be welcoming in the masjid. We were introduced to everyone, exchanged phone numbers and given a social calendar. One sister even offered me her matchmaking services, in the best of ways.
This Ramadan, I've been reflecting on what are we, better yet who are we losing when these spaces become mutually exclusive? I do find comfort in my young adult Muslim life but I do miss the advice and wisdom (most times unwarranted) of those who have come before us, the business and joy of those younger and the challenges that are bound to happen when we're thrown in a space together.
Ikhlas Saleem resides in Chicago and blogs at Haya wa Iman: a thought and cultural share. You can find her on Twitter @i_saleem.