This is Day 20 of Hindtrospectives' #MyMosqueMyStory series for Ramadan 2015
By Nadia Bousmina
I write this piece with a broken heart that has been missing Taraweeh and Tahajud prayers in mosques for two years now and classify this condition as 'mosque-sickness'. In Ramadan 2014, my husband and I were blessed with the birth of our first child. As much as I want my children to have a strong relationship with mosques from a young age, I do not believe in spoiling everyone's time as a result. It was only fair to give up the prayer in the mosque for now.
Up until last year, I do not recall missing Taraweeh in a mosque whether I was single or married. My family has always maintained the Sunnah (tradition) of praying Taraweeh in a mosque and everyone is encouraged to take part. In Algeria where I grew up, Taraweeh prayers for ladies used to be in mosques' yards. Spirituality, peace and content were at their upmost. Yards were spacious and open to the beautiful moon and stars. No complaints about space, no rush to find the best spot, except if you want to be in the first row; and no need for air-conditioners!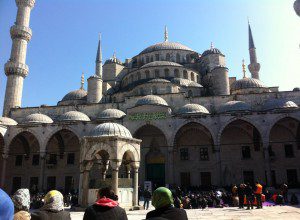 Overtime, this image changed gradually and yards were replaced with small closed rooms which get hot and stuffy very quickly. They tend to be used as the mosque's store room and kids' play ground. With one entrance and exit, back rows are likely to be busier as no one wants to be waiting for hours to leave the mosque when the prayer finishes.
When I moved to the UK, I continued the blessed tradition of attending Taraweeh and Tahajud. In Sheffield where I arrived as a student, I always remember my first Ramadan to The Message Islamic Information Centre. Like many other mosques, finding the right spot was a big deal at the beginning. In the front row, the air-conditioner was in my face which I didn't stand due to health issues. In the middle row, there was no oxygen and heat level was soaring by the minute. In the last row, I was pretty much playing with kids rather than praying as I did not hear a word the Imam was saying. To avoid all this, I had to come early to the mosque to choose the best place for prayer.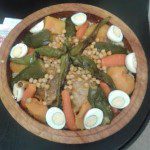 As we reached the last ten days of Ramadan and during Taraweeh, the imam announced the time for Tahajud prayer for the following early morning. I decided to attend it and as my house was far, I took my suhur (food) with me. After we prayed in peace with plenty of space and no kids or load chats, all the ladies took their suhur out and put it in the middle of the room to share it with each other. As a food lover, that was like heaven for me. What a sweet surprise! I had foods that I never thought I would eat at that time of the night! There were dishes ranging from ful medamis, taboula, kufta, yamani and Somali breads to Syrian coffee and much more. There was a sense of togetherness and care that I did not feel before. It was certainly the moment I realised there is more to a mosque than just praying.
Nadia Bousmina. Daughter, wife and mother; lifelong learner and traveler. Find me on Facebook.