This is Day 25 of Hindtrospectives' #MyMosqueMyStory series for Ramadan 2015
by Naazish YarKhan
If you had asked me five years ago, if building yet another masjid was a good idea, I'd have hesitated. Chicago's western suburbs have their fair share, mashallah! I would have said it was more important to maintain the existing ones; that donors burn out. Help society's most vulnerable instead, I'd urge. These are important considerations but if you ask me today whether it's a good idea to have a beautiful, welcoming masjid that offers great scholarship near-by, I'll sign on the dotted line. Today, I wonder how we could be so blessed. So fortunate to live within five minutes of three bustling mosques, two of which have nestled in as "our masjids".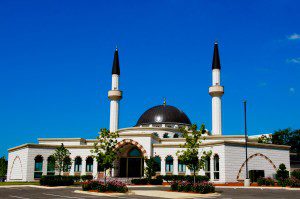 Their clean, well-lit, beautiful spaces, the welcoming aura, the consistent quality of their Islamic scholarship, the short distance from our home.  Islamic Center of Wheaton (ICW) and DarusSalam in Lombard have hit the sweet spot, pulling on our heartstrings, widening our horizons, opening our minds, drawing us closer to Islam and a sense of community. These aren't small masjids. Still, they lack the disconnected feeling that pervades some larger ones. The spaces for women, and small children, aren't an after-thought and absent is the tiny, ugly (literally and figuratively) back-door women's entrance. Both masjids are also shiny and new.
Masjids, for us, were for Sunday school and Jumah. Now come snow or rain, the sense of God-consciousness we've experienced between these walls, beckons our family often, and in Ramadan, for multiple prayers each day. There is the convenience of being able to cut short a grocery trip, when I spot cars pooling into ICW, from across the street. Sheikh Al Dardasawi's welcoming hand on my son's shoulder. Mufti Azeemuddin's Khutbahs, in English, addressing contemporary issues in the light of Islam, truly showing the way. (The sisters who ask you to tuck a single strand off your face and into your hijab… there is no escaping them. They are but my test as to how courteously I can respond.) This sense of inclusion is but a reverberation of "It's your masjid," a chant the leadership is humming. Its beat fosters the considerate interactions even between attendees.
If you look for the Islamic Center of Wheaton (ICW) you'll find a church, and most importantly, a huge parking lot! "I heard they have a pool table," my son gushed when the masjid first opened its doors. ( Yes, it does – left-overs from the building's former owners.) We also heard it was spacious inside and run extremely well-organizedly. I was sold, but a visit to the masjid had me hooked. Congregants acknowledged us newbies with a smiling 'Salamalaikum'! The friendly welcome hasn't wavered since. Through ICW's doors, a multi-racial spectrum of Muslims streamed in. Instantly, I wanted my kids to be part of this.
ICW embraces us with a sense of community. It involves attendees with monthly community potluck, social service projects, Friday night basketball, hiking trips, martial arts training, App-developing workshops … And it holds us oh-so-close with its daily tafseer of the Quran, delving deep into the verses we've just prayed. The women have their own prayer rooms but are free to line up behind the men, barrier-free, sharing a hall. When the clocks reset in the Spring, out came a whiteboard. Attendees voted between three options for the new Esha prayer time. The most tally marks determined when we'd gather for the night prayer. Democracy in a masjid? Hallejuah! The leadership here set out to fashion a welcoming space and have succeeded.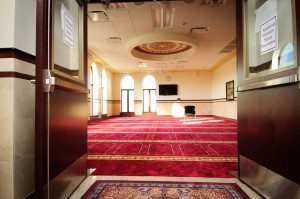 Darus Salam in Lombard is possibly one of the most striking masjids in Chicago. It's characterized by a majestic dome, minarets, soft plush carpet, sunny interiors, beautiful tiled floor, a clean
wudu
area, cleaner restrooms. It's strictly segregated. In compensation, there is a nice entrance for women and two large prayer areas. The sun streams in. There's a separate but equally accessible prayer space for women with younger children. The sense of serenity and closeness to God that I feel here compels me to return. Here too, the explanation of verses before or after select prayers, sews God's words to our hearts. Like ICW, series of weekly classes reveal both why we practice what we do and the richness of the faith. Intentional, organized, effective are words that comes to mind, when I think of either masjid.
My 13-year-old weighed the different programs offered at the different mosques this summer. He decided to attend the Arabic intensive at Darus Salam. The short distance made attendance unbelievably easy. A month later, he came away having made friends with boys who were as inclined towards Allah as he is, if not more. He came away in awe of his teachers' knowledge. He came away a patient child, quick to see God's hand in all things and acknowledge His blessings, ready to eschew unnecessary arguments, requesting our duas each time he battled his nafs and did chores! Praise be to Allah, our son came away pondering what it would take for him to do Hifz and, inshallah, one day even become a scholar of Islam.
The idea of exploring Hifz (memorizing the Quran) was my son's. It is an idea that we, as parents, are excited to be nurturing. But if it weren't for these inviting masjids, right in our backyard, would this conversation be happening? Truly, we have seen God's handiwork, as promised in a hadith Qudsi:
"He who draws close to Me a hand's span, I will draw close to him an arm's length. And whoever draws near Me an arm's length, I will draw near him a fathom's length. And whoever comes to Me walking, I will go to him running." (Muslim)
Naazish YarKhan is a PR professional and writing coach. She works with students across the US. The author of "Even the Peacock Cries", she has contributed to over 50 media outlets internationally including NPR, Huffington Post, and Chicago Tribune. Her clients include ICNA Relief USA, where she manages National and Midwest Communications. Stay in touch via Twitter, www.writersstudio.net, LinkedIn and Facebook.