Oops! Mistakes happen. This site is being transferred to its new home at Patheos, and for some reason this triggered an email alert to an old post. 
But let me take advantage of the opportunity to wish you a very Merry Christmas! See you in the New Year, dear readers!
Lori Erickson
Today's post is a sermon I gave Sunday at Trinity Episcopal in Iowa City.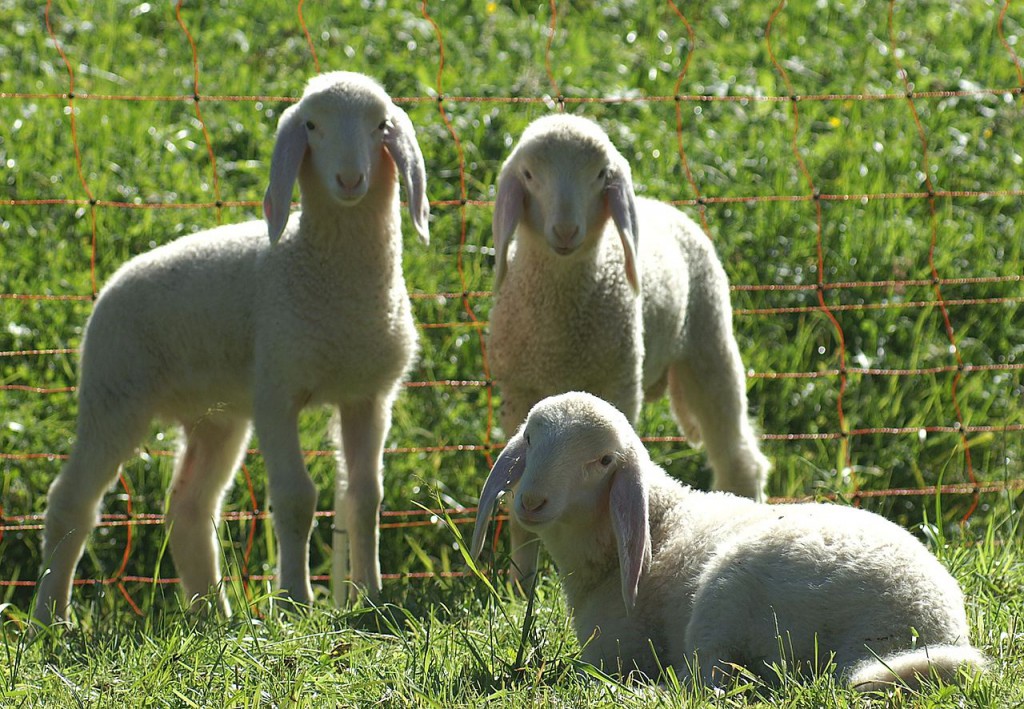 Of Good Shepherds and Sheep
If you've listened to enough sermons over the years, you probably think you know quite a bit about sheep. They are, after all, pretty common in the Bible. We know they like to wander off on their own and get lost. We know they are clueless about potential dangers, even when wolves are in the neighborhood. We know they like to have a shepherd around, but then ignore him when it matters most. We know, in short, that sheep are not the brightest bulbs in the animal kingdom.
Though I grew up on a farm, my own knowledge of sheep is largely academic. I know quite a bit about dairy cattle and pigs, and I can fake my way pretty convincingly through a conversation about chickens. But sheep are a different story. So when I read the two Bible passages this morning dealing with sheep (Psalm 23 and John 10:11-18), I realized I needed to learn more about them.
I found what I was looking for in a little book by a man named Phillip Keller. Written several decades ago, it's called A Shepherd Looks at Psalm 23
. Keller is uniquely qualified to talk about both sheep herding and theology—a combination which you must admit is pretty uncommon. A devout Christian who was born in East Africa, he worked for many years as a sheep rancher. He also spent a lot of time among the Masai people, whose sheepherding practices are similar to those of the ancient Middle East.
I learned a lot from Keller. Did you know, for example, that one of the most common difficulties of a sheep, particularly one that has a heavy wool coat, is to tip over and not be able to get back up again? I'm a little surprised, frankly, that Jesus didn't use this fact in one of his parables, because it so naturally lends itself to metaphor. Think of all the times when we get upended—financially, emotionally, spiritually. We think we're on the right path and then boom—we trip, we tumble off the path, and we end up upside down with our feet waving in the air like a turtle.
That's a pretty good metaphor for the human condition, isn't it? And this is exactly where the Good Shepherd comes in. For without one, the life of this upended sheep is not going to end well.
Keller's book describes the peculiar qualities of sheep that make them need a good shepherd. Of all domestic animals, they require the most care. For one thing, they are creatures of habit in ways that frequently get them into trouble. Left to their own devices, they will follow the same trails until they become ruts and graze on the same hillsides until they become deserts. A good shepherd must frequently move his sheep from one pasture to another.
Both Keller and Jesus agree on what makes for a bad shepherd. As Jesus says in the Gospel reading for this morning, a bad shepherd acts only in his own self-interest. He is a hired hand, someone who doesn't really care about the sheep. To him it's a job. If a sheep or two run away, that's just part of the cost of doing business. But a good shepherd, Jesus says in another beloved passage, goes searching for the one lost sheep out of a hundred. And he is willing to give up his life to protect that lost sheep. It doesn't make good business sense, but that's what a good shepherd does.
The key part of being a good shepherd, in sum, is to really care about the sheep. It's fine if he has a lot of expertise (I use "he" because historically most shepherds have been men). It's useful if he knows about anatomy and types of pasture and how to treat ringworm. But far more important is that the shepherd knows and loves his flock. He knows their histories, quirks, strengths and weaknesses because he has lived among them. He has stayed up with them through the long nights of lambing season and kept watch over them when wild animals threatened them. He knows which ones like to wander off and which ones think the grass is always greener on the other side of the valley. Because of this knowledge, he knows how best to guide them.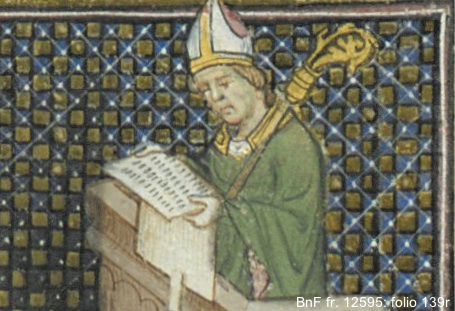 It's interesting to think of the ways in which the church still looks to this metaphor for inspiration. A bishop, for example, carries a crosier, which is another name for a shepherd's crook or staff. When my sons were small, they thought the bishop carried it so that he could reach out and hit anyone who was misbehaving in church (and those of you who remember Owen and Carl can understand why they were worried about this happening). But a shepherd's staff is actually used to guide the sheep, not discipline them. A shepherd uses it to pull a sheep out of trouble or tip them upright when they've fallen. And as he walks through a flock, he uses it as a kind of extension of his arm, tapping their backs lightly to reassure them of his presence. Sheep like to know their shepherd is near.
So what does all of this mean for us today? Why does this agricultural metaphor have resonance for us, so much so that we make stained glass windows depicting it and use it as a model for pastoral leadership?
To answer those questions, we can look at the 23rd Psalm, for this short psalm summarizes what it means to live under the care and protection of a Good Shepherd.
One thing it does not say is that life is easy, even with a Good Shepherd. The world of the 23rd Psalm is unpredictable and dangerous. It begins in lush pastures and beside still waters, but then travels through a place of darkness and fear. It includes a table where one dines in the presence of one's enemies—for if you've lived a full life, you're likely to have them. Think of the famous line from Winston Churchill: "You have enemies?" he asked. "Good. That means you've stood up for something, sometime in your life."
This short psalm is actually a drama in three acts. Perhaps its most memorable line is about walking through the valley of the shadow of death. In a book about this psalm, Rabbi Harold Kushner believes this is one of its key pieces of wisdom. He points out that the psalmist says that you walk through that valley—but you don't stay there. He tells the story of how after the death of his three-year-old son, for several months he and his wife attended a support group for grieving parents. He said that some of the other parents in the group hadn't missed a meeting in 10 years. Kushner writes of being troubled by this, for to him it meant that that they remained in a place of sorrow instead of finding their way through it.
The valley of the shadow of death (or of illness, addiction, sorrow or any kind of loss) can be a seductive place, impossible to enjoy but hard to leave. The writer of the Psalm knows this fact, and celebrates God's role as a Good Shepherd in leading him through that place of darkness. Writes Kushner: "God's role is not to protect us from pain and loss, but to protect us from letting pain and loss define our lives."
The end of the Psalm, finally, reminds us of what is waiting for us when we emerge into the Light. We will be anointed with oil, which in the ancient world meant that someone was designated as favored by God. Our cup will contain so many blessings that it will overflow, for God's ability to bless us is always greater than our ability to receive all of those blessings.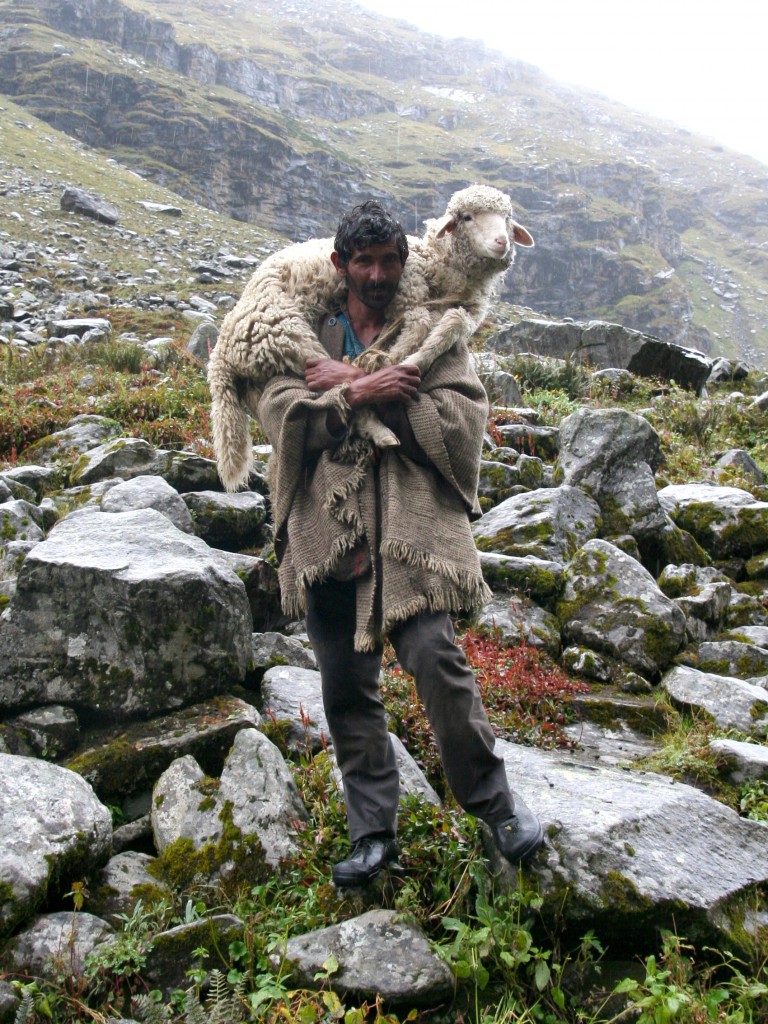 Several years ago, I took a trip to Israel, including the region of Galilee. I remember being on a  tour of an archeological site dating back to the Roman Era. The surrounding landscape was green and lush, the preceding weeks having been unseasonably rainy. I watched as a few sheep came over the crest of a hill behind the ruins. Within a few moments a shepherd appeared, striding among them with his long staff, followed by many more sheep. I watched as the animals walked beside him, peaceful and content. Their attention was always on him, for they trusted him to lead them on the right path.
Of all my memories of Israel, this is the one I remember best. I've thought of it during times when I felt like a lost sheep unable to find my way. I've remembered it as I recited the 23rd Psalm at the bedside of someone who was dying and during funerals for people I loved.
This Psalm may well be among the last words you will hear during your life on this earth—for certainly, there is no better preparation for meeting the Good Shepherd.
The Lord is my shepherd;
I shall not want.
He makes me to lie down in green pastures;
He leads me beside the still waters.
He restores my soul;
He leads me in the paths of righteousness
For His name's sake.
Yea, though I walk through the valley of the shadow of death,
I will fear no evil;
For You are with me;
Your rod and Your staff, they comfort me.
You prepare a table before me in the presence of my enemies;
You anoint my head with oil;
My cup runs over.
Surely goodness and mercy shall follow me
All the days of my life;
And I will dwell in the house of the Lord
Forever.