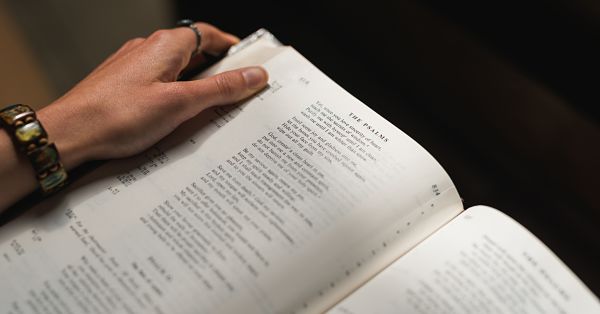 I've just finished handwriting through Psalm 117, the shortest chapter in the Bible. From a handwriting perspective, it's refreshing in comparison with some of the longer chapters earlier in the book. Yet it's words offer several points of impact that endure still today.
First, the Lord Is the Focus of Life
The psalmist urges readers to praise God and to "extol" him, honoring his name. While it is easy to make life about us and what we want, our focus is to be on him and his greatness.
In college, I remember an important lesson that has forever changed my view of God. Many seminars and books on time management speak about life in term of you in the middle of a circle and each area of life as spokes on the wheel, such as: finance, health, career, family, and faith.
But a person devoted to the Lord views life differently. Instead of me in the center of the circle and faith as one aspect of my life, God is the center. Each spoke on the wheel is an area of life I must evaluate in relationship to how it pleases him. My career, family, health, finances, and other areas of life are to be lived through the perspective of putting God at the center of all things, not me.
Second, God is for All People
The first verse calls the Lord to be praised among all nations and peoples. Jesus would later refer to all nations in his Great Commission, commanding his followers to makes disciples of all nations (Matthew 28:18-20).
Sometimes people make the comment that Christianity is the religion of America or only for certain cultures such as Western civilization. However, the good news of Jesus is for all people in all places worldwide. God's love is a message to declare and share to all who will hear.
Third, God's Love Is Great
Verse two notes "great is his love toward us." God is love, but he also shows love toward us. This is true in many ways:
Our created world
His creation of our individual lives
His blessings of health and well-being
God's provision of daily needs
The blessings of family and other loved ones
Salvation provided through faith in Jesus
The promises of God's future eternal blessings
We often fail to recognize the magnitude of God's love. The psalmist's call to remember his "great love toward us" reminds us to pause and thank the Lord for his many mercies.
Fourth, God's Faithfulness Is Eternal
The brief psalm ends with a mention of the eternal faithfulness of the Lord. His goodness is not temporary or even limited to this life. God's faithfulness to his people endures forever.
Again, this reminder of the afterlife offers strength for today. If today is all we have and today does not go well, we find ourselves without hope. Even at our best, a day will bring about some imperfection or unfulfilled desire. The longing of an eternal future where God's presence will be fully revealed to his people can encourage us through the dark moments of life.
The Lord's faithfulness leads us to praise him today, just as we will praise him forever.
+++
Dillon Burroughs is the author and coauthor of numerous books and blogs about his experiences of handwriting the Bible at the Holy Writ Project on Patheos.com. Find out more about Dillon at Facebook or Twitter.