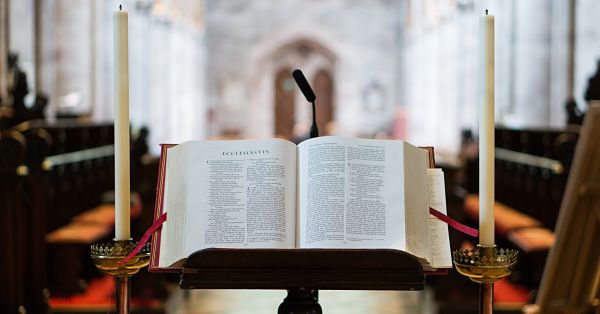 When I first began handwriting Scripture, a major factor was to grow closer to God. One surprising benefit, however, is how handwriting the Bible has improved my prayer life.
Let's face it: praying can be hard work. It's easy to fall asleep praying at night and lose focus praying during the day. But praying as I handwrite Scripture forces my attention on a small set of words at a time.
For example, I am currently working through the Psalms. As I write a short phrase like, "Come, let us sing for joy to the Lord" (Psalm 95:1), I find joy in the Lord as I write the words. Of course, this is more difficult when I write about the Lord's judgment or aspects of Scripture that are more complex.
What follows are three specific ways writing out the Bible improves my prayers. I hope you'll find them an encouragement as well.
First, Handwriting Scripture Forces Me to Slow Down My Prayers
Many of my prayers have historically been, "God, hurry up and fix this problem." Sound familiar? There is a time for such prayers, but not all of the time. We also connect better with God when we slow down.
Second, Handwriting Scripture Causes Me to Be Specific in My Prayers
When I pray before a meal, it is pretty simple: "God, thank you for our food." But many times, my prayers are vague and unfocused.
Handwriting verses from the Bible has helped me pray about the details of life. For example, I really needed some free time to complete a project recently and asked God for help: "Please provide one extra hour to get this done."
Later that day, a meeting I had previously scheduled was unexpectedly cancelled. God gave me exactly what I asked for in this case–60 extra minutes to do something he wanted me to finish.
Third, Handwriting Scripture Makes My Prayers More Accurate
It is so easy to ask God for what I want and what makes my life more convenient. It's much more difficult to do this when I am focused on the life of David, the actions of Moses in the wilderness, or the apostle Paul writing from a prison.
Prayer is not about me; it's about God.
When I spend time with his truth, I'm constantly reminded of this fact.
By the way, you don't need to handwrite the entire Bible to benefit from these areas. You can choose one verse, invest some time with it, and find your prayers improved as well.
May God bless you as you seek to grow in him!
+++
Dillon Burroughs is the author and coauthor of numerous books and blogs about his experiences of handwriting the Bible at the Holy Writ Project on Patheos.com. Find out more about Dillon at Facebook or Twitter.