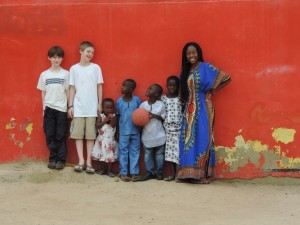 I'm sitting in a hostel lobby in Accra, Ghana, trying to figure out what to say.  It shouldn't be hard, really.
We're on an extreme field trip of sorts – here to see the Asante king in a parade next week, after having studied the Asante kingdom with our homeschool group last semester.

This is my first time in sub-Saharan Africa; and this is Jeff's and the children's first time anywhere in Africa.
We just came back from visiting two "slave castles," where we stood on the hardened remains of the excrement, urine, blood, and vomit of enslaved people awaiting unknown tortures in foreign lands.  We passed through two of the "gates of no return," where it is likely that at least one of Nafisa's ancestors also passed.
We swam in a georgeous beach, are eating incredible food, and are meeting wonderful, warm, fun people.
We're flying to the north of Ghana tomorrow to go see wild elephants and boars and other animals I've only seen – or have never even seen – in a zoo.
We are a bit overwhelmed by what looks like abject poverty to us, but is, according to the UN, lower middle class.
People are asking the kids to appear in wedding photos, stopping to show them how to find shells, teaching them the Ghanaian handshake, letting them jump into their video shoots, and stopping their work to play a game of Lulu with them.
We went to a fish market that is the one of the most beautiful, smelly, productive, alive places I have ever been.
So you'd think I'd have something to say.  But I just don't.  Maybe it's just too much to take it all in and process it, and help the kids do the same; there is nothing left to share with others.  The kids seem to be having the same trouble.  Their journal entries are long lists of what we did  -very detailed itineraries, really –  with nary a feeling word among them.
I could have skipped the post all-together, I suppose.  Instead, as I did with the kids and their journals, I'm forcing myself to write.  Perhaps, in the end, it is noteworthy that with so much to write about I have nothing to say.