In this episode of I Believe podcast, I wish to reach out again to each of you honest truth-seekers, to those perusing this thinking perhaps life is haphazard, senseless, uncertain, random or humanly-willed, or that God, if He exists at all, is capricious or malicious or a distant ethereal, amorphous blob.
I also hope to speak to those who have a list of unanswered spiritual questions tethered from real in-the-trenches life experiences. I can't stop thinking about you.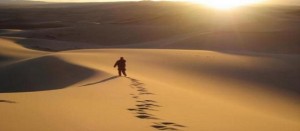 You may refer to yourself as agnostic, spiritually un-affiliated, spiritual but a-religious, or atheistic. You may presently be a witch or a wanderer; a dabbler in Eastern or Western religions, a pagan, a guru, a monk, a pantheist or pan-antheist, a lonely pilgrim, a pariah, an isolated confused college student, a disaffected baby boomer, a Church-going Lutheran or Catholic or Presbyterian or Evangelical without deep conviction, a convict at the end of yourself.
This is for you. I'm here because I care, because God cares, and because this matters eternally. I'm here, too, because I was there, where some of you now are.
Yes, I know what it's like to be lost, to feel like a pilgrim, wandering and distant from all that life has to offer, an orphan to life's family and spin. I know what it's like to want to escape it all, even life itself.
To hear the great news about the reality of God and the way out of spiritual drought or confusion, I invite you to listen to
Is God Real?: Out of the Desert of Disbelief
, and share your thoughts with us once you do. Find the video and the full I Believe Podcast transcript here.
Bible Verses:
"When the foundations are being destroyed, what can the righteous do?" (Old Testament: Psalm 11: 3).
"Ask, and it shall be given you; seek, and ye shall find" (New Testament: Matthew 7:7).
Faith Quote:
"I may, I suppose, regard myself, or pass for being, a relatively successful man. People occasionally stare at me in the streets–that's fame. I can fairly easily earn enough to qualify for admission to the higher slopes of the Internal Revenue –that's success. Furnished with money and a little fame even the elderly may partake of trendy diversions–that's pleasure. It might happen that something I said or wrote was sufficiently heeded for me to persuade myself that it represented a serious impact on our time–that's fulfillment. Yet I say to you–and I beg you to believe me–multiply these tiny triumphs by a million, add them all together, and they are nothing–less than nothing, a positive impediment–measured against one draught of that living water Christ offers to the spiritually thirsty, irrespective of who or what they are" (Malcolm Muggeridge).
Additional audio episodes of I Believe Podcast.
Find us on:                                                                               Or call: 185KNOWGOD1
Twitter Facebook Google+ YouTube Subscribe on Itunes ibelievepodcast.com