How are you today? Feelings of self-doubt and insecurity have crept into all of our lives at one time or another, for various reasons, right? Maybe you're thinking now, "I just don't have what it takes." "Susie can do it better and looks better doing it!" "I'll never change." Sometimes these feelings stem from tragic life circumstances or difficult situations. Or perhaps they have root in our perception of God, believing we can never be good enough for His standards. One guest commenter said,
Growing up, I never thought I could be good enough for God. In fact, everything I learned about God and His love stemmed from my view of Him as 'God the Judge.' My image of God featured Him as a stern Father, sitting on His throne with a pair of binoculars in one hand and a black, permanent-ink pen in the other.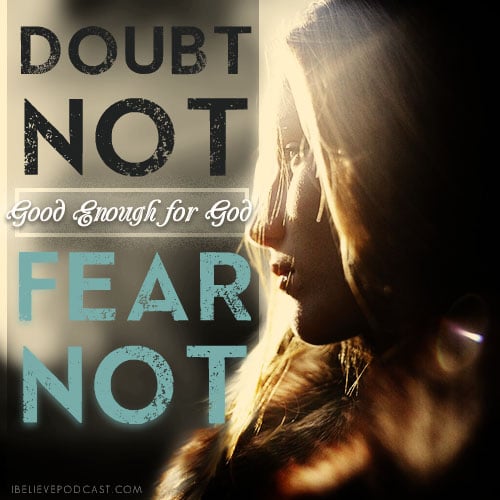 Unrealistic ideas about God and His attributes can lead us to believe we will never be able to please Him, and leave us feeling insecure and full of self-doubt.
In this episode of I Believe: Expressions of Faith, I'll discuss six lies the devil spreads, making us feel worthless and insecure. Each lie can be countered with the glorious truth, reassuring us that we are not forgotten by God, that He does care about us, and that we can be and are good enough for Him.
To view the complete video of Good Enough for God: 6 Keys to Victory, please click here.
Faith Quote: "Lord, when I feel that what I'm doing is insignificant and unimportant, help me to remember that everything I do is significant and important in your eyes, because you love me and you put me here, and no one else can do what I am doing in exactly the way I do it." Brennan Manning
Scripture: Before I formed thee in the belly I knew thee; and before thou camest forth out of the womb I sanctified thee, and I ordained thee a prophet unto the nations. (Jeremiah 1:5).
Additional episodes of I Believe Podcast:
God, Why Did You Allow That Awful Stuff to Happen Today?
Find us on: Or call: 185KNOWGOD1
Twitter Facebook Google+ YouTube Subscribe on Itunes ibelievepodcast.com