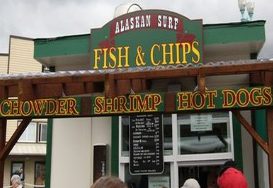 I may talk a big game about simple, fresh and local in my English Major Diet posts. But you know, I am a sucker for McDonald's breakfast. Really, it's their coffee that keeps me coming back to the drive-thru. I hate Starbucks (unless it's for a froo-froo-espresso drink) and it seems like all the smaller and independent coffee places are trying to mimic their motor-oil morning brew. So, for all that I've never been much on fast-food, I stop at McDonald's for coffee, and all of a sudden a breakfast burrito sounds like the best thing ever. And it's all downhill from there…
Now, with my recent fitness goals in mind, i've gone from a once or twice a week stop to more like once every two or three weeks. I think that's reasonable. But on my swing through this morning, I saw something so gross, it made me almost not even want to think about breakfast at all. It was a picture of McD's new sandwich offering–the DOUBLE filet-o-fish. I literally did a 'double' take, because that sounded just as seriously disgusting as those horrific McNugget articles making the rounds on facebook. (My kids have not had a Happy Meal since i read that.)
I looked it up and it has 530 calories, 26 grams of fat, and 48g of carbs. I suppose it could be worse but…just, yuck. I count that among some of the grossest things ever in the world–kind of like that thing from KFC that was a "sandwich" involving 2 fried chicken breasts instead of bread. Or that so-called birth control 'hearing' at the House where the people who have actual ovaries weren't invited to come play…
The epic revulsion factor of that big trans-fat sandwich (the one at McDonald's, not the one in D.C.) made me think–believe it or not–of one of my
best-ever-meals
that I'm trying to recall in this diet series. So, here it is. Believe me, there are no golden arches involved.
This meal was on the same trip as the Route 66 Burger, and the mystery New Mexican place…but it was a few weeks later, in Alaska. We were on a cruise–and let me tell you, cruise food is way over-rated. Just because there's alot of it does not mean it's good. Just sayin.
Anyway, we stopped at Ketchikan, which is fun to say AND fun to explore. We did a guided wilderness hike thing, shopped, wandered around. At about 10:30 in the morning, Jeremy spotted a little stand where they were making fresh fish and chips. This guy is always hungry, and any time of day past about 8am technically falls in the 'lunchtime' category. So while i'm standing there going, "it is only 10 in the morning!" he is already placing our order.
Lucky for me he planned on sharing, because I would have seriously missed out otherwise. Once we sat down–at a rickety picnic table on the dock–i started rethinking my argument. This stuff was so fresh, i swear i could probably still swim if given half a chance. Golden fried cod, literally hauled in and dropped in the oil, with fries and malt vinegar. Hot with a perfect outer crunch. Call it Second Breakfast, but it was freakin fabulous.
Eat your heart out, Norwegian Cruise lines. It was way better than any meal we had on the boat. Same goes for you, McDonald's. If all fast and fried foods were that fresh and local, I don't think we'd be a nation of fat people right now. Or, well…we might still be fat, but we'd sure be a lot happier.