When I was a sophomore in college, my grandparents got new furniture, and got rid of the old. Among the outgoing stuff: two slate blue, la-z-boy recliners. They were, honestly, the most comfortable chairs on the planet. Plush and inviting, they rocked, they leaned back, they had just enough give and just enough support to make for the perfect sitting situation. Imagine my great joy upon learning that these chairs needed new homes. One of them came to live with me, and transformed my tiny dorm room into something downright homey. The chair was not only comfortable, and the perfect place for sitting to read and study (even if it did induce drowsiness) it was also infused with a dozen years worth of happy memories from Mamaw and Papaw's house on the farm.
It's mate went to live with my cousin, Justin. Over the next 16 years or so, he and I each moved a bunch (I've counted 15 times this chair has moved with me), we each got married, we each had babies, and we've each grown more and more attached to our "Marty Crane chairs." I rocked and nurse both babies in mine for the first year of their respective lives; Justin's wife, Kelly, rocked and fed three babies in theirs–including a set of twins! I can only imagine how those comfy, cushy arms would be the perfect place to rest one snoozing newborn head while the other sibling was finishing up lunch.
My husband has, on numerous occasion and to his great peril, suggested getting rid of the chair. It is, after all, as old as anything, and the color, while not too loud, matches nothing in our house. "Over your dead body," i've told him. (Actually, I believe my exact words were, 'if i come home and this chair is gone, then you'd better be gone with it!')
Alas, 15 moves, two babies and a few spousal disputes later, I'm finally admitting, today, that the chair has served its time in our family, and i'm getting ready to head to the dump and say good-bye. I mean, I'm fine with a chair that is shabby and falling apart, but it's gotten to be a tetanus hazard–nails and staples and such sticking out from everywhere. I have visions of one of my children taking a dive into my chair and coming up minus a finger… so, out it goes, but i'm not gonna lie–there will be tears.
I keep telling myself: It's. A. CHAIR. I am not really a sentimental person, and i do not get attached to material things. I don't save baby clothes; i throw away most of the crap that makes it home from preschool; i don't make cutesy scrapbooks and i don't even usually have my pictures printed. If Snapfish and/or facebook ever disappears, I will have little record of my kids' early years. But for some reason, this chair is breaking my heart.
Maybe it's because this chair is the only thing i know that has been with me through every stage of life. I've never grown tired of it, never felt the need for a newer, better model, and it's been, at all times, useful and worth having around. I mean, how many things in your life can say the same?
I also know that I'd feel better if my chair were going to the Habitat Re-store, where another family would love it and sit in it and feel so warm and loved. But I don't want their kids to get lockjaw, either. And there's just something really depressing about a municipal landfill, you know?
Still and all, here is the Advent message of all this… Christmas is not all about presents. In fact, the consumer and material impulses of the season can diminish entirely the true meaning. And yet, with each gift that we give, there is hope: that the recipient of said gift will find it to be meaningful, useful, and/or comforting, in a way that is lasting and–dare i say–transformational. We hope that the Christmas tree ornament we give our spouse will remind them, for years to come, of our first Christmas together, or of a special trip we took in a given year. We hope that our daughters will have fond memories of a doll house, enough to save it for their own little girls. We hope that our boys will always remember their first bike, their first football, their Red Ryder BB gun with a compass in the stock, and this thing which tells time!"
When we give a gift, we give life and witness to our hope: that the joy of Christmas morning will stay with our loved ones all the days of their lives. We know that memories are born around that tree. While material things are so often of little use or importance, some of them can stay with us for a very, very long time and take us, always, to a place where we are loved and cared for and truly at home. May it be so with everything we give, and all that we receive in this blessed season.
Prayer
God of our every gift–guide us to give in a true spirit of love and generosity. Teach us to share with the needy and the poor, whom we will never meet, just as fully as we share with our own family. Forgive us when our attachment to things keeps us from making room in our lives, in our hearts, and in this season, for the coming gift of your love. Fill us with your mercy, and replace all that has been lost with the hope of good news to come. Amen.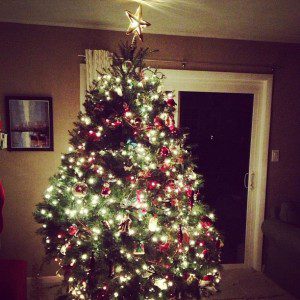 Salt and Nectar