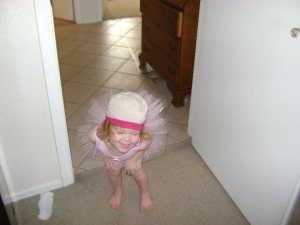 Last week, I signed my 4-year-old daughter up for her first dance class. !! I bought tights and leotards, and she's been wearing them around the house for weeks now. I'm trying to teach her the grande jette. Because, you know, it is always preferable to begin the (beginner, toddler, community center) class from a more advanced perspective than your peers.
Oh, yeah. I'm going to be that mom. Consider yourselves forewarned.
Thing is, while the 'retired' dance teacher in me is thrilling at the idea of tiny tutus, the reasonable, rational side of my brain is thinking…this is how it begins. I find myself mentally flashing forward about ten years. To a cascading flow of dance classes; swim lessons; piano via skype with their (by then) grammy-winning uncle; basketball and volleyball practice (since both my kids will outgrow me by the 3rd grade); church youth group activities; band camp; weekend sleepovers; and then, you know, whatever THEY actually want to do. And given the fact that our lives, at this very moment, are pretty full and busy, i find myself wondering; how are we EVER going to find time for it all?
In many ways, i might really be that mom. Because I want my kids to have a chance to try many things, and find what they enjoy and/or seem to be gifted in. (Here's hoping that the 'enjoy' and 'can sort of do' overlap, at least some of the time.) But as much as i want my kids to see, do, and practice all of the things that make life full and meaningful, I do not believe in the over-programmed, unsustainable, expensive and exhausting schedules that many of us tend to engage, in an effort to make our kids 'perform' better, go farther, and somehow validate us as parents. The "altar of busy-ness" (says Barbara Brown Taylor) has become perhaps the primary false god of our culture. And i blame it, at least in part, for pulling many families out of the faith community: 'yes, we know Church is important. We are just so busy…"
I'm hoping that, with intention, my husband and i can strike a reasonable balance of supporting and encouraging our kids to explore their gifts, while also maintaining a rhythm of family life that is life-giving and endowed with that great, yet often overlooked gift of childhood–downtime. Precious downtime in which to just BE– at home, with family, in nature–for our children to simply know what it means to be a whole, round, and balanced person in the world. (Dang–my husband. I forgot to add 'drum lessons' to that litany of stuff up there…)
In the meantime, I'm resolving to cherish every minute of this time in the life of my family. The kids are big enough to do fun stuff–like go on a road trip, or take a dance class, or eat at a (reasonably) nice restaurant; but not so big as to have demanding social calendars and weekends full of regional whatever competitions. I will enjoy those things in good time, but for now, it is nice to just 'be' with my people. I hope that we are setting the rhythm for a graceful pace of living, for all of our years to come. (Note to self: good job for my spouse, the drummer. He's kind of a rock star).
I'm trying to keep a more graceful pace in other parts of my life, too. As i opened my new church calendar for 2013, I thought of all the wonderful things that we want to do in the life of the church this year, as we discern God's call to serve our neighbors. And yet, I am rid of the desperate sense of urgency that I felt in my first years of serving this church. While there is always–always–urgency to the gospel (just ask Mark), I no longer get the feeling that my congregation is in 'survival' mode, and that everything we do (or do not do) has the potential to make or break us. There's no longer a frantic energy around my schedule of events and gatherings, and for that I am grateful. After years of prayerful discernment and following the Spirit's lead, we seem to be in a rhythm of abundance these days. The work of transformation has finally taken root, and it no longer seems that everything has to be an uphill climb. While there is still (much) work to be done here, I feel we can give ourselves permission to breathe through the changes, and let 'whatever's next' come in good time.
Maybe it's because we have people in the seats, and money in the bank, and additional staff. Or maybe I have finally learned that nothing we can "do" can bring about the work of the kingdom, better than simply showing up and learning how to be fully in the presence of God and community. I thank God for giving me the energy to run around to dance class, and Bible study, and leadership retreats, and hospital visits, and community task forces for whatever, and preschool orientation night, and choir practice, ad infinitum. But I also thank Jesus for teaching me to simply lay down my own stuff and follow, into a life that cannot be planned, but is always full of good news.
"Are you tired? Worn out? Burned out on religion? Come to me. Get away with me and you'll recover your life. I'll show you how to take a real rest. Walk with me and work with me—watch how I do it. Learn the unforced rhythms of grace. I won't lay anything heavy or ill-fitting on you. Keep company with me and you'll learn to live freely and lightly." Matthew 11:28-30. The Message