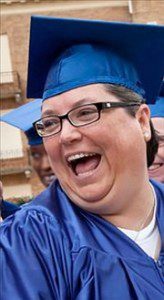 Christians love a conversion story. American Christians especially.
Kelli Gissendaner's is a good one. Faith leaders and Christians from across the country have raised an outcry to stay her execution, because of the dramatic transformation she has experienced while behind bars. During her prison stay, she has studied theology; made friends with well-known theologian Jurgen Moltmann; and ministered to fellow inmates, sharing the gospel and her own faith story generously.
The pleas go something like this: Since she has come to faith; since she has transformed her life; because she now knows the saving power of Christ; she does not "deserve" to die.
Are we not finding this troublesome?
Don't get me wrong, I signed the petition. I, like many others, am glad that her execution is, for now at least, postponed (on a technicality, for the second time). But I signed the petition because I am against the death penalty, in general. I am against the state having the power to kill anyone—be they the most hardened, unapologetic criminal; or the one who found Jesus on death row. To use her religious experience as the protection against state-sanctioned murder implies that all those other convicted criminals DO, in fact, deserve to die–because they have not articulated their reform within the parameters of the Christian narrative.
The language of salvation and worthiness is concerning. Elizabeth Gish, a Pastor and professor at Western Kentucky University, says "It raises complicated ethical, religious, and judicial questions about what counts as worthy for life. I don't have the answers, but even the questions sometimes feel excruciating."
The questions are excruciating. The work of judgment is excruciating.
Kelli's story, on the one hand, is a stark reminder that we are all capable of terrible things; that the darkest desires of our hearts can play out in real time if we utter them aloud into the wrong void, entrust them to the wrong ear. We are all vulnerable to the impulses of violence. We are all desperately in need of love and mercy and compassion.
It is also a—can I say hopeful?—testimony that even those who commit terrible crimes can be changed in the light of that mercy and compassion.
 We should not spare someone's life because they know Jesus. We should spare all life, because WE know Jesus.
We know Jesus: who lived fully and well, and was executed by government agency because he did not say the right things about who God is.
We know Jesus: who died willingly at that government's hands, so that he could show his followers how wrong it is to kill.
We know Jesus: who died and was resurrected, and calls us to embody that resurrection daily.
We practice resurrection, because we believe in the power of God to transform life… And the truth is, you cannot worship God and Ceasar at the same time (Jesus said). You cannot believe that both have the same powers of judgment, the same authority to grant life and take it away.
Resurrection is mysterious… It is not entirely of this world, this physical body. But it is not entirely other and elsewhere, either. It must be at least partly "of this world."  If we hope for an Easter of any kind, we have to first dive into the ashes of our own brokenness… and confess that we cannot possibly decide who lives or dies.
Of course I know that people on death row have done terrible, unthinkable things. Of course if I knew all of their stories, I would want some of them dead. That's why I am not the boss of these things. I am human and prone to violence.
I'm all for saving Kelli. But if we want to save her for 'cause,' how about staying the execution because she didn't ACTUALLY kill anybody? Because the man who did carry out this horrible crime somehow found a better lawyer and is up for parole in a few years…
And I'm all for Christians getting outraged; beat those drums, march that march, sign those things and wave those posters around. But it's time we got fired up about all of it; all the killing. The electricity, the cloudy syringes, the gas chambers (thanks for that brand new/resurrected nightmare, Oklahoma)… The holy wars fought in our name. The unarmed black youth shot down in the street.  The women and children turned away from our borders and sent back to the violent chaos of Central America.  Every one is a torture chamber, and a cross of mortal judgment that we all bear together.
We serve a savior who died at the hands of the state. We've seen the misery that is born when people think they're God. We've seen what happens when the government goes into the business of salvation.
In all the mystery of death and new life there is no place for human judgment. There is no room to celebrate the 'conversion' of one while rejecting the potential for the same in another. We are for mercy. Not because they might know Jesus. But because we do.