1 O Lord, our Sovereign,
    how majestic is your name in all the earth!
You have set your glory above the heavens.
2     Out of the mouths of babes and infants
you have founded a bulwark because of your foes,
    to silence the enemy and the avenger.
3 When I look at your heavens, the work of your fingers,
    the moon and the stars that you have established;
4 what are human beings that you are mindful of them,
    mortals[a] that you care for them?
5 Yet you have made them a little lower than God,[b]
    and crowned them with glory and honor.
6 You have given them dominion over the works of your hands;
    you have put all things under their feet,
7 all sheep and oxen,
    and also the beasts of the field,
8 the birds of the air, and the fish of the sea,
    whatever passes along the paths of the seas.
9 O Lord, our Sovereign,
    how majestic is your name in all the earth!
The outer edge of summer is a great time to revisit Ken Burns' National Parks: America's Best Idea.  Nothing will stoke your sense of wanderlust and prime you for a summer of road-tripping adventure like this masterpiece. It is part history, part storytelling, and part liturgy–an invitation to dwell in the wonder of creation for awhile, and remember, with awestruck humility, that this land is ours. It belongs to us. We are called to venture out into it, from time to time; both to take in the beauty of it, and also, to be reminded of our collective call to care for it.
When I say it is part liturgy, I'm not exaggerating. The first installment of the mini series is actually titled "The Scripture of Nature." In it, a park ranger comments that, in these places, we "don't have to be reminded to worship." The earth beneath your feet is a sanctuary; the sky above and vistas around speak to the power of the creator. It is church, in other words. Church without the name tags, the bulletins, and the styrofoam coffee cups.
Places like the Grand Tetons, Yosemite, and Zion –they are not easy to get to. Not right off the interstate, not a 10 minute shuttle ride from a major airport, and not a chain motel or a drive-thru burger in sight… You have to really WANT to get there. Which is kind of the point. We go because not everything should be convenient. We go because sometimes, we just need to feel small.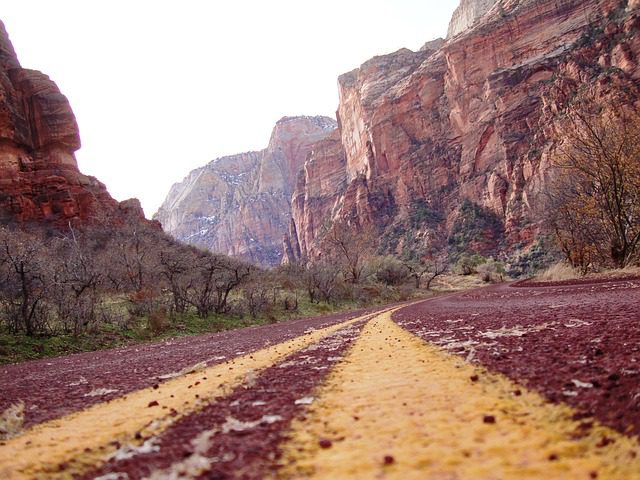 Not in the negative sense of having been demeaned or talked down to… But in the cosmic sense. We need to feel small in a way that fills, inspires and uplifts us; we need to feel small in a way that reminds us of our place in the broad story of creation. It is a small part; but a critical one.
That small but important place–maybe on the outer edge of summer–is exactly where the Psalmist is standing when he says "What are humans, that you are mindful of them?"
When you think about it… all of our major existential crises stem from this same question. The Psalmist wants to know why the God of all creation would bother to notice us. Or if you want to be all Monty Python about it… "What is the meaning of life?" And then there's the age-old question posed by Wendell Berry: "What Are People For?" From very different points on the space-time continuum, these expressions all beg the same question: why are we here? what is the point? does any of this even matter?
While Monty Python was a critical part of my theological formation–in that my youth group watched it religiously–I am far more equipped to comment on the Wendell Berry perspective. His essay collection What Are People For explores the complicated relationship between people and land; and the often de-humanizing effect of the world's economy. Throughout this book, and others, he questions the system in which we live–the one that wants to squeeze as much productivity out of the land, and its people, without taking in the wellbeing of either; without acknowledging the lasting effects of our hurried shortsightedness; and without looking at the wholeness of people and communities. Beyond a person's tangible net worth, after all, there is so much more. Like the ability to care for the earth, the work of being a good neighbor, and the raising (not to mention producing) of children. Farming, giving life, and living in community… these are critical to an economy that does not operate on a dollar system. This is what people are for.
I'm paraphrasing, of course. But what I hear in Berry's work echoes the words of the psalmist. It's a call, not just to acknowledge the 'dehumanizing' effect that our industry has on the world; but to actively push against that trend. To participate in the work of "re-humanizing" the lived experience.
We might also call that the kingdom of God.
As massive wildfires have swept across the Canadian countryside this month, residents of several communities in northern Alberta have been evacuated. Assistance has poured in from all over. It's always encouraging to see the global community come together to help those in need… but more powerful than all the aid coming in from other corners of the world, is the story of one little group in nearby Calgary. It's a group of Syrian refugees, recently resettled in Canada; and they have organized to give back to the country that welcomed them not too long ago. "The people who helped us are now in need," says one of the group's leaders. It's really just that simple.
What are people for? This, right here.
There are two divergent world economies–one that reduces people to their earning and output potential, and one that takes in the whole person. But it seems those two economies hold a truth in common, after all: you get out what you invest.
Nurture the earth, and it will produce fruit to feed us; treat people like people, and they will express that embodied humanity right back to us. In good and life-giving ways.
This care of the earth and other is written into our origin story–it's right there in the first pages of Genesis, the first spoken word of creation. It is our primary calling as God's people, and citizens of the world. And out here, on the edge of summer, it's worth remembering that this is who we are created to be. We are stewards of all that lies beneath our feet. We are worshippers under the altar of all that cosmic grandeur overhead.
That means it is ok to rest, folks. It is ok to be still, and to breathe.  Savor the smallness of the good and basic life plan that is woven into all of creation, if we will stop and hear it once in awhile. If we believe in a God who created us in the image of holiness, to be a living embodiment of the sacred; if we claim to follow Jesus, who lived so that we may know life; then we know we are so much more than what we produce, and what we can prosper.
Every season has its gifts –Summer is an invitation to rest in that rhythm of createdness. Maybe you do that by getting out in nature, off the beaten trail and into remote corners. Maybe you do that by catching up on that big stack of "to read" books that have been gradually piling up on your night stand all year long. If you REALLY do summer right, you can read that big pile of books WHILE sitting outside in the dirt, and the company of green growing things.
So here's your homework: Watch the National Parks documentary. Then find a place that reminds you how small you are–in the good way. Then read some Psalms; and some Wendell Berry; and maybe the new book by Diana Butler Bass. It's called Grounded: Finding God in the World. And then maybe read something involving time travel or cowboys or British detectives–just for the sake of balance.
Get out or stay home. Rest or run. Get your hands in the dirt, or let your hands be still. But in all things–know that you are blessed and beloved; a name and a face and a whole miraculous something, with a place in all of this mystery.
What are people for? What are humans, that God is mindful of them? We are here. We are here, rooted to our place between the earth and the sky; dirt under our feet, and all the mystery of the universe, spinning overhead. We are here, putting into the world what we hope to see it produce.
We are here, and we are a part of it all. Sometimes, that is all we have to be. And isn't that good news?