Guest post: Rev. Megan Severns Huston
This week I learned how to pray through a megaphone.
I wasn't planning on it. It just sort of… happened.
On Saturday, someone from my church mentioned the events in Charlottesville. But we don't have cable or even high speed internet in the holler where my family lives (yes, we are that country- it isn't available!). So I was blissfully unaware of the conflict happening in our country until Saturday night at 7pm, when my mom texted and told me that Reverend William Barber was being interviewed on MSNBC.
When I heard that, I knew something bigger was unfolding. I knew that the church needed to respond to this outrageous display of white supremacy and racism.
Using my one bar of service, I started searching the internet trying to figure out what had happened. I asked some pastor friends what they would be doing in worship, and a colleague in North Carolina said he had a prayer vigil scheduled for the next night.
It was too late for us to plan one of our own, but I reached out and discovered there was one planned for downtown Bowling Green at Fountain Square in front of the historic Capital Arts Theatre.
I got to the office early on Sunday morning to use the internet and try to catch up on the news. I sent a message to the Facebook page about our local prayer vigil and asked if they needed help. I asked for more details and said that if they could send information soon, I hoped to announce the event in both of our worship services. When I didn't hear back, I took a chance and announced the vigil anyway. During the time in our service when I share prayer concerns, I lifted up the city of Charlottesville, and encouraged our people to pray not just with words but actions. I told them I would be at the prayer vigil at Fountain Square at 7 and asked them to meet me there.
As a pastor I ask my people for a lot of things. The church exists because of people who respond to the invitation to serve. On Sundays, I try to encourage people to live their lives faithful to the gospel. Occasionally, it sticks.
I later heard back from the event organizers, who asked me if I would pray at the close of the gathering. As I walked to Fountain Square with our student intern, I saw one of our members–the retired Army Major General, who is also an avid supporter of police officers and a faithful follower of Jesus. He was sitting on one of the benches. As it got closer to 7:00, more and more people showed up.
I don't know if our church members represented the majority of those present. But I know that my people were everywhere.
We passed out the candles that we typically save for Christmas Eve services, but this year have burned through these many vigils: for Muslims; for refugees; and now to stand up against white supremacy and to remind our community that Christians have something to say in times such as these.
At the end of the vigil, I stood on a small wooden box and prayed through a megaphone. Looking out at the faces of the hipsters who work at our local coffee shop standing next to my most evangelical members, I thought this is the body of Christ.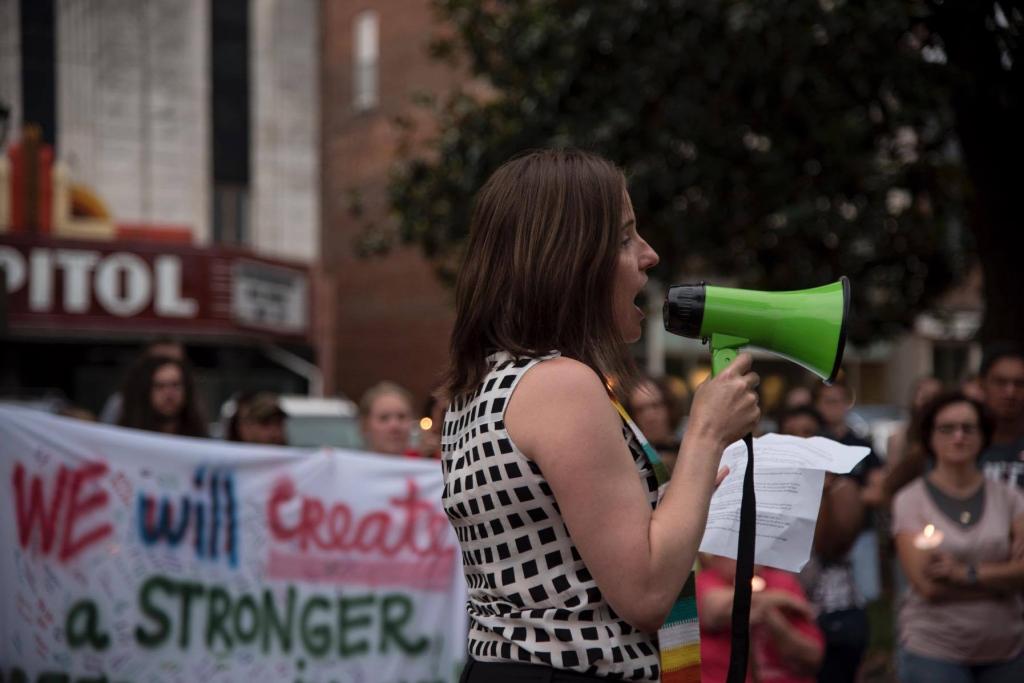 We weren't planning on becoming an "activist" congregation. But here we are: lighting candles in public places, singing "This Little Light of Mine" in the middle of town square. And yes, praying through megaphones.
It has taken every ounce of courage and a strict discipline of prayer to push my church out of the comfort of our sanctuary and into the streets. But the crazy thing is that all I had to do was ask, and there they were.  Just as they show up armed with casseroles when someone dies, they show up equipped with the hope of the Gospel when it feels like the world is spinning off its axis.
Sunday night, we needed to be reminded that our work is grounded in hope and rooted in a love that will not be overshadowed by hate. Our secular friends need the church as a partner in justice work, because we are rooted in the Gospel that proclaims "nothing will separate us from the love of God."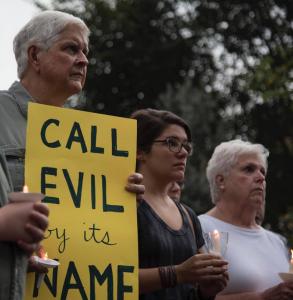 When I feel like my job is too hard or it is too late to rework worship, I remember my power and privilege. There is work to do and we are not off the hook.
When my church members surprise me with their faithfulness, I often find myself wondering Why would I ever question this beloved flock?
I once heard Sheryl Sandberg describe how isolating it was when she lost her husband. She explained that many people just stopped talking to her at all, afraid they would say or do the wrong thing. Others would ask, "What do you need?" and she said there was no way she could name that immersed in grief. She said the most helpful thing was when people just did something. They sent a card or brought over dinner. They invited her to a movie or called. She encouraged listeners, when someone they love is grieving, not to wait for the perfect response because there isn't one. "Just do something," she said.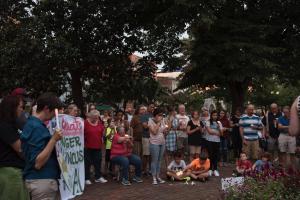 On Sunday morning, I worried over which words I should say and which I shouldn't. I was really afraid that my church members would show up to the vigil and it would be poorly organized, or total weirdos would be giving the speeches. (None of that happened btw). I worried about all of it. But I decided to take Sandberg's advice and just do something.
It seems like pastors and leaders in my denomination, the Disciples of Christ–as well as other mainline protestant traditions, most of which are declining in number– we are so often pulling our hair out trying to fix the problems of the institutional Church.
But now it's time we stop trying to "fix" it and simply do something. Go to the streets. Pray through megaphones. God goes with you and, just maybe, the church will too.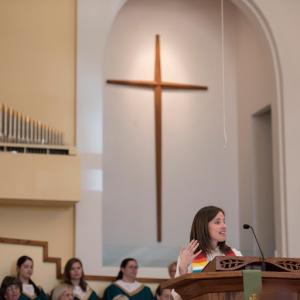 Rev. Megan Huston is mom to one year old twins (Mae Belle and Evelyn Wray), wife of a banjo playing stay at home dad and farmer (Willie), and the Senior Minister of First Christian Church of Bowling Green, KY. Megan and her family live on thirteen beautiful acres in Rockfield, KY and hope to leave their land better than they found it. Megan is motivated to find balance in her roles as mom and minister and sees her call to ministry rooted in community organizing, caring for people and preaching.