Let's be real: 90% of the Christmas music they play on the radio is garbage. I mean, I will always have a soft spot for all Mariah Carey wants for Christmas; for Springsteen bringing Santa Clause to town; for Whitney's (and only Whitney's!) asking if we hear what she hears.
And of course, I'm down for anything involving Muppets and John Denver.
Beyond that, it's mostly remixed and remastered junk, you know? The original version of most anything is fine, but how many different takes on that chestnut/open fire business does the world really need? While riding along in the car the other day, my 7-year-old wondered aloud (during yet another version of Jingle Bell Rock) "Why are so many Christmas songs not really about Christmas??" While I assure you that I am not actively trying to suck all the joy out of his little PK holiday…he's not wrong.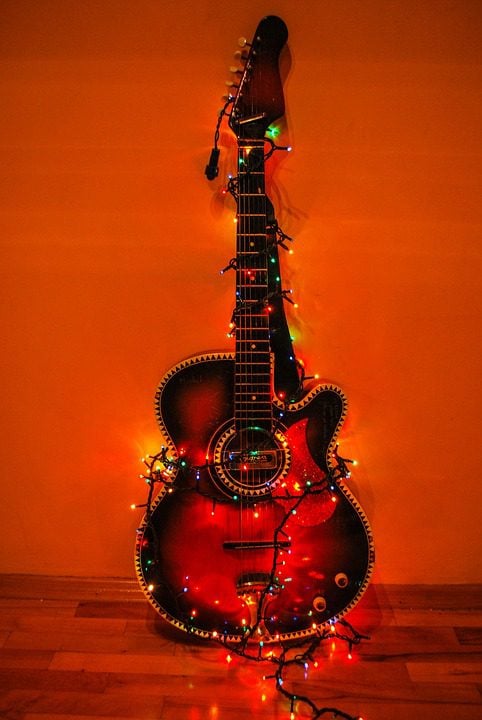 I wrote a post a few years ago about 10 Songs that Ruin Christmas. It basically broke the internet, because people have some FEELINGS about Christmas music, I tell you what. So many feelings. So I followed it up with the 10 BEST Christmas Songs of all time–some sacred, some secular, but all real actual music, and not just nonsensical glitter sounds set to jingle bells.
This year, beyond just the "naughty and nice" list, I'm looking for songs of the prophets. Songs about peace and justice; songs that, like Mary's Magnificat, sing about God re-ordering the world. Because the world is at war, and we happy Americans are over here throwing gasoline on fires in the Middle East and triple-dog-daring North Korea to nuke something; because there are sexual predators in public office (and every damn other place, it would seem); because the earth is dying and people in power gleefully hasten its demise; etc, etc. All things considered, we need a seasonal soundtrack with some bite to it. Here are 10 for the ages–full of joy, in their own way, but a little more woke. And hopefully, a little more prepared for the shake-down that we hope, we pray, is coming (just as soon as we're done baking cookies. I do love cookies).
The Trumpet Child, Over the Rhine.
The trumpet child will blow his horn
Will blast the sky till it's reborn
With Gabriel's power and Satchmo's grace
He will surprise the human race…   And it just gets better from there! Take that, Chipmunks.
2. Happy Xmas, War is Over, John Lennon. Might not be true, but it bears the eternal hope that… well, maybe next year. As does
3. Someday at Christmas, Stevie Wonder.
4. Come Darkness, Come Light, Mary Chapin Carpenter. Gets me in the gut every time. Real and raw and true, as Christmas should be. "Come broken, come whole/come wounded in your soul/come anyway that you know/halleljuah."
5. There's a Light, Emmylou Harris. Because she is a goddess and everything on her Christmas album is amazing. I mean, Neil Young sings backup for her. Talk about #lifegoals… More to the point, this particular song channels the spirit of Isaiah, holding out hope for rain in the desert.
6. New Morning, My Morning Jacket. One of the many truly wonderful Christmas songs that you will never, ever hear on the radio.
7. Peace Child, Indigo Girls. Exhibit B.
8. They Sang Silent Night, Fiona Bevin. Pro-tip for you preacher/worship leader types out there… Work the Christmas Eve Truce of 1914 into your sermon or communion meditation, then have your band rock this out as the following response. Not a dry eye in the house.
9. Hallelujah. Not the Handel this time, but the Leonard Cohen. There are any number of powerful renditions out there, but miss me with the one that's been re-written with Christmas lyrics. Cohen intended for this song to struggle between darkness and light, between the sacred and the profane. Adding a few verses about baby Jesus just kills all the stunning poetry that makes the song what it is–a perfect commentary on all the tensions of the season, and humanity itself.
10. Christmas Must Be Tonight, The Band. My all-time favorite, and yet another work of art you will not hear on the radio (or piped through the speakers at the mall). "Wheels start turning, torches start burning…" The whole song just carries the feeling that something is happening, out there in the darkness. Something coming awake, for those who never expect to be a part of it. Something being born, to a world that's not ready.
We're never quite ready. But with the right soundtrack, we can come a little closer. May Baby Jesus and Levon Helm bless us, every one.