I was in seventh grade. It was Sunday night. At 6:55, I would grab my dinner on a paper plate and make a run for the basement, where I would anxiously turn the TV to Channel 4. This was the one night of the week I was allowed to eat down there by myself. Because I was old enough, but my brother was not—
to watch—
I can still remember the thrill of seeing Bart appear on his skateboard each week; the opening refrain and the promise of a new episode. Much to the delight of my middle school band teacher, I learned to play the theme on the saxophone. (Which turned out to be both the height and extent of my sax career, sadly. I was no Lisa).
I also remember the sinking feeling I got when my parents read something about how the show, though animated, was not appropriate for children. This was, of course, before the days of blog posts, social media or online parenting communities. Am I to think that my mother read this review in the actual newspaper?? Weird. But likely.
In any case, word on the street was that this scandalous new show presented itself as a cartoon but contained ADULT SITUATIONS and possible bad language, and also, Bart was a little asshole and totally a bad influence.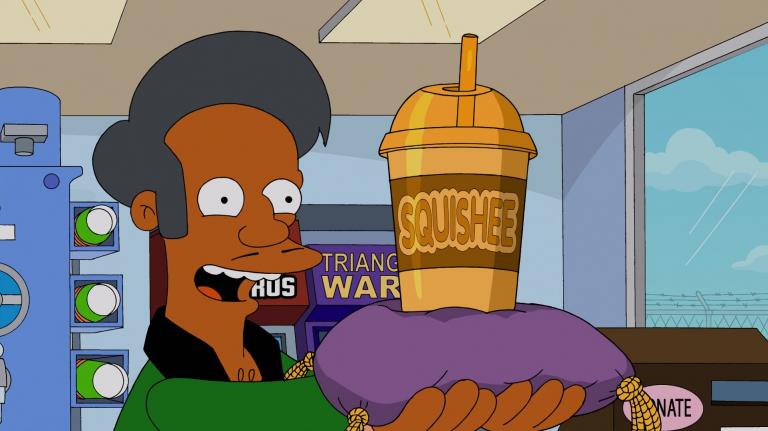 Be all that as it may, I must have effectively convinced the adult units of my household that I would remain above the influence of such juvenile shenanigans, because I retained my watching privileges. Hence, the weekly Sunday night dash to the basement with a paper plate and TV tray.
It's fun to wax nostalgic about the early days of a show that has now amassed over 600 episodes, and secured its status as the longest running sitcom in the history of the world (longest.episode.ever). But it strikes me now that my folks' concern about the show had everything to do with Bart's smart mouth—and nothing at all to do with racist microaggressions. 
That was not a thing then.
But it's a new day, and Simpsons viewers have grown increasingly vocal about the problematic nature of the character Apu, owner and proprietor of The Kwik-E-Mart in Springfield. That criticism escalated last fall with the release of the documentary "The Problem With Apu." Producer Hari Kondabolu—a comedian of South Asian descent—said in the film that Mr. Azaria's rendition of Apu sounded like "a white guy doing an impression of a white guy making fun of my father." In other words: it's racist.
Initially, the show's producers failed to respond to the criticism. But as the call for a change amplified, they did respond … with a bit of in-show humor that many viewers said only made the situation worse. The scene amounted to Marge and Lisa having a conversation about something that "started 20 years ago as a harmless joke, but now it's no longer politically correct, so what can you do?"
That sounds like a straight up "Sorry if what I said upset you," "Sorry I got caught," or "Sorry you're not smart enough to get my sense of humor." The quintessential #sorrynotsorry.
So it seemed that "The Simpsons" was not going to budge, and that Apu was going to stay firmly planted behind that gas station check-out counter, where he would remain for all eternity as a white-person's stereotype of an Indian.
But now Hank Azaria, who voices the character (along with half of the population of Springfield) has said that he's ready to stop giving voice to Apu. In an interview with Stephen Colbert this week, he says he recognizes the harm it has caused, and he regrets it. He also said the show needs more people of color in the writer's room—and if that means he has to get out of the way, then so be it.
This is a great example of how to use your privilege for good and not for evil.
Meanwhile, the producers' initial non-apology, with its disparaging allusion to all things "politically correct," speaks to a broader phenomenon. This is about white people's reluctance to recognize progress as just that—progress—and to accept that evolution in cultural sensitivity is a GOOD thing. Nobody needs to "just lighten up" here. As we learn how to live as a more diverse and inclusive society, there will be inevitable shifts in the humor that is considered appropriate, and what is considered just humorless. Writing off public concerns as hypersensitivity is not a good look for America's longest running sitcom. Hopefully they will follow Azaria's lead here and set an example. Know better, do better.
I didn't know in seventh grade that having a white guy imitate an Indian accent was racist. I didn't know it when I was 16. Maybe not even as sophomore in college. But this side of the millennium?  Yeah, that's totally racist. And I'm speaking from Olathe, Kansas, a community that bears painful witness to the real life consequences of not-so-subtle racism. A year ago, two Indian Americans were shot in my neighborhood bar and grill, by a white guy shouting "get out of my country." Both victims were engineers at Garmin (also in our neighborhood) and one of them died of his injuries. 
Just a few weeks ago, the shooter pleaded guilty and he's probably going to prison for life. But Srinivas Kuchibhotla is still dead.
Microaggressions are not so micro.
Maybe we didn't know better 30 years ago. But it's time for America to grow-the-eff-up and stop laughing at the brown kid. We know better now. We should do better now. Meanwhile, I'll be interested to see what Azaria's stance does to the show. I haven't watched an episode in going on 20 years, but I might show back up just to see what happens to Apu. Will they keep him but with someone else's voice? Will they kill him off, like when a flesh-and-blood actor leaves a show?
Or maybe he will get deported. That could be a powerful teaching moment, in the current climate. Not necessarily a funny one … but it seems like Springfield is not always such a hilarious place these days.