Like many of you, my moral outrage is spent after watching the Kavanaugh hearings yesterday. And my feminist outrage has burned out for the moment, leaving me nothing else to say about the proceedings; about the troubling truth that many who believe Dr. Ford's testimony will confirm the candidate anyway, because their agenda matters more than anything else; or about all the people we know and love who have outed themselves as rape apologists this week.
I'm experiencing a rare thing (for me) that I think they call "speechlessness." I have no more words. I trust they'll come back (possibly with a vengeance, as words sometimes visit me), but for now, I'm going to share a few headlines of news stories and opinion pieces that capture the essence of this moment in history.
• The Patriarchy Will Always Have Its Revenge, by Jennifer Weiner. You speak the truth, sister.
"Even putting Brett Kavanaugh's nomination aside, over the past few weeks it's felt like someone fired a starter pistol, one whose report was pitched only for abusers' ears. One by one, like bad dreams, the #MeToo men have come back from the allegations against them, having suffered — if that's even the right word — the equivalent of a misbehaving child's timeout."
• 'Exactly Why I Nominated Him': Trump Gives Kavanaugh Positive Review After Hearing. If that's not a thousand-words' truth in a short line of text …
• Burn Down the Boys Will Be Boys Club by Patti Solis Doyle.
"There is a new standard. And yes, this new standard may indeed preclude an entire generation of men from judgeships, elected office, and running Fortune 500 companies… Meanwhile, a generation of women (who, notably, have not been accused of assault) have long been precluded from holding these seats in government and business due to discrimination. Now they might get their chance."
• Silence on Wall Street. Tears in a retirement home. The country watches as Ford tells her story. This is a group effort from some Washington Post contributors that captures the image of how life stopped to hear Dr. Ford's story.
• Brett Kavanaugh and the Adolescent Aggression of Conservative Masculinity .THIS IS JUST REALLY A QUITE EXCELLENT HEADLINE. By Alexandra Schwartz.
"What we are seeing is a model of American conservative masculinity that has become popular in the past few years, one that is directly tied to the loutish, aggressive frat-boy persona that Kavanaugh is purportedly seeking to dissociate himself from."
This vote is happening today. There is nothing left to say about it. We just sit and watch, and hope that a few undecided senators decide to put country over party and preserve *some* measure of dignity in our highest courts. In the meantime, take care of yourselves out there. If you are reliving your own sexual trauma through all of this, here is a number you can call for support (1-800-656-4673). Or, if the news is just literally making you sick, take a few measures of radical self care today.
While we wait, I wanted to share this powerful piece of poetry by my friend Savannah Sipple. Savannah is co-owner of Brier Books in Lexington, Ky. This poem (below) originally appeared two years ago in the anthology If You Can Hear This: Poems in Protest of an American Inauguration, from Sibling Rivalry Press. I read this with the image of a screaming, crying, outraged Judge Kavanaugh in my head and, yeah … seems about right.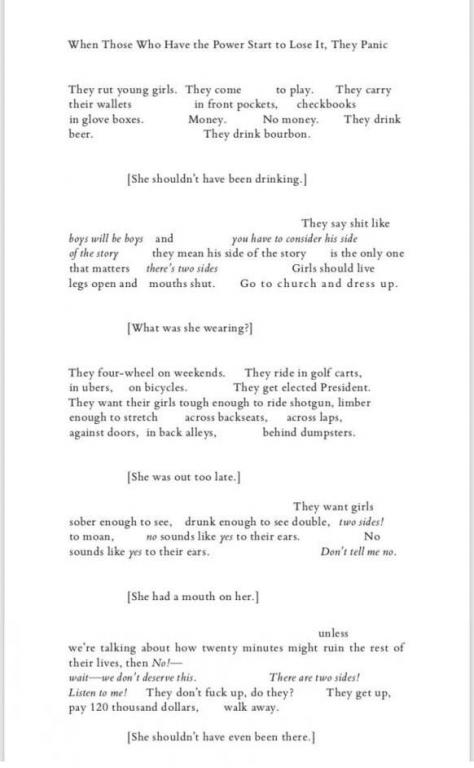 Read more about internalized misogyny in my book, Resist and Persist: Faith and the Fight for Equality.