A couple days before Christmas, I rode with my mom out to the cemetery to put red and white flowers on her Daddy's grave. My grandfather died in the summer of 2015, so it had been a year an a half since I visited Pleasant Hill Cemetery. I had not seen the completed headstone, nor taken any time to wander around after his burial. Mostly, I just didn't want my mom to have to go alone.
I do not make a habit of visiting relatives' graves. I suppose I do it somewhat more than the average American but somewhat less than most other members of my family. I was struck by a passage in J.D. Vance's A Hillbilly Elegy in which his grandmother explained why they pulled their car over to the side of the road as a funeral procession passed: "We are hillbillies. We honor our dead."
We are not hillbillies. But we do honor our dead.
I don't think it's a stretch to say that some of my ancestors fit the definition of hillbillies, especially the ones buried in Pleasant Hill Cemetery. In our community, the Lupfers were town people and the Lambs were country people. In a recent column about the 500th year of the Protestant Reformation, I wrote that my family embodied most WASP stereotypes. I was thinking of the upscale ones, but I also have gun-toting, hot tempered Scots-Irish blood in my veins.
As my mother paid respect to her aunts and uncles, I wandered around the grounds. One relative installed a bench to sit on when she visits the cemetery. My mom's high school friend evidently visits his parents' graves often, as the St. Augustine over their plot is a lush, well-watered patch of green surrounded by an ocean of dull-colored native grass struggling to push through the sand.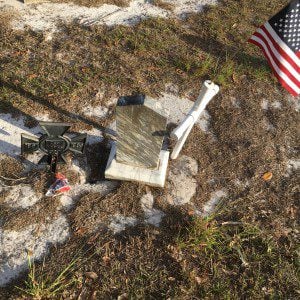 The numerous flags on veterans' graves made me recall with pride the three-volley salute a local Honor Guard performed at my grandfather's funeral in the sweltering midday heat last July. I also noticed a few C.S.A. markers and fragments of sun-faded Confederate battle flags. For a long time, a local Sons of Confederate Veterans group steadfastly maintained gravesites and placed Southern Cross markers, which are available from the Department of Veterans Affairs. Maybe they still do. I thought of the recent debates over the display of Confederate symbols, in which my view was basically that celebrating the Confederacy is not good, but erasing it is impossible and unnecessary.
I was surprised to see the University of Florida's gator mascot inscribed on so many gravestones. I can't imagine that mere football fandom would merit these little monuments, but it would also surprise me if all those deceased are UF graduates. Still, most of the graves dated from a time when the University of Florida in Gainesville was the only public university. I believe Florida State in Tallahassee was a women's college through World War II. Perhaps many of the sons of these pioneer families studied at UF.
In terms of diversity, I suspect there isn't much. There are no Jews buried in Pleasant Hill Cemetery, and I would be surprised if there are any Roman Catholics. There is not a crucifix or saint to be found. Other than crosses, the religious symbols were mostly praying hands, Bibles, scriptural citations, and quotes or allusions to gospel hymns.
Pleasant Hill Cemetery was surrounded by miles of prairie as recently as 15 years ago. Today, it is boxed in by housing developments and shopping centers. I wonder if the balance of the plots will be used by the old families' sons and daughters, or whether newcomers, mostly Hispanic, will one day lay to rest there. Up the county road and down the main highway, I noticed a new site, the Muslim Cemetery of Central Florida, something the people buried in Pleasant Hill never could have imagined.
The Old South has passed away, mostly for the better I suppose. Soon, cemeteries like this may be the only places you can see that it ever existed at all. But I enjoyed spending a few moments on a mild winter afternoon thinking about the departed. I have traced my family's Union and Patriot ancestry with great pride, but it felt good to acknowledge that these are my people, too. Many had prejudicial attitudes. Some were unenlightened. But I figure that overall, most were no better or worse than I am.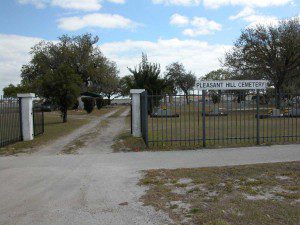 I considered picking up the Rebel flag fragments and throwing them away, thinking I might be doing a favor to residents and visitors alike. But they were torn. And faded. On the ground. In a cemetery. Really, they didn't seem out of place. Instead, I let the gravestones bear silent witness to the deceased, however imperfect, however virtuous. The South has plenty it should leave behind. But it reminds us to value family, community, religion, and place.
It's hard to know how to be a good son of the South. But for one day, at least, I think I did alright.