One of the few bright spots in the 2016 GOP nominating contest was the emergence of a small but vocal subset of conservative evangelicals who strongly opposed Donald Trump, a breathtakingly obnoxious and unchristian demagogue who inexplicably drew big-league support from nominal and practicing white Christians.
The Reverend Dr. Russell Moore was one the most prominent of this faithful band. With well placed op-eds in leading newspapers and numerous appearances on cable TV, Moore took the evangelical case against Trump to a national audience. This Never-Trump group also included other prominent Southern Baptists, leaders of the Ethics & Public Policy Center, and numerous pastors and professionals engaged in the political witness of white evangelicalism.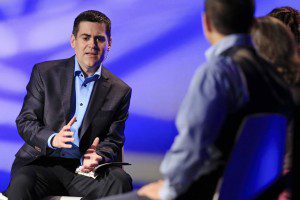 Since the election, there have been louder and more frequent rumblings of discontent among a few Southern Baptists for whom Moore is the most visible public spokesman on matters of public policy, adding their voices to pro-Trump Baptists like the Reverend Dr. Robert Jeffress and Jerry Falwell, Jr. Jeffress, pastor of First Baptist Church of Dallas, basically called Moore a namby-pamby pantywaist Christian. Falwell wondered if Moore is a closet liberal (Fact check: He isn't.)
Wall Street Journal reporter Ian Lovett had a good article earlier this week on the matter, bringing it from the pages of denominational newspapers and evangelical news sites into the mainstream media.
Clergy and lay Baptists are responding to Moore's resolute denunciations of Trump's moral character and his questioning of professed Christians who supported the unrepentant faux Christian.
That message has prompted indignation from prominent figures within the Southern Baptist Convention, the largest Protestant denomination in the U.S., with more than 15 million members. And it has put Mr. Moore in a precarious position, as Baptists argue over the political direction of an organization with a global reach and a powerful impact on American life.
Now, please do not hear me to say that the Religious Right is right on everything. In my view, they are not. To wit: They still possess a rather unhinged hatred of the Democratic Party, they minimize issues on which Jesus spoke clearly, they are too friendly to hoarders of wealth, and they are far from the global ecumenical consensus on almost every issue that does not directly involve human sexuality.
Still, the ERLC has emerged in recent years as a premier evangelical public-policy organization. That is not an opinion. I think I have the standing to state this as an objective fact. I observe evangelical politics as a scholar, a journalist, and (occasionally) an activist and I am telling you: This organization is top-notch.
Russell Moore may not get invited to a few White House meetings in which Trump's evangelical lackeys will strategize about how to repeal the Johnson Amendment. Who cares? How many times did he meet with President Obama? Twice? Moore has done more than just about anyone in the past few years to rescue a subset of the Religious Right from their decades-long uncritical association with the GOP.
I disagree with him on plenty. But Moore's integrity and thoughtfulness is evident for all with eyes to see. I was rather sorry to see Moore's public acknowledgement of his critics in a recent essay, as I can't find anything he has to apologize for, at least with respect to his principled refusal to advocate for Donald Trump's election.
The WSJ headline mentions that churches may withhold funds from "Russell Moore's organization." The ERLC is not Russell Moore's organization. It belongs to all Southern Baptists. Moore understands that well.  And he is the best steward of it they are going to find. Moore speaks for Baptists sometimes. But he also speaks to them. I hope they are listening.
Save