Our ongoing debate over the role of religion in public life seems to hit a quadrennial peak when we argue about which religious institutions and leaders (if any) should participate in the inauguration of American presidents.
Two good articles late last week described the tension.
In The Washington Post, Sarah Pulliam Bailey had an article about disagreements among Episcopalians about whether the National Cathedral should decline to participate in Trump's inaugural:
Members of the Episcopal Church appear divided over the decision to play a role in Trump's inauguration, with some supporting the cathedral's decision to host the prayer service while believing that the decision to allow the choir to participate crossed a line.
TIME reporter Elizabeth Dias noted that of the six religious figures chosen to speak at inaugural events, three were Trump critics during the campaign.
Trump has selected an unusually large mix of both friends and critics to bless his new Administration, some famed, others fringe.
I'll deal with the Episcopalians' critique of the Cathedral's participation elsewhere.
Trump's inclusion of faith leaders includes some surprises. For one thing, there are a lot of religious figures included — six just in the swearing-in ceremony. For another, Trump is not known for reaching out to critics and giving them a voice. Yet three of the six speakers criticized Trump during the campaign. While the Most Rev. Timothy Dolan, cardinal archbishop of New York, has become a civil-religion fixture, praying at both the the Republican and Democratic Party conventions in 2012 and sitting between Trump and Hillary Clinton at last year's Al Smith Dinner, will be the first Catholic bishop to pray at an inauguration in 40 years. The inclusion of White and Jackson elevate the profile of Pentecostal Christians, who are typically underrepresented in official Washington's faith circles.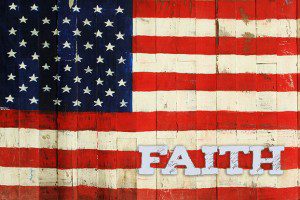 Per the Presidential Inaugural Committee, the following leaders will participate.
The Reverend Dr. Samuel Rodriguez, National Hispanic Christian Leadership Conference
The Most Reverend Timothy Cardinal Dolan, Archbishop of New York
The Reverend Paula White, New Destiny Christian Center, Orlando
Rabbi Marvin Heir, Simon Wiesenthal Center
The Reverend Franklin Graham, Samaritan's Purse & Billy Graham Evangelistic Association
Bishop Wayne T. Jackson, Great Faith Ministries International, Detroit
This list excludes Trump's own mainline Protestant tradition altogether. Mainliners' absence may reflect Trump's lack of interest in his own faith. Or it may be indicative of mainline leaders' diminished prominence in public life. Mainline Protestants used to be the public face of American religion. In recent decades, they have become just another face in the crowd. At President Trump's swearing-in ceremony, they are not on the platform at all.
Franklin Graham fills the spot that may have been claimed by another prominent conservative evangelical, Jerry Falwell, Jr. Like Graham, Falwell was an early and strong Trump supporter, using his famous name to signal to conservative evangelicals that the mammon-hoarding serial adulterer was the right candidate for them. But whereas Falwell wrote bad op-eds and appeared bored and tired in many TV interviews, Graham traveled to all 50 states for Trump, testing the limits of his organization's tax-exempt status. Unlike Falwell, Graham is an ordained minister and sometime evangelist. So, it probably makes more sense for Graham to represent the unconditionally Republican wing of conservative evangelicalism.
Few Americans have heard of White or Jackson, but that may be the most important point. Trump and his operatives have no interest in nodding to denominational leaders in plum offices or preachers in prestigious pulpits. White is a longtime friend to Trump and the one who religious-right has-been James Dobson credited with converting him to evangelical Christianity. But White and Jackson represent a strand of Protestantism that claims the devotion of millions of Americans. Maybe their inclusion is overdue.