In a huge loss to the faith-and-politics world, Michael Cromartie has died. He was 67.
Known and widely admired for his decades of work of improving the integrity of evangelical Protestant political engagement, Cromartie was vice president of the Ethics and Public Policy Center in Washington. Cromartie also greatly improved public dialogue about religion by bringing together religion experts and journalists eager to write about faith with more analytical rigor and insight.
I will leave the more personal remembrances to those who knew and loved him better and longer than I did. But I must say that I have rarely encountered so gentle a soul or so fine a man. I often saw Mike at events around Washington, and he had a memorable warmth and kindness with everyone he met.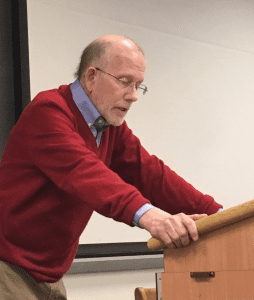 One of my best experiences as a Georgetown Ph.D. student has been assisting E.J. Dionne with his undergraduate course on religion and politics. Every year, Mike came to the class and spoke winsomely and confidently about evangelicals' engagement with U.S. political systems. Though he ably and politely honored the norms of our academic environment and spoke to groups of students that included few evangelicals and plenty who were not well disposed to evangelicals in politics, Mike confidently projected his own faith. He never pushed it on anyone, but he was always clear that if they were interested, he would love to talk to them more about his beliefs about God, Jesus, the Bible, and so on.
Given his unimpeachable reputation, Mike's affirmation of my work was tremendously meaningful to me. I once joked to him that my vocational dilemma boiled down to whether I wanted to be an expert-presenter or journalist-participant at one of his Faith Angle Forums. I was profoundly honored when he said he hoped I could do both, and I sincerely regret that I never got to do either under his guidance.
Given my academic and journalistic interests, Mike was an invaluable source of inside information and considered, judicious reflection on the Washington faith-and-politics world. On several occasions, I asked him pointed, difficult questions that invited him to dish on some organization or express dismay at some Christian leader. Mike never took the bait. He was unfailingly kind, always striving to see the best in allies and opponents, while never straying from the convictions of his well formed Christian conscience.
Perhaps my highest tribute to Michael Cromartie is the fact that, whenever I ask DC insiders or faith leaders who best exemplifies conservative evangelical political engagement, they all mention his name. He was not just on everyone's list. He was at the top of everyone's list.
I send my condolences to Mike's loving family and many dear friends. May they find comfort in the days to come, confident in the faith he believed and shared. Everyone who thinks and works and battles at the intersection of faith and politics will do well to consider Mike's very fine example. May all of us remember his greatness and his goodness.