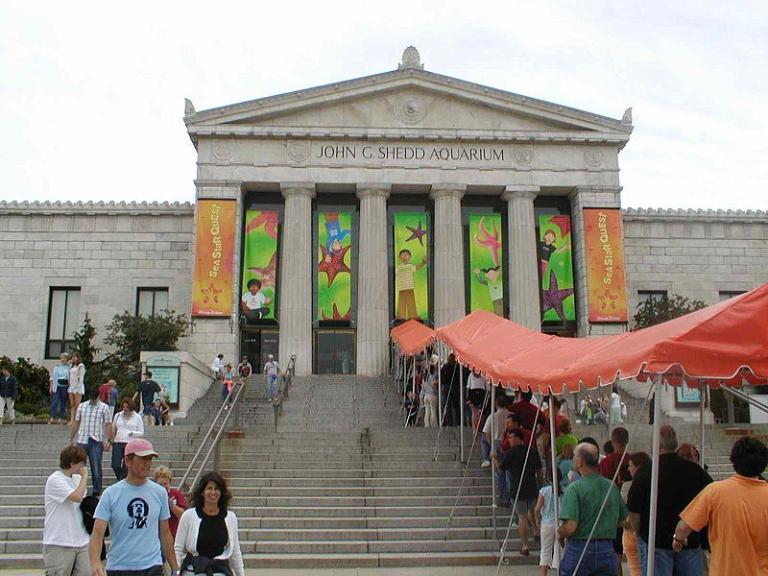 Is it to educate and inform, that is, is there a public service mission, in which visitors are better for the experience?  That's the rationale for public subsidies for and donations to museums, in general, that it's an enriching experience to visit an art museum or a natural history museum, or the like.  Zoos, too, full of entertainment as they are, are meant to be educational as well (and it seems to me that they go a bit too far on this point right now, with endless displays about saving endangered animals and, increasingly, the terrible effects Global Warming will have on your favorite animal).
On the other hand, there are plenty of tourist attractions which make no bones about the fact that they're just for fun.  Skyscraper observatories come to mind immediately, as well as private "museums" like the Ripley's Believe It or Not or the Wax museums that are increasingly popular, or a place like the London Dungeon (with locations in San Francisco, Berlin, Amsterdam, etc.).
So what about the Shedd Aquarium, which was featured in the Tribune this morning because it plans to raise and restructure its prices?  Where it had previously featured a range of options, including a "bargain" admission of $8 to see only the older parts of the building, it will now have a fixed fee of $39.95 per adult for admission which will include dolphin shows but exclude movies, which are $5 extra each — the rationale being that one fixed price moves people through the admission line a lot faster, and, per the image above, this is a legitimate concern.  The article doesn't report on the new children's pricing, but the rates comparable to the new flat rate would suggest that children'll be $30.95.  And the weekly free days were replaced long ago with 52 free days which now exclude weekends or school vacation days, but are always Mondays and Tuesdays during the school year.
At the same time, city residents will pay dramatically less — $19.95.  There had always been a resident discount, but the differential will be increased dramatically.  In addition:
The aquarium currently is free to police officers, firefighters, teachers, active military personnel and school groups. Like many local museums, the Shedd will add free admission for families with a "government funded provision card" under the Museums for All program.
So is $39.95 a "fair" price for a day at the aquarium?  To a certain extent, pricing is just "what the market will bear" and they certainly seem to have plenty of ticket-buyers even at these rates.  And there have been a couple years when the Actuary family has gotten a discount offer in the mail and ponied up for a membership (which worked out to be basically the cost of a single visit for our family), though we haven't gotten any offers recently and that may mean that they're doing just fine.  In fact, I rather had the impression that there were a substantial number of members for exactly this reason.
What's more, if the aquarium is simply a fun activity and a nice way to spend the day, then, well, it costs what it costs.  If the total expenses add up to be too much for your family, when you tally up the admission plus parking and overpriced museum-cafeteria lunch, well, so be it — find something else to do for the day instead.  On the other hand, if there is a real mission of education, then there is a true failure to meet this mission, if they're charging $40 a head.
Image:  https://commons.wikimedia.org/wiki/File%3AJohn_G_Shedd_Aquarium_Chicago_040724.jpeg; By Sebastian Rueckoldt (image taken by Sebastian Rueckoldt) [Public domain], via Wikimedia Commons