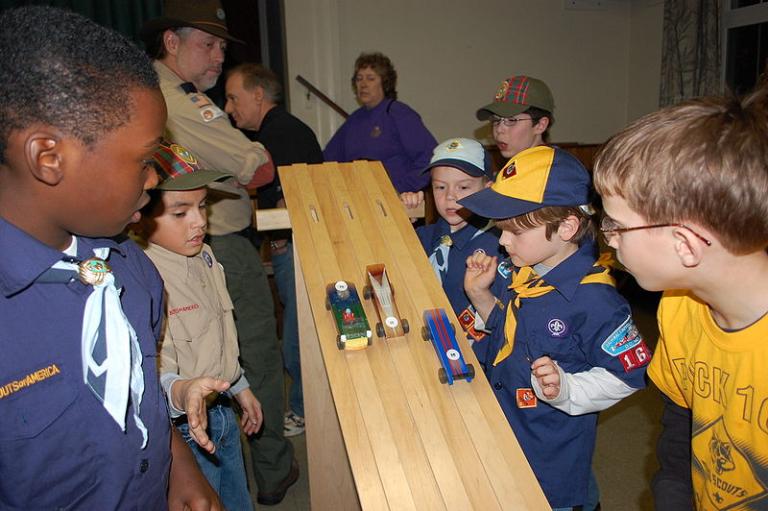 So our local Boy Scout district had its roundtable — the monthly meeting for adult leaders — last night, and we heard an update on the whole "Girl Boy Scouts" proposal.
It's officially public now, with the meat of the concept in a YouTube video which we watched:
The idea is this:
Millennial families are busy, and, if Scouting as an organization wants to reach what they call "non-legacy families" – that is, families where Scouting isn't already a part of family traditions — they have to do so in new ways.  Specifically, polls and focus groups and other sorts of research reveal that, for at least the elementary school-aged children, these potential-Scouting parents want family-oriented activities, and that's especially true of Latino and Asian immigrant families.  They want a "one stop solution," where both their sons and daughters of the relevant wider age group have something on offer for them.
At the same time, the national leadership feels that their curriculum, as they call it, that is, the handbooks and the activities for each of the Cub Scout grade levels, is a very good curriculum that doesn't need changing.
Hence, they are exploring a model for Cub Scouts in which packs can be all-boy, all-girl, or can be co-ed, but with separate dens for boys and girls.  It was my understanding, too, that the structure would change somewhat, and rather than the model of monthly or semi-monthly den meetings at whatever different time, and pack meetings in common, that the entire pack would meet together, with shared opening and closing activities, and then "den" meetings would occur as a sort of breakout group within that common meeting time.  Whether it's envisioned that Mom and Dad would participate in activities with the kids (typically, at the moment, pack meetings are, in theory, intended for the parent to accompany the child and den meetings are drop-off), or would continue to drop-off, but be able to drop off all kids at once, rather than at different times during the week, or a mix of both depending on the particular activity, isn't clear, but that seems to be the idea.
This is, then, a new concept — though perhaps some packs are doing this already even if it's not the "official" model.  And I could see it working well for packs which are smaller in size anyway, where adding girl-dens to the mix would provide a critical mass for large-group activities.  For packs which are large already, it could make them simply too large.  There are further logistical problems:  are there enough girls to move from "I wish I could participate" or tag-alongs into viable-sized dens, and, more importantly, are there enough leaders, especially if, as national leadership claims, the target audience is families who don't participate in any form of Scouting at the moment, rather than poaching from existing Girl Scout troops or the next generation of potential Girl Scout troops?
At the same time, the Scouting leadership is very insistent (or was insistent, in the video, anyway) that the offering for Boy Scout-aged kids, the 11 – 14 year olds, the middle-schoolers, remain single-sex, because of the benefits of such a program in leadership and character development.  But they likewise feel they can't offer girls the opportunity to participate in Cub Scouts, "graduate" with the Arrow of Light in February of 5th grade, and then leave them hanging until they can join a Venture Crew in high school.  (Though it seems that the idea of "we need to offer a family activity" isn't an issue at that age level, because it's expected that once kids hit middle school or nearly-so, the kids don't need mom or dad there.)  If they offer a girl Cub Scouts option, they need to offer something afterwards –and they proposed one of two options, either creating a parallel organization or partnering with an existing organization, in either case, with rank advancement culminating in the Eagle or an award that would truly be recognized as its equivalent.
This is where things got bogged down.  In the discussion at the roundtable after viewing the video, when asked the question, "who to partner with?" the natural response of some in the group was the Girl Scouts, but the problem is, of course, that girls who are interested in a Boy Scout-equivalent organization are by definition not interested in Girl Scouts, and it is not really a solution to the question of "what do you offer girls who go through the Cub Scout program?" to say, "go to Girl Scouts," especially if they are midway through 5th grade and have not, to that point, been connected to the Girl Scouts.  To me, it seems that a better answer is to say, "each district (a grouping of troops, a subunit of a council) will offer at least one girl Scouting troop" — call it Scouting for Girls, or some such thing — though the difficulty is then that you lose the idea of troops being sponsored by a chartering organization which provides continuity and a recruiting structure; instead, I suppose the district would be responsible for recruiting adult leaders, advertising the troop, and so on, which would take away resources from other programs.  Maybe there would be one or two chartering organizations within the district who have the size and could easily add on a freestanding troop for girls.  In any case, this would have to be done in such a way as to clearly communicate:  "this is an alternative for those families for whom Girl Scouts is not a good fit."
And, really, if Girl Scouts had the same structure of a chartering organization and an all-grade structure (or K-5, anyway), then the rationale of "family time" wouldn't really be an issue.  All it would take to meet this expressed need is for a given chartering organization to say to its Scout families:  "everyone start meeting at the same time and start doing activities together."  Sure, there would still be issues around the envisioned joint gathering time — do Brownies even have a flag ceremony?  Certainly they don't have a Scout Oath and Law, but a Scout Promise instead, and they are not the same.
Now, to be sure, in some circumstances, this could be worked-around:  a parish where Cub and Girl Scouting is done through its school could demand of its parents, "you must work together to ensure the long-term viability of your organizations."  (The same could be easily done in churches that sponsor both a Cub Scout pack and an American Heritage Girls troop, which already has the all grades combined structure.)  A parish that's looking to start a scouting organization in a currently unserved area could do likewise, and impose a larger structure for the girls even if it doesn't otherwise exist for Girl Scouting.  (Is there some philosophical reason why GSUSA would object?)  But a "demand" is unlikely to be well-received the moment the designated meeting time is considered inconvenient, and the group of girls large enough for the moms not to feel the need to band together with the boys/other grades.
And none of this solves the unspoken further issue of "girls who want a Scouting experience but don't want to join Girl Scouts."  Again, are there enough such girls at any given grade level, and enough potential leaders, to be able to form a den?  Over and over, the difficulty Scouting groups of all kinds have is that of finding leaders; in fact, one of the attendees last night said that, as a Girl Scout troop leader, she knows that there are girls on waiting lists to join troops.  (Yeah, I don't know how that works — presumably in addition to the "moms start a troop for their daughters' classmates" type there are others which are run at a community level and open to all with a max number of girls per troop.)
But I suppose, in the end, this is where pilot programs come in.  Allow a small number of packs to have a go at it, following the "break-out group" structure so that it's clear that it is a different animal than just "creating girl dens," and in fact that this alternate model is only secondarily "girl Cub Scouts" but primarily "family Cub Scouts," which means that it's also quite different than the Girl Scout format of girls + troop leader.
As usual, I'd love reader comments, especially from scouting families.
UPDATE:
No sooner did I click "publish" than the AP announces that, that which we were told was still in a process of discussion, is now a done deal:  "Boy Scouts will admit girls to Cub Scouts, Eagle Scout rank."  According to the article, the only difference from what we saw last night is that the plan for the older girls is "to establish a new program for older girls using the same curriculum as the Boy Scouts," rather than possibly partnering with another group.  So my immediate reaction is to be very disappointed that they jumped the gun and completely left the local districts looking like idiots now, after telling us yesterday that this discussion was still pending feedback from local scouts.
And, indeed, this is coming from an official press release, with the same message: separate dens/troops, but options for girls.
Image from Wikimedia Commons.