Text, NKJV: John 1:43-48a
Nathanael is Reluctant and Has His Q's
We see Jesus meeting some of the Disciples here in John 1.  For that sake, it might be one of the earliest conversations with the Disciples.  We're going to start with verse 43.
43: The following day Jesus wanted to go to Galilee, and He found Philip and said to him, "Follow Me."  44: Now Philip was from Bethsaida, the city of Andrew and Peter.  45: Philip found Nathanael and said to him, "We have found Him of whom Moses in the law, and also the prophets, wrote – Jesus of Nazareth, the son of Joseph."
46: And Nathanael said to him, "Can anything good come out of Nazareth?"
Philip said to him, "Come and see."
47: Jesus saw Nathanael coming toward Him, and said of him, "Behold, an Israelite indeed, in whom is no deceit!"
48a: Nathanael said to Him, "How do You know me?" (John 1.43-48a)
I want to point out something about Nathaniel that is common among others throughout the Old and New Testaments.  A lot of them are reluctant – the reluctant minister.
They have questions.  They don't always know what's going on.  For example, is this really Christ calling me into a position?
Church History Reveals Similar Patterns of Reluctance
I'm just going to pick one story to share.  There are similar patterns of reluctance among some of the great names throughout Church History.  Some of them were slow to respond to the call.
Video: The Call of Ambrose
 
When we think about reluctance, we may ask "Why didn't they just obey or do what God wanted them to do?"  The flip-side is that when you're the person being called, it is very, very humbling.  We can't just misinterpret everything as reluctance or disobedience.  On the flip-side of that coin is great humility.  "Why would God want to use me to lead and to do anything?"  I'm going to pick one historical character as an example.
What About Ambrose?
You may ask, "Who is Ambrose?"  He's the Governor of Milan, Italy.  Milan is the HQ of the Roman Empire at that time.  The church has great freedom at that point, so Bishops are more popular and influential than Governors.
In AD 375 the Bishop of Milan dies.  Because it's under Roman rule at the HQ, Emperor Valentinian steps in.  He is going to appoint someone, but the people are calling for an election.
Ambrose is so highly respected that everyone votes for him.  There are a couple of problems.  1) Ambrose is only a "catechumen" in the process of discipleship, but has not fully become a member or been baptized.  2) Ambrose doesn't want the position.
As Ambrose is trying to make this clear, the legend of history says a child starts to chant, "Ambrose Bishop!"  Then the crowd starts chanting "Ambrose Bishop!"
Their voices rise up.  The Emperor can't do anything about it, so he declares Ambrose as the Bishop . . . and Ambrose runs.  He literally flees the scene.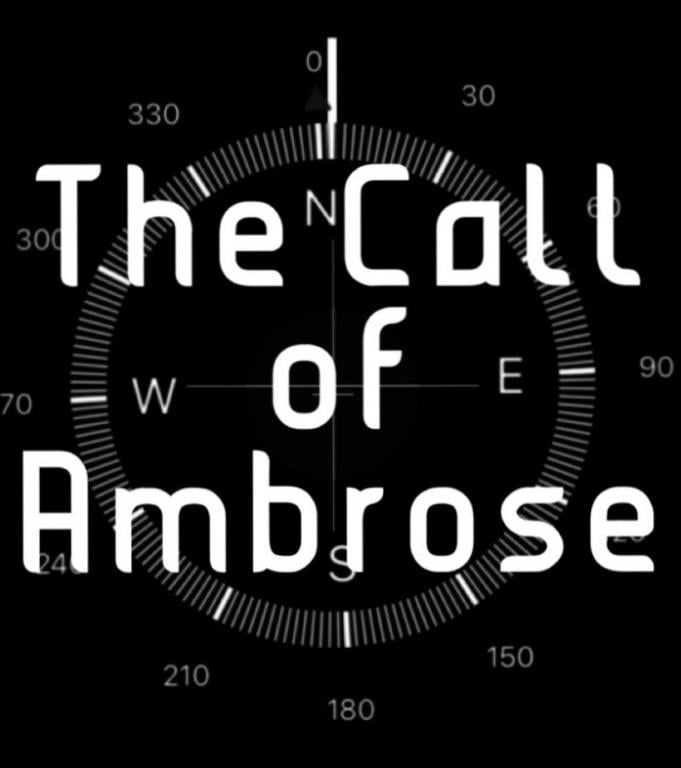 The Emperor, in all of his wisdom, says that anyone who hides Ambrose will be punished.  After 8 days, Ambrose comes out of hiding, accepts the post, and is baptized.  He becomes Bishop.  He's only 35 years old and he serves for 23 years in the seat of Rome.[1]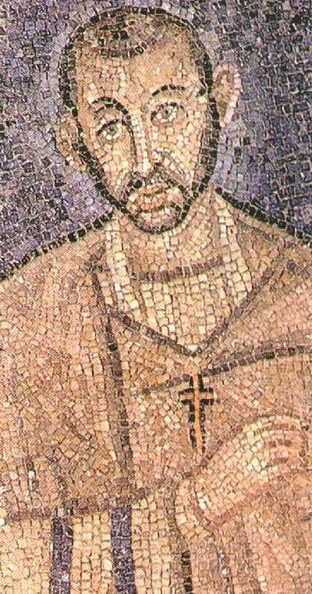 Saint Ambrose, St. Ambrosio Church, Milan, actual portrait? / Public Domain
History remembers Ambrose, the reluctant bishop, for many reasons, writings, and accomplishments.[2]  One accomplishment is that he slowly reels-in a young man who occasionally drops into church.
This young man is a highly educated.  He is also a philosopher.  He knows every philosophy in the Roman Empire and beyond.  He knows some of the philosophers who started the philosophies.  He is a brilliant man.  
He's also the Chief Orator of Milan, the spokesman for the entire Roman Empire.
Because of the patience of Ambrose with this young man, he eventually but reluctantly becomes a Christian, and later in life a Bishop as well.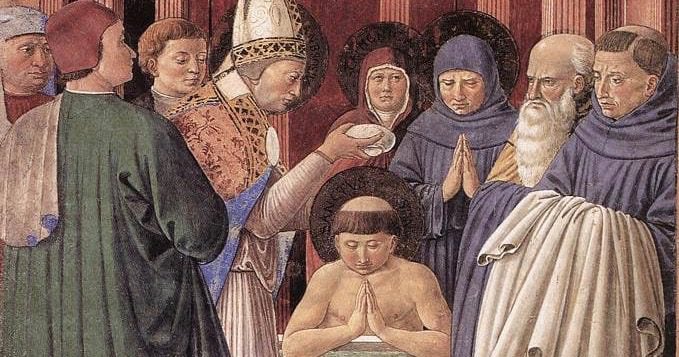 Benozzo Gozzoli, Baptism of St. Augustine [by Ambrose], 1464-65 / Public Domain
You may know this young disciple of Ambrose as Augustine.
Before his salvation, Augustine loves to slip into the back of the church and listen to Ambrose.  He does not like the Gospel, but he loves to hear the Bishop's eloquence.  Philosophically, he begins to see real truth in the Gospel.
Augustine does not care about Ambrose's status as a Bishop, but he cares that Ambrose is kind to him as a person.  Augustine dislikes the Message, but he loves the Bishop's eloquence and friendship.
Think about his words which describe the Gospel as it slowly penetrates a heart.  Augustine says, "Nonetheless as his [Ambrose's] words, which I enjoyed, penetrated my mind, the substance, which I overlooked, seeped in with them, for I could not separate the two.  As I opened my heart to appreciate how skillfully he spoke, the recognition that he was speaking the truth crept in at the same time."[3]
The substance of the Gospel came across with the words of the Gospel.
Honestly, think about how many people know about Augustine.  Yet, how many have heard of Ambrose?  Of course we need more preachers and prophets like Augustine.
Maybe We Need Many More People Like Ambrose
Maybe we need people who are patient with young philosophical minds, young thinkers.
Maybe we need men and women who aren't always correcting the next generation, but who are patiently engaging them, and answering their great questions.
We come from a generation where it's okay to line out the doctrine in 20 points, memorize it, and hand it off like a tract.  If someone doesn't believe it, then we'll go to all the Scriptures and correct them.
That's not why Augustine came to Ambrose.  He came to Ambrose because he belonged.  Ambrose made a place for him before he believed.  Do we see the difference?
Who is Ambrose?
You might ask, "Who is Ambrose?"  Why don't you ask Augustine because he would credit everything he does to Ambrose, the reluctant Bishop.
---
* adapted from JVI, Preachers & Prophets, 10.08.17
[1] 
Adapted from: James Loughlin, "St. Ambrose,"
The Catholic Encyclopedia
(New York: Robert Appleton, 1907), accessed October 4, 2017,
http://www.newadvent.org/cathen/01383c.htm
.
[2] Ambrose, 
the reluctant bishop
, is not an official title and is not meant to be disrespectful in any way.  The story of his call simply lends itself to the overall flow of the message, as does the reluctance of Nathanael and Augustine to their callings. [3] 
Maria Boulding, Trans.,
The Confessions Saint Augustine
 (Hyde Park, New York: New City Press, 1997), 132.