i. I've been hoping to share a piece that was written for our region
This was a seminary assignment written for the Grand Traverse Bay Area in Theology and Ethics of Work at Asbury Theological Seminary (2017).  I consulted with a couple of professors (Kevin Kinghorn and Jason Vickers).  Here are my professor's guidelines for this talk.
The third and final assignment involves an imagined scenario (which I hope might be actualized for each of you at some point!) in which you've been asked to offer a 20 minute talk on the topic of "Bringing Ethics to the Workplace".  The assignment is to submit the written text for this talk.  (A 20 minute talk probably equates to about 9-10 double-space pages of text.)  For this assignment, you can choose either of the following two scenarios:
(a) A lunch meeting for fellow church members, in which your talk is expected to appeal to specifically Christian themes and resources.
(b) A lunch meeting for community business leaders, in which the person inviting you to talk has advised that your audience will be motivated more by pragmatic concerns than by religious interests.
ii. About this Talk
The choice was obvious for me, but difficult.  I chose option (b).  It was obvious because I usually speak to Christians.  I wanted to have an excuse to write a piece that could be utilized in the public square.  It was difficult because I usually prepare sermons in outline form, not manuscript.  This seems to be more of a formal talk at a luncheon.
I hope I know my audience
I've had feedback from a leader in young adult Christian education/ministry, an author who is a voice from Fortune 500 companies to Harvard, a couple civic servants, and a college professor.  In town, I've talked to three business leaders, friends in law enforcement, and a few ministerial leaders. I'm grateful for everyone who reviewed this piece and continued the conversation.
I've only presented this material in one venue, but have been looking for a better way, and better timing, to disseminate the research.  Hopefully, through this platform, I will be able to offer some insights for our community, even though they may be somewhat elementary.  If it's of interest to you readers outside of town, then perhaps it will spark similar dialogue in your region.
The method requires a little explanation
My format is: 1) presenting a question/idea, 2) discussing it's validity and perhaps adding other ideas, and 3) finding and idea with slightly higher value (that may even spring from both 1 and 2).  This third movement propels us forward in the overall discussion.
We at Patheos generally write something like longreads.  Therefore, I expect this will be about a four part series (footnotes included in my wordcount).  I will attempt to keep it's original form as much as possible.  Since it was written last autumn, I hope it holds some relevance today. We've only lived in the region five years this coming November, so I rely on the insights of others throughout the piece.
I must admit, some have critiqued this piece for raising plenty of questions, but not offering a lot of answers. Others don't want to know about the issues, or speak to the issue. Then when do we talk about ethics, and how? Hopefully those critiques will be limited and fade, at least from this particular talk. My professor states that some of the best discussions we have don't offer all the right answers, but simply raise the right questions.  I can only hope to spark a little conversation that may lead to more pragmatic concerns.
Ethics & the G.T. Bay Area Region: 1. Development & Holding to Our Values
To prepare for this talk, I've had conversations with a broker in commercial real estate and a senior loan officer, both with offices in the heart of town.  I've also spoken with a young adult who's working on a similar project at our local college, a talk that served as a catalyst for the direction of this study.  For their sake, I won't refer to their names. Instead, I'll try to develop a flowing dialogue, as if we could call them all to the table.[1]  I've consulted local publications, along with Christian ethical materials.  This seems to be a nice approach.
The original question was actually asked of me
What are three issues that Traverse City is facing and what can be done about them?  My first thought was that I have only been in town four years. The second thought was that I'm a pastor, and we don't get invited into the public square very often anymore.  My third thought was to make sure that as a pastor, I would actually be able to address community concerns, without making an altar call or taking an offering (just kidding).  I was assured I didn't have to do those types of things, but only voice my thoughts.
After that first interview I realized I was working on a similar study. The three issues are: overall development in the region, professional development for young adults, and regional networking.
iii. Regional Development
What type of businesses are we attracting?  We have done well answering regional development questions over time.  Traverse City sits on the Grand Traverse Bay of Lake Michigan. The first settlements were French and Indian trading posts.  The area boasts rich tales of missionaries who were among early settlers. Some local churches and missions are among the earliest structures.  It's rumored that Father Marquette ministered in the area, before eventually moving through the Upper Peninsula on his way to Wisconsin.[2]
During those days, the only easy way into the city was by boat
There were no roads to the area.  
In the 1850's an entrepreneur sailed into Traverse City from his lumber mill in Chicago.  He bought 200 acres and a local mill. Perry Hannah eventually became the most influential founding father in our region.  There is no doubt he was a capitalist, but his story reveals values and ethics that seem rare for his day. He gave his workers
lumber
slabs
, large unusable pieces of wood.  A housing area developed called
slabtown
.  This is a great idea 
(and not exactly rocket science!)
I'm not sure we could compare this to low income houses because they were so sturdy that many of them still stand as historic buildings.  He also worked closely with our Indian tribes, acquired some of their land, but allowed them to work it. Perry gave them jobs in the mill and around the region.  He gave them slabs so they could build structures to replace their teepees.  We were in an agricultural logging boom.  That boom may be over now, but agriculture is still a cornerstone of regional development.
Perry also envisioned another enterprise
He started the snowball rolling with commercial business, entertainment venues, and what we now call our tourist or resort industry.  He was attracting tourists and wealthy homeowners, even summer home owners, to our ever growing downtown district.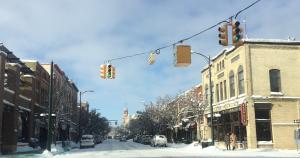 JVI, Front Street Early Winter 2018
Our economy, a mix of agriculture and remarkable commercial development, is largely a result of the capitalist and entrepreneur Perry Hannah.[3]
On one point we had the only Michigan state mental health hospital, an enormous facility that is now a shopping commons.  Our bay front region is a world-renown destination attracting millions each year.
Doug Luciani (TraverseCONNECT CEO, mother company of our chamber of commerce) states, "Since its earliest beginnings, Traverse City has been a community pushing forward to be the best it can be, whose better days were always ahead . . . a place to embrace bigger and better – never afraid of its success and potential."[4]
We're not afraid of development. With regards to ethics in the marketplace, one question that is now being asked is, "Can our region continue growing while still holding to our historic, small-town values?"
---
[1] 
Names undisclosed, interviews by author, Traverse City, MI, October 22, November 6-7, 2017.
[2] I spoke with a priest from Marquette, MI who confirms that Father Marquette was in Traverse City.  He helped establish the ministry on the Old Mission Peninsula.  This is a point not a lot of people know, just an interesting connection with our history.  I've already reviewed our demographics.  There are more Roman Catholics than other local groups: Name undisclosed (one of the Marquette priests), conversation with author,
2018 Baraga Radio Spring Dinner
, Traverse City, MI, May 10, 2017. [2] 
Peg Jonkhoff and Fred Hoisington,
Perry Hannah's Gifts Then and Now: Traverse City's Founding Father
(Traverse City, MI: Bay Breeze Media, 2013).
[4] 
Doug Luciani, "Small Town Character . . . or Small Town Politics?,"
Traverse City Record-Eagle
(October 18, 2017),
http://www.record-eagle.com/news/business/doug-luciani-small-town-character-or-small-town-politics/article_8045f2dd-4677-523c-aa36-22c99a5b695f.html
(accessed November 6, 2017).