I've considered a couple other options for the writings this week, revolving around Theology and philosophy. I've also thought of a writing from the Pentecostal Messenger, or some of my wife's published devotional literature. However, this review seems to be emerging, so I offer this dialogue from a Tutorial in Philosophy of Religion.[1] It's in the neighborhood of Theology, philosophy, and psychology.
In the introduction of Visions of Vocation, Steven Garber explains his purposes. "We are called to be common grace for the common good. That is the vision of the Washington Institute, which is my work. Our credo is that vocation is integral, not incidental, to the missio Dei."[2]
Steven Garber states that faith influences vocation, which influences culture. He paraphrases Jeremiah who is a messenger to the people of God in a very difficult time. Jeremiah 29.7 is an injunction to, "seek the peace and prosperity of the city . . . if it prospers, you too will prosper" (NIV). Compare this to Garber's translation, "when it flourishes, you will flourish" (Garber 18).
Review: Visions of Vocation
Chapter i. To Know the World and Still Love It?
Steven Garber paints a picture of the realities of the world, like the decisions of Bono and President George W. Bush in regards to the AIDS crisis in Africa. He states that people want to do good for all, "they want their ideas to have legs," and that is what leads them to Washington (21). However idealistic, Garber reveals realistic ways business and politics are processed.
There are a few takeaways you may have from reading Visions of Vocation. However, a central question or theme for me has been, "Can you know the world and still love it? . . . Can you know me and still love me?" (22).
He offers many answers. He writes about his relationship with the Christian band Jars of Clay, his conversations with them, and a contact person he recommended.
Jars of Clay decide they want to help with clean blood and water in Africa. Garber shows how their complicated and difficult vision comes to be, how his contact person joins them, and becomes the hub of their initiative.
Chapter ii. If You Have Eyes, Then See
Garber states what seeing is not, deceiving ourselves with little regard for our times and duty.
In response, he asks about one's call, "how does one see with the eyes of the heart, to see oneself as responsible for the way the world is and isn't?" (38). He shares the examples of deceptions that affected regions and histories, and the globe.
One example of a counter movement seems to be a catalyst for "Gary" from Harvard, and his educational initiative. "Gary believed that some things are true and right and that some things simply, profoundly are not" (Garber 45). That is no longer a popular stance.
The rest of the chapter 2 seems to deal with themes of postmodern desensitization. I would ask if we even sense a need to engage the world around us as citizens, or have we given-in to a deconstructionism philosophy?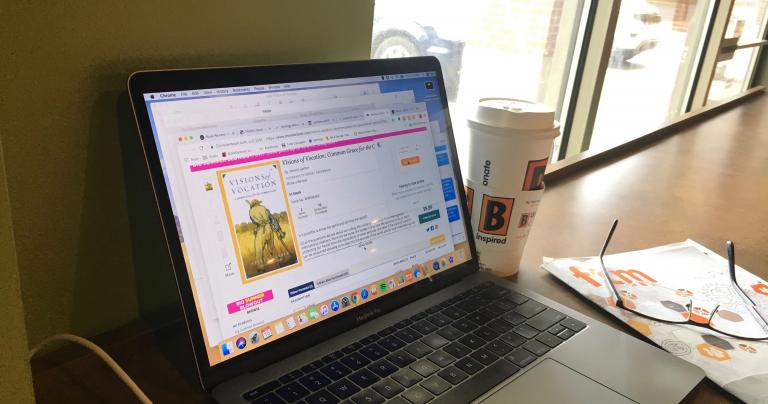 Chapter iii. The Landscape of Our Lives
In this chapter, Garber compares artists with prophets, including a song by a well-known band that discusses our culture's numb apathy, and the desensitization theme again.
Our "info-glut" culture "is a million miles from the time-honored lectio divina" where the sacredness of reading no longer transforms (68). Garber offers insights on the decline of the Western philosophy, with extended quotations. He points out how the media turns a deaf ear to such brilliance (76).
Chapter iv. Knowing is Doing
Nothing in this chapter would sum up the thought better than the exegesis on the Hebrew word for know: yada. Seinfeld fans would immediately connect with the yada, yada, yada illustration (Garber 106). Knowing is supposed to be covenantal and relational (101). An alternate knowing that is taken lightly, is explored by the comedian, artist, and pseudo-philosophy expert Seinfeld.
Is Garber blending philosophy, post-critical Theology, and ethics together like the newest frappe, and serving it to a society that is really in the middle of a paradigm shift?
What about the whatever phrase he explains and the yada, yada?
If Garber is blending a new Biblically based refreshment for our times, then how can scholars, psychologists, and pastors glean from Visions of Vocation to affect change?
Is this covenantal language, involving various stages and histories, leading to something stronger than only business connections?
Wendell Berry
We may want to pay careful attention to what is said about Wendell Berry, who Garber says, "sees the world in terms of the covenantal cosmos, of relationship, revelation and responsibility. But he is a translator, using images and words to connect to the wider world" (Garber 131). At times it is important to wait for a translator and not rush in immediately to any arena.
Is Garber assisting Berry or is Berry assisting Garber?
I am thankful for translators, speaking into the lives of those around me, in languages and in dialects, helping me proclaim good news. Berry is quoted quite often. What guides his decisions to enter all of these arenas and regions? He asks questions like this, although I heard this one in a different context:
If I know Joe, who is the most influential person in the region, and I know someone else who could truly serve, once any opposing barriers are removed, then what benefit is it for me to speak to the issue and covenant with Joe to birth a ministry?
Pastor Peter Moon invited my wife and I to sit with Dr. Jeff and Jody Shaw at an Abundant Life Banquet, and we really liked the keynote speaker Rolland Warren. He asked questions like Garber's, Berry's, and the one above.
In my opinion, Garber gives his version of an answer to this question in the simple statement, "There are people I want my students to meet" (Garber 157). Garber's "want" sounds more like a process of discerning throughout the rest of his book, not only for ministry, but in life, vocation, and relationships.
I will leave the rest of Visions of Vocation for you to explore. It's a good read and I hope you do. You can find it on audio as well, probably through your college's or local library's app.
Questions for further reflection
I've considered a couple of questions from a philosophical and ethical standpoint, but there seems to be one question that may be of interest for a wide variety of collegiate or ministerial readers.
From a Christian perspective, how closely should I tie my identity to my work?
In the introduction of Visions of Vocation, Steven Garber explains his purposes. "We are called to be common grace for the common good. That is the vision of the Washington Institute, which is my work. Our credo is that vocation is integral, not incidental, to the missio Dei" (Garber 18).
i. Calling . . . grace . . . good . . . vision . . . credo . . . vocation . . . missio Dei
These are all terms that seem to answer the question at hand, identity and vocation. As stated above, Garber asks a central question that he chases as a theme, "Can you know the world and still love it? . . . Can you know me and still love me?" (22). Will our vocations allow us to know the bitter realities of the world, yet still choose to engage and make a difference in ways and means that we can?
To know . . . in one of my favorite portions of this book, Garber explains what it means to know. Relying heavily on the Hebrew Bible, he lays out the understanding of knowing, which is far greater than our modern understanding of head knowledge. Knowing is intimacy and knowing spurs us on to action.
ii. God is often moved to do . . . by who He knows
God opposes to the yada, yada, yada form of knowledge. We know too much, so we do not know anything.
Knowing is covenantal and relational. It is the foundation between God's relations with man. If this is true, then our identity with our vocation should be based on truly knowing and engaging.
One practical story involves a pastor who decides to recast the vision of pastors and laity with a unique retreat in the Rockies. "What would it look like for a pastor to so understand his vocation that he would be able to pastor people in their vocations, seeing their work as 'integral to the missio Dei? . . . What would it look like in my congregation to rethink the relationship of worship to work, of liturgy to life and labor?" (156). To make this more concrete, each pastor invites and one layperson from his congregation to the retreat. We can easily see vocation as sacramental in such environments.
iii. Parallel developments at Messenger
We have witnessed a similar example in our faith tribe recently: a collegiate renewal in chapels, the commons, and even the classes at Messenger College. I'm not always a fan of the ever-popular traits we attribute to each generation; sometimes but not always. I'm more like Qoheleth in that regard, nothing new under the sun. However, I would say that an 8-week season of revival and renewal at Messenger serves as a reminder that God is often moved to do . . . by who He knows. I also keep witnessing His grace to my family through Messenger, generation upon generation.
I am still referencing Visions of Vocation because who would really say anything against a philosophical Theologian from Harvard with an obvious command of the Hebrew Bible? Furthermore, there just may be something like thousands of sermon illustrations within the covers.
---
notes:
[1] Jason Vickers, Jared Ingle, and Kevin Kinghorn, on
Theology of Philosophy and Ethics
(dialogue, Tutorial in Philosophy of Religion, Asbury Theological Seminary, Wilmore, KY, 2017). [2]
Steven Garber
,
Visions of Vocation: Common Grace for the Common Good
(Downers Grove, IL: IVP Press, 2014), 18.
Since this is a book review, hereafter, page references are cited in-line, i.e. (Garber #).