I'm not sure these infographics even qualify as infographics. After last week, my 17 year old son informed me that these do not qualify as memes, because there's no punch line. Regardless, I'm providing less infographics from fewer days, yet adding more definition.
This is not a definition for a term, like you would find if you Google it. I'm taking a verse and providing a little more definition and context. It may not seem like there's any rhyme or reason, and that's okay for you to think so. These thoughts reflect my daily readings right now, so sometimes the graces I receive are new every morning indeed (Lamentations 3.22-24).
I have determined for the time being to resign myself from the forays and elitism of academic public writing, so that I can position myself for some more strenuous writings to be published in a different way. Therefore, my posts may reflect an informal tone on Patheos.
For the infographics this week, I'm selecting brooding scenes of weather over, or reflected in, bodies of water . . . be it cold or an undertow. A Google search may produce something different for you, perhaps something you think is better, but it won't produce anything closer to my experience.
Tuesday, 02.11.20
Tonight I read John 9-11, NRSV. I would like to explore the various passages and their meanings, but I'll cut to the chase. I selected John 10.10.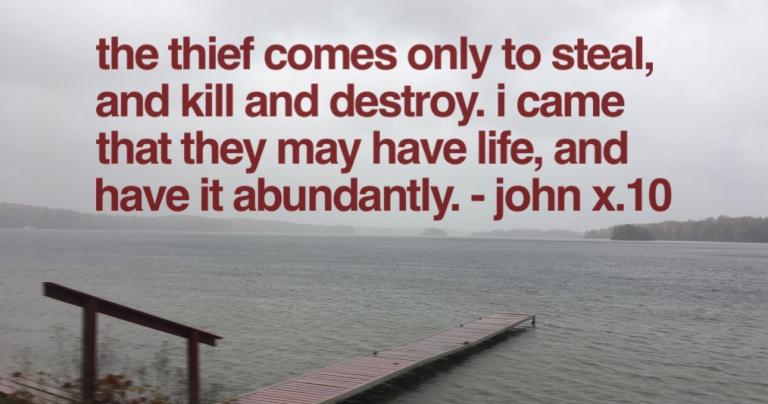 I'm not sure why, but I recall something the speaker said last year at the Baraga Radio banquet.[1] . He said that for some of you, you're not going to face judgment and then Hell, or he implied something like it. But he did say that some of you will stand before Christ and have to answer the question [and I summarize and paraphrase]:
Why didn't you ever walk in the abundant life?
Wednesday, 02.12.20
I've read John 12-14, NRSV. The passage I selected was John 14.16.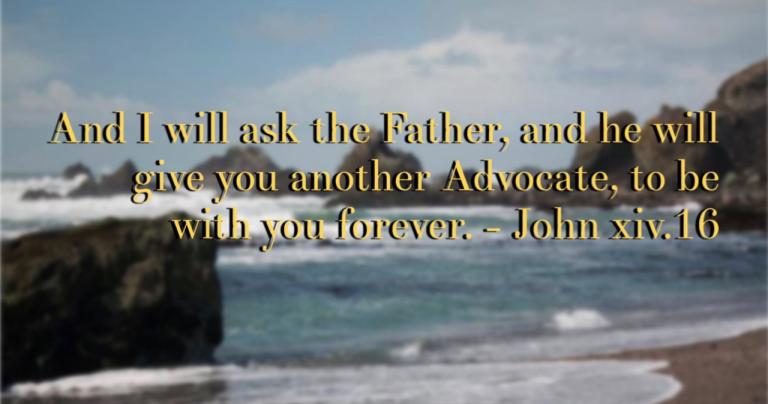 I found a picture of Shell Beach where God really ministered this Scripture to me during a period of isolation, questioning my purpose, and desiring intimacy with Him.[2] I mention it now because of the previous infographic on John 6.18-21.
To see that infographic and previous article: CLICK HERE
When I prayed about the storm being calmed and the land Jesus brought the Disciples to, I felt like He brought me back to Shell Beach.
That age of my life has passed but that place in my heart remains.
May I find solace in the Spirit's embrace today as I did on Shell Beach all those years ago.
Saturday, 02.15.20
Last night I read John 15-18, NRSV. I'm always enamored by the Pneumatology in the discussion during the Last Supper. Actually, it's difficult to read this passage without being enamored with the Trinity. This conversation lasts from John 13-17. John 16.13 is the selected verse, one that is critical right now.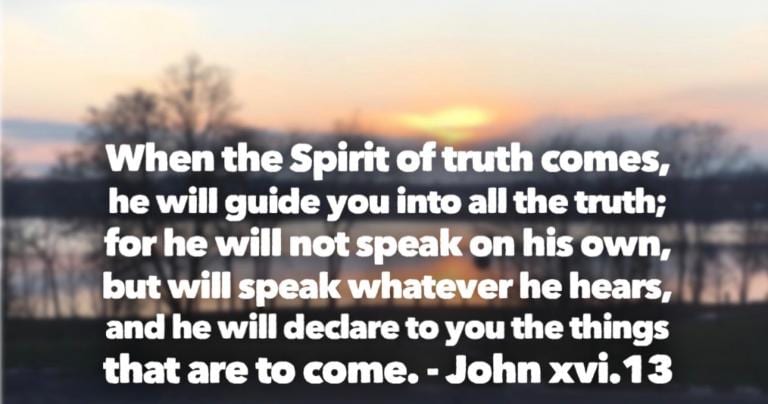 Whereas the previous entry about John 14.16 offers great comfort, this verse is one I return to for direction. Not only does the Spirit offer a relationship with God that could be similar to the relationship Jesus has with the Disciples (John 14.16); the Spirit also serves as a divine consultant.
Although I am not examining these Passages from a formal standpoint, I am allowing myself to utilize forms of Lectio Divina or Biblical meditation to increase the focus at times.
The language in this portion of chapter 16 is reminding me of other Passages I've memorized or meditated on before, particularly found in the Wisdom Literature of the Hebrew Bible. There are similarities I could explore, but I think I'll focus on one major difference.
The Wisdom Literature teaches that God is Transcendent. Somehow through God's greater purposes, we find direction. However, at times wisdom is almost described as an embodied consultant that we can seek. This is a little closer to what Christ is saying about the Holy Spirit.
There is no doubt that God is still Transcendent, but God is now personally available through the guidance of the Spirit.
What is wisdom?
Is it just knowledge, practical knowledge, or something more? There is so much knowledge to process in the news these days, but is it wisdom? What is the definition?
If I succinctly define wisdom, am I not uploading a definition of wisdom that will soon be forgotten by our short-term attention spans, maybe tweeted if I'm lucky? If I succinctly define wisdom, just for the sake of knowledge, is that really wisdom at all?
In contrast to the pursuit of knowledge stands an embodied Theology that is as ancient as the hills. I would have to assume that wisdom may still be found among the greater majority of the Christian world that is preparing right now for a season of prayer, fasting, sacrifice, and contrition.
It may not be so easy to Google ideas about high seasons of fasting, like Lent or the first 21 days of each year, but there is probably information out there if you dig a little. You might even stumble upon some quiet wisdom despite all the noisy knowledge in the news.
To that end, you're more than welcome to join our congregation in a Prayer Vigil.
There are so many who are not as mobile as they used to be due to varying circumstances, that we have posted the information online.
If you would like to download a copy of a prayer guide for our Prayer Vigil next Wednesday 02.26.20, visit our Facebook page.
Drop a comment if you want to commit to pray with us for 30 minutes at our church or from your home. We'll add you to the list and we'll thank you for joining with us at the beginning of this prayer season.
To visit our event link: CLICK HERE
---
Rev. Jared Ingle
Pastor: Long Lake Friends Church
Supervised Therapist: personal, couples, families
Traverse City, MI
Other similar experiments in the last couple weeks:
The voice of many waters vs. moral norms?
Themes & Memes | Christian Readings
notes:
[1] John Riccardo, "Christ is the Answer" (sermon, Baraga Radio 2019 Spring Benefit Dinner, Acme, MI, May 1, 2019). [2] Up to this point in the last three weeks, I have been primarily utilizing infographics with featured images that belong to me. I found the Shell Beach picture on a publicly owned website. If anyone would like to verify my right to use such a picture, I'm hoping that I've paid enough over the years in California taxes, and in usage fees for the California park systems, to adapt this picture of my early homeland. I love this beach on the Sonoma Coast among many others.