Do you have a one-page? A chapter has come to an end. I'm not a President changing offices, but I am changing offices. I've been in pastoral ministry for quite some time. At this stage I'm still a minister, but I'm shifting my focus a little more toward teaching and counseling.
It would be a pity not to take advantage of the platform at Patheos, the world's largest religious website. So I'm utilizing the tools given me through this proprietary platform, to craft a one-page that I can direct all my traffic to. All other social networks point to this page. From here, people get a glimpse of who I am and what services I offer. It serves as my one-page.
You may notice there's a lot of writing and not a lot of interactive graphics. Well, it is a professional writing platform. So, this serves as a brief vita stating the services offered, and my qualifications for offerings such services. A one-page can have any sort of artistic look to it, but it needs to have an overview like this.
The one-page concept is still relatively young in web design (perhaps the last 10 years)
Instead of having separate web pages for all the subpoints below, a one-page captures them all in one place. You may think that it's boring, or lends itself to endless scrolling. However, that is exactly what makes it work, in our age when scrolling takes place 24/7 on our phones. The one-page has come to the foreground as a design concept simply because it keeps people on their phones, on the page, and scrolling. A one-page doesn't require them to click on other pages for more information.
So without further adieu, here is my new one-page.
If you'd also like to see the actual one-page Meet Jared CLICK HERE
Praying that God blesses our nation during this transition!
Rev. Jared Ingle, M.A., M.T.S.
---
---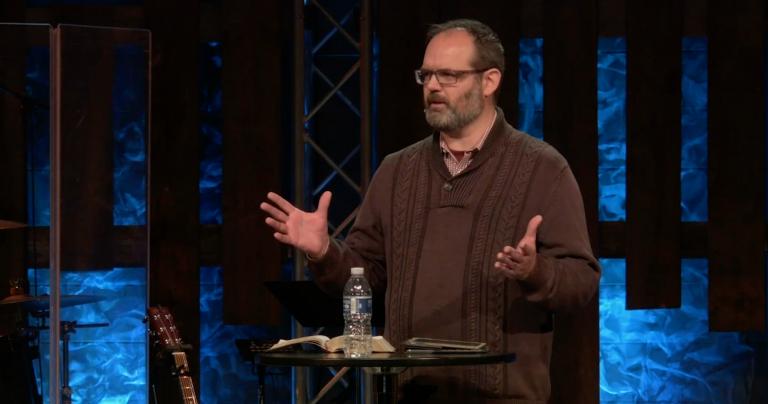 Contents
Meet Jared
The Writings
The Practice
Education
Affiliations
Engagement
Publications
For Inquiries
Meet Jared
Minister | Supervised Therapist | Teacher | Author
I wear all these hats as a Spirit-filled Christian, husband, and dad who is overseeing a nonprofit for ministerial education and online counseling.
For inquiries | 231.714.4154 | jcingle95@gmail.com
The Writings
Bringing out treasures new & old from the storeroom (see Matthew 13.52)
With two masters degrees, I have some unique interests. My interests in counseling and family theory have always been philosophical and theoretical. In Theology I enjoy studying very early Christian literature (circa A.D. 300 and before). I also enjoy reading those who are studying that era and applying it to our times.
In my writings, my hope is always to integrate, whether it's psychological theory with Theology, or Theology with praxis.
On Patheos, I post a couple times each week. The first of the week is usually a vlog, perhaps a sermon or sermon snippet. The second post each week is generally from one of the writings. The writings are normally from my storeroom of academic or professional publications, new and old.
The Practice
I have clinical and pastoral experience with youth, young adults, and various adult populations.
Even though I'm a marriage and family specialist, I can and do see individuals as well. I work with individuals, couples, families, or various members of families.
Although people are generally facing critical issues, there are many other reasons to consider counseling. For instance, I've offered career counseling, counseling for ministers in transition, and pre-marital counseling.
I've also seen clients for critical issues. Some examples are child development, adolescence, aging, consulting, various disorders, anxiety, depression, pornography, drugs, individuals, couples, intimacy, extramarital affairs, parenting, remarriage, blended families, spirituality, and religion.
I only offer counseling online through Zoom. Michigan law focuses on the location of the client, so I can counsel anyone in Michigan via Zoom.
Mondays through Thursdays: 11 am – 4 pm
Counseling offered online via Zoom
$40 per client hour (45-50 minutes)
Credit or debit accepted through Square
Education
2017: M.T.S. (Theological Studies), Asbury Theological Seminary
2004: M.A. Counseling, Assemblies of God Theological Seminary. Dual Concentration: Licensed Professional Counseling/Marital and Family Therapy
1997: B.A. General Ministries, Psychology Minor, Bethany College
Affiliations
2019 – Present: Limited License Marriage & Family Therapist, Michigan
2010 – Present: Pre-Clinical Fellow, American Association of Marriage & Family Therapy
1993 – Present: Ordained Minister, Pentecostal Church of God (P.C.G.)
Engagement
2019 – Present: Director, JC Ingle, Inc.: ministry, conferences, and counseling nonprofit
2018 – Present: Evangelical Columnist, Patheos.com
2012 – Present: Adjunct Faculty, Messenger College
2010 – Present: Author/Representative of the P.C.G. to the Pentecostal-Charismatic Curriculum Commission (P.C.C.C.). Member Fellowships: Assemblies of God, Church of God, Church of God of Prophecy, Gateway Church, International Pentecostal Holiness Church, P.C.G.
Publications
(in-press) "Letter to the Ephesians." Teacher's Guide, Unit 2 (Fall 2021). Pathway Press.
"Story of the Old Testament." Discipleship Guide, Unit 1 (Fall 2020). Messenger Publishing House (M.P.H.) | Pathway Press.
"Story of the New Testament." Discipleship Guide, Unit 2 (Fall 2020). M.P.H | Pathway Press.
"Why We Need the Bible." Discipleship Guide, Unit 1 (Summer 2020). P.C.C.C.
Ingle, Vernell, and Jared Ingle. "Wisdom from Ecclesiastes and Proverbs." Discipleship Guide, Unit 2 (Winter 2013-14). M.P.H.
"Jesus Christ in the Gospel of John." Discipleship Guide, Unit 1 (Spring 2013). M.P.H.
"The Church." Discipleship Guide, Unit 2 (Spring 2013). M.P.H.
"Christian Ethics." Discipleship Guide, Unit 2 (Winter 2010 – 11). M.P.H.
"College Students: Keeping Them in the Kingdom." The Pentecostal Messenger 84, no. 10 (2010): 14-16.
For inquiries
231.714.4154 | jcingle95@gmail.com
To Connect CLICK HERE
For a curriculum vitae CLICK HERE
photo credit: West Side | JVI at tcwscc | 01.19.20
JC Ingle, Inc.
ministry, conferences, & counseling nonprofit