The greatest good, the highest good, is for them, "to be happy and enjoy themselves as long as they live" (Ecclesiastes iii.12.b). Life signifies all that one is . . . one's vitality and passion, for instance be "happy and enjoy." With everything, we are to rejoice and pursue the good.
It is late in the day on Saturday. I try to get in a couple articles per week. This week, instead of integrating some work from the Early Church, as I have with previous posts, I thought I would share something I rarely do.
This is my content in original form. You see, this was submitted for publication. It was in fact published, but of course the published form is no longer my completely original contribution. In fact, neither is this because I have made some minor formatting changes.
I will also add an afterword because I have now completed some articles on Ecclesiastes 3. To view the others, visit the Archives, The Writings: CLICK HERE
The question about "the good life" is a common one, so I thought it best to let Solomon (or whoever Koheleth is) tackle it.
i. the good life
Solomon makes one of his great summary statements "the bottom line." He declares "I know" . . . a deeper knowledge . . . to know is often defined as intimacy with both God and other humans (Ecclesiastes iii.12.a, NRSV).
The greatest good, the highest good, is for them, "to be happy and enjoy themselves as long as they live." (Eccl iii.12.b)
To "live" or life signifies all that one is . . . one's vitality and passion, for instance be "happy and enjoy." With everything, we are to rejoice and pursue the good.
"The OT speaks of life as the experience of life rather than as an abstract principle of vitality which may be distinguished from the body. This is because . . .
the OT view of the nature of man is holistic, that is, his function as body, mind, spirit is a unified whole spoken of in very concrete terms. Life is the ability to exercise all one's vital power
. . . to the fullest." (R. Laird Harris, Gleason L. Archer, and Bruce K. Waltke, eds., Theological Wordbook of the Old Testament, vol. 1, Moody Press, p. 279)
Koholeth returns to this overarching theme throughout Ecclesiastes. Enjoy life and the provision God places in your hands. Do not look at work primarily as toil, but as a gift from God.
"moreover, it is God's gift that all should eat and drink and take pleasure in all their toil." (Eccl iii.13).
"Do not be overcast or bitter in life, he says, because God has already accepted what you have done. Take a proper interest in your food, your clothing, and a few luxuries in life. Live with someone whom you truly love, and whatever it is you do for a living, give all your strength to it. This is your profit and your reward; there is nothing else . . .
No looking past the grave to eternal life; we don't count that. Let your awareness of death concentrate your efforts to live fully,
. . . and do not burden yourself with anything too complicated. Nothing is that important." (Michael E. Williams, ed., The Storyteller's Companion to the Bible, vol. 5: Old Testament Wisdom, Abingdon Press, p. 114)
Koheleth (or Solomon) shows that God somehow transcends time and utilizes it for His purposes.
"I know that whatever God does endures forever; nothing can be added to it, nor anything taken from it; God has done this, so that all should stand in awe before him." (Eccl iii.14)
Man ultimately knows who holds time in His hands. Solomon adds:
"That which is, already has been; that which is to be, already is; and God seeks out what has gone by." (Eccl iii.15)
That last phrase can also be translated, "and what will be has been before; and God will call the past to account." (verse 15.b, NIV)
Not only is there a time for everything, time will be called into account. Time itself must answer to God alone.
Within time, as a general rule, Koholeth says that God offers us ample opportunity to experience "the good life."
ii. afterword
The question about "the good life" is usually not really important to me as a pastor. I have found, to be blunt, that many parishioners are either caught up in the engine of the local church, or perhaps in church politics. Neither is necessarily wrong, and in fact both are necessary.
This is typically not a conversation for the classroom, although I could probably prove that I have enough philosophy courses to teach the same, and delve into such questions.
No, this is generally a question for an audience of one. Now years ago, this was a popular slogan among youth groups and even pro athletes. "Live your life for an audience of one!"
Social marketing coaches I track have a different take. Sometimes, it is best to focus a piece of content so directly that you are targeting one particular demographic . . . maybe even one particular person. By niching down, you sometimes reach an audience you could not otherwise reach.
That said, please do not try to say that I am speaking of any one person. Everything I am saying plays out in many conversations over time.
This afterword really is an essay in which I just share "the good life" & it's attraction . . . for me. There are other aspects of my life that are attractive and speak to me of "the good life." However, this is one that I can freely and quickly share as an example.
the cafe, the hall after the dialogue, a stroll across campus
As stated earlier, as much as I revel in Theology and philosophy, I guess I have to show it on paper to teach it. Does anyone want to read my writings from a couple masters degrees, or perhaps read between the lines on this blog?
My readers and students do.
I am often surprised then when questions like this arise. I am not prepared with my portfolio, stepping into a classroom.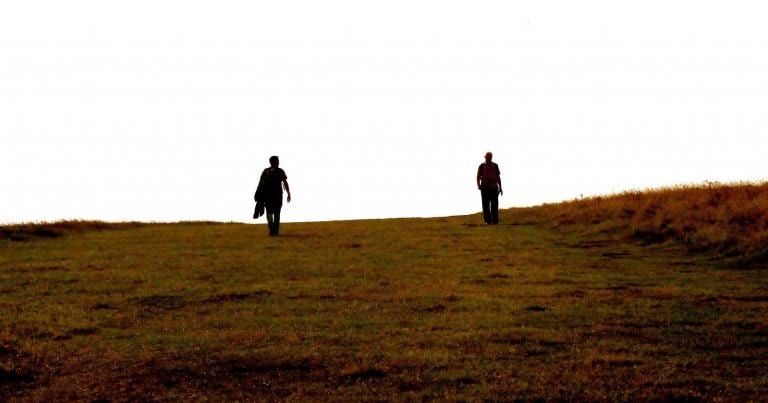 On the other hand, I sometimes feel lost on campus and need a quick guide to get me from point A to B. Perhaps I just want to tell someone that I thought some of their comments in the last session were brilliant. Maybe I want to apologize because for any reason I may have said something that was too much, in my opinion. I constantly must remember that I am a Pentecostal in the Wesleyan-Holiness Stream. We can be blunt, sometimes to a fault. Maybe I am seeking academic advice, a reading recommendation, etc. Perhaps I am chasing a theme in a group of 2-7.
In all these settings and many more, a question may arise like "What do you think the good life is?" It has actually arisen, and I have formally tutored a student through one of her projects on the matter.
however, most of the time I find that I have been drawn into a chat
Thanks a lot for sneaking up on me.
I am honored my opinion is of value, but again thanks a lot.
What I wouldn't give to be prepared . . . to sit down together (at a neutral location perhaps) . . . and to answer questions. Perhaps I could prepare a little in advance.
This is not generally counseling. It is consulting, pastoral counseling, educational curiosity, and more all wrapped up together. More often than not for me, it is another chat, something that occurs organically rather than formally.
then there are many times my questions have been answered
"Iron sharpens iron," as Solomon says (Proverbs xxvii.17).
You're a quick guide when I need to get back on track. You're gracious when I share a compliment on your perspective in the greater dialogue. And you're an encouragement when I stumble over my words.
I have walked in many, many Christian circles and have been welcomed, although I never take one step for granted.
Most faculty and staff are really in the game with the intent of also being available for mentoring and answering questions, like what about "the good life"? I have also found that when available, their answers are thorough, precisely to the point, and timely; even with electronic correspondence. After a few interchanges with one, I thanked the educator in person when on campus, and was told something like . . . all you need to remember is how quick it took me to get back to you.
this speaks to me of the tremendous humility I have witnessed over and over again, over the years, among educational leaders
Similar words have been spoken more than once. In fact, this has become like a real theme for me, that I believe comes from the Holy Spirit. For some reason, I am still connected to the university . . .
. . . and you're my fellow traveler within the institution. Your "good life" is the educational institution and you're a constant inspiration to me. So in some way a portion of my "good life" is to stay in fellowship with the institution, as the Spirit leads.