At times it really IS a strategy to share something for an audience of 1, no matter how far one wants to make the sermon reach. Outside the sanctuary, a couple of predominant families expressed how much they liked the sermon (one predominant family in the region and the other in Ohio).

lead-in
In fact, with those two families in mind, I have been motivated to actually post both sermons today, not just because I like to get around to all of my crew on Monday [as some have known me to do over the years]. I may not even post to social networks, other than what Patheos recommends, or I may just let them handle these ones.
---
---
i. in the previous article, I shared a story about William Taylor
He is a Christian Overseer in California in the 1800's. In the story last week, he preaches on Long Wharf in San Francisco, California.
To read the article, actually posted earlier today | CLICK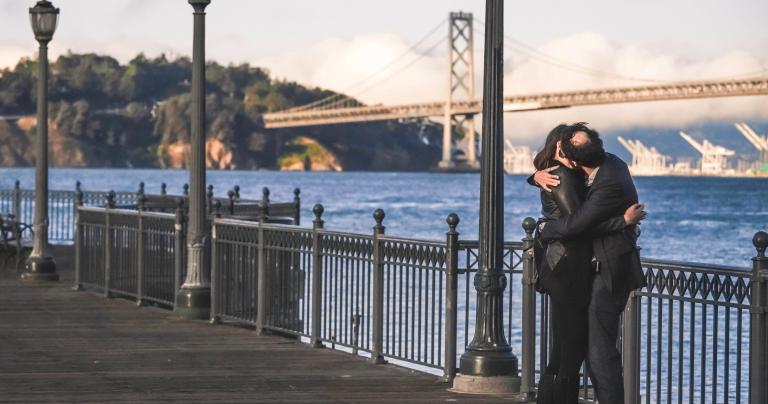 At the same time another crowd gathers to welcome some California officials. Wm. Taylor preaches louder, so both crowds can hear. He is not afraid to Accept the Challenge & Go Big! [the sermon title]
A few months later, someone asks to meet with Wm. Taylor anonymously. He is part of one of the crowds when Wm. Taylor preaches in Frisco. Wm. Taylor knows how to get small and mentor an individual.
---
---
Bob Revnell, Elder | Layreading

the sermon, Pastor Jared
13 mins 45 secs | the sermon
ii. The Testimonies
Wm. Taylor's high-profile anonymous convert verbatim:
"I was up to that morning a confirmed Universalist, and was withal a very wicked sinner.
[Universalism is heresy. It can mean that God lets everyone into Heaven, or something like it. Universalism can also mean that there is no Hell. When there is no Hell, there is no need for salvation… so the man was a "wicked sinner."] [1]
As I was walking leisurely down the wharf that morning I heard you singing, and went into the crowd through curiosity to hear what was to be said on the occasion.
While you were preaching a strange fearfulness which I cannot describe came over me. I felt a smothering sensation at my heart and thought I was dying. My Universalism all vanished like smoke, and I felt that if I died then I should certainly go to hell. For some time, I knew not what to do.
I came very near crying out, but something seemed to say to me, 'Pray, pray to God in the name of Jesus Christ for pardon.' So I began earnestly to pray.
For three weeks I suffered a constant fearfulness and trembling. I was afraid to go to sleep at night lest I should way up in hell, and every day there seemed to be literally a heavy mist before my eyes, which made everything look dark and dreary.
But all these three dreadful weeks I continued to pray, and suddenly, while I was praying and trying to trust in Jesus Christ, it appeared to me that a stream of light shone right down from heaven into my heart, and in a moment I realized that my burden of sin was gone, and instead of fearfulness and a nervous tremor I felt all the vigor of renewed youth. The mist of my eyes gave way to the brightness of morning. I praised God for his pardoning mercy."
iii. Wm. Taylor knows how to mentor
Let me just ask some Q's. Apply them &/or we can accept them as challenges.
In the last article I mention 1 of the crowds in Frisco being with the California Legislature. What crowd is this man most likely with? Why would he be noted by Wm. Taylor if he is a normal convert from his own crowd? If indeed the man is from the other crowd welcoming the Legislature, what type of influence does he have? Is he possibly part of the Legislature? If he is influential before his conversion, how could he possibly utilize those same channels of influence afterwards with the light?

Why do we have Wm. Taylor's autobiography in our library? How many churches has he influenced across America? He certainly seems to be a globe trotter as well, spreading the Gospel.

Why does Wm. Taylor's name still rank-up on

Google

searches in Frisco, his HQ in Cali? Does he still influence

The City

?
A closing thought from our Lord, other portions of this Passage included in the sermon: Again he said, "What shall we say the kingdom of God is like, or what parable shall we use to describe it? It is like a mustard seed, which is the smallest of all seeds on earth. Yet when planted, it grows and becomes the largest of all garden plants, with such big branches that the birds can perch in its shade." – Mark 4.30-32; biblegateway.com [2]
---
---
Rev. Jared
notes:
[1] source quote, paragraphs added, italics mine: William Taylor, Story of My Life: An Account of What I Have Thought and Said and Done in my Ministry of More Than Fifty-Three Years in Christian Lands and Among the Heathen (New York: Hunt & Eaton, 1895), 190-191.
[2] I'm reading from the NIV 1984 in the sermon, a version I seldom utilize, pull down off the shelf, or even mark in for that matter because of the fine publishing, unless it's one of my other study Bibles.