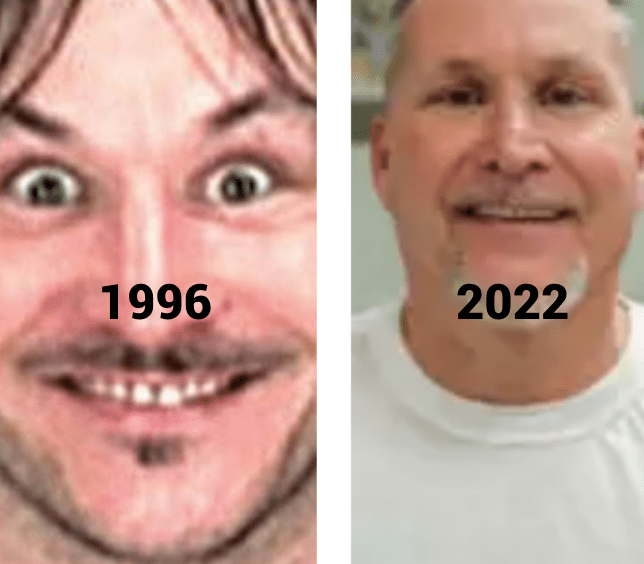 April 30, 2022
A Tale of Two Pictures:  An Interaction with Carman Deck, Scheduled to Be Executed in Missouri on May 3, 2022
For years, I believed that people don't change.  Until, I started to change.  Now, I know people change.
In what can be described as an act of pure evil, Carman Deck brutally slaughtered James and Zelma Long of De Soto, Missouri.  Of this, there is no doubt.  In fact, Deck has admitted to what he did.
Under the guise of asking for directions, Deck knocked on the Long's door.  In an act of compassion, Zelma invited him (and his codefendants) in.  When inside the house, Deck pulled a pistol and ordered Zelma and her husband James to lie face down on their bed.  For 10 minutes, Deck listened to the couple beg for mercy.  Then, he shot and killed them.  Lies.  Greed.  Torture.  Murder.
For whatever reason, time didn't stop there.  Deck continued to live.  Those who remained, were forced to figure out what to do with him.
During his initial sentencing process, major mitigating factors were left out.  Including, the fact that Deck was abused and abandoned during childhood.  Such mitigating factors are presented to give juries information that might contribute to a propensity to exercise mercy during sentencing.  Based on repeated process deficiencies, Deck's death sentences have been overturned three different times.  Presently, Deck is about to be executed largely based on the procedural fact that much of the mitigating evidence that was available multiple decades ago is no longer available to stop the execution.  To say that the process has been legally deficient would be an understatement.
Now, we are left with another moment of reckoning.  I guess we are defined by such moments.  Next Tuesday, Carman Deck is scheduled to be executed.  Those of us who remain, are forced to figure out what to do with Deck.  How will we choose to proceed?  The answer to that question will say more about us than it does Deck.
Which brings us back to the original line of thought.  Do people change?  I guess only you can answer such a question.  Have you ever changed?
While I don't know Deck, I can look at two pictures.  Do you see any change between the initial prison shot and the latest prison shot?  There appears to be great change.  Maybe that which we were isn't always definitive of that which we are.
The Rev. Dr. Jeff Hood
Dean
The Rev. Charles Moore Professor of Prophetic Theology
Convener
Clergy United Against the Death Penalty