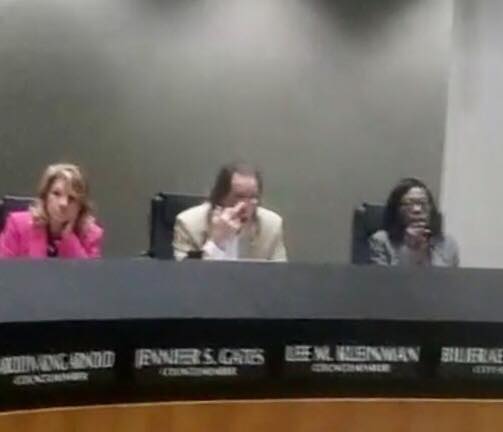 *CAN YOU IMAGINE YOUR CITY COUNCILMAN TELLING YOU TO FUCK OFF?
Letter I sent:
To : Mayor & Council
Dallas City Hall
1500 Marilla St.
Dallas, Texas 75201
Mayor: Eric Johnson
Mayor Pro Tem/District 2: Adam Medrano
Deputy Mayor Pro Tem/District 10: B. Adam McGough
District 1: Chad West
District 3: Casey Thomas II
District 4: Carolyn King Arnold
District 5: Jaime Resendez
District 6: Omar Narvaez
District 7: Adam Bazaldua
District 8: Tennell Atkins
District 9: Paula Blackmon
District 11: Lee Kleinman
District 12: Cara Mendelsohn
District 13: Jennifer Staubach Gates
District 14: David Blewett
Greetings. I write to you with a grave concern about a recent council meeting.
On August 28, 2019, longtime Dallas activist Marvin Crenshaw arose to address the City Council. The topic was the pro-Palestinian Boycott Divestment Sanctions (BDS) Movement. While the topic obviously stirred emotions, the actions of Councilman Lee Kleinman went beyond fierce disagreement. At the beginning of Crenshaw's time, Kleinman interrupts him and asks the Mayor to silence his remarks. When that doesn't work, Kleinman turns his back to Crenshaw. It seems that the longer Crenshaw speaks the more enraged that Kleinman becomes. After Crenshaw loudly proclaims his support for BDS, Kleinman lifts up his middle finger toward Crenshaw and the gathered. Surely, it is inappropriate for a City Council member to treat anybody with such disrespect…no matter what the topic is.
"Fuck you."
Let the gesture sink in.
Imagine if it had been directed at you.
Inaction normalizes such actions.
Which is why…I believe it is imperative to CENSURE Councilman Kleinman as a statement that such actions/disrespect will not be tolerated.
Surely, we can do better than this.
Pictures and video are attached.
Rev. Dr. Jeff Hood
Theologian & Activist
July 7 Protest Organizer & Survivor
D.Min. Brite Divinity School, Texas Christian University
Th.M. Emory University
M.Div. The Southern Baptist Theological Seminary
M.S. Creighton University
M.A. University of Alabama