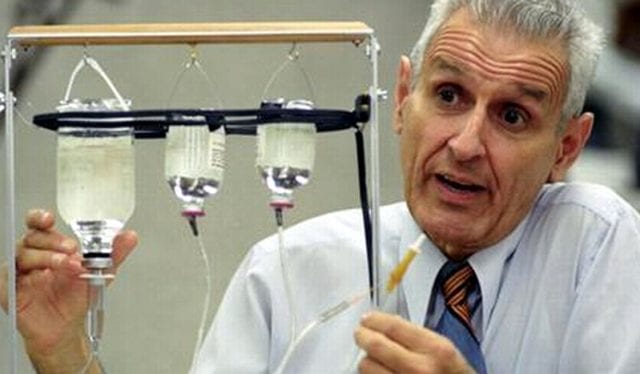 February 4, 2020
Dr. Jack Kevorkian: Friend of God
Do you believe in a "Right to Die"? For many years, I didn't…until I found the love of Jesus in a man named Dr. Jack Kevorkian. His struggle for a "Right to Die" has got to be one of the most loving crusades that has ever been led.
Starting in 1990, Dr. Kevorkian controversially…and later illegally…assisted over two hundred people in the taking of their-own lives. In 2011, after being free from prison on parole for about four years (from a 1999 murder conviction tied to one of his assisted suicide patients), Kevorkian succumbed to a long battle with Hepatitis C and kidney failure at William Beaumont Hospital in Royal Oak, Michigan (http://news.blogs.cnn.com/2011/06/03/report-dr-jack-kevorkian-dead/). Kevorkian's death brought immediate reactions from those who had done battle against him and from others who championed his unorthodox stances and style.
Former Oakland County Prosecutor David Gorcyca, who prosecuted Kevorkian twice, passionately commented, directly into the television camera, "This is a monumental day of hypocrisy…The man who conned hundreds of people into taking their own lives died today the peaceful natural death surrounded by loved ones he denied so many others…He didn't have the guts to do what he helped so many others do" (http://www.freep.com/article/20110603/NEWS05/110603029/Remembering-Jack-Kevorkian).
The Roman Catholic Diocese of Detroit issued a statement that, in part, read: "Jack Kevorkian leaves behind a 'deadly legacy' that has denied and continues to deny scores of people their fundamental right to a humane death" (http://www.freep.com/article/20110603/NEWS05/110603062).
Dr. Maria Silveria, University of Michigan Professor of Internal Medicine and palliative care expert, proudly stated: "I would not be here if not for Dr. Jack Kevorkian…I chose to study palliative medicine due to the attention he brought to the complex issue of dying…Dr. Jack did not seek out history but constantly succeeded in making it" (http://www.michigandaily.com/news/u-medical-school-alum-kevorkian-dies-83).
Dr. Howard Markel, University of Michigan Professor of Medical History, remarked, "Dr. Kevorkian is unquestionably a giant of modern medicine" (http://www.freep.com/article/20110604/NEWS05/106040427).
Geoffrey Fieger, Jack Kevorkian's lawyer throughout the 1990s, commented, through tears, "Dr. Jack Kevorkian is a modern day patriot in the best possible way…Championing the right of all to end their lives , through their own decision, without pain and suffering…History will remember him as such" (http://www.michigandaily.com/news/u-medical-school-alum-kevorkian-dies-83).
TIME magazine, published a week after Kevorkian's June 2011 death, stated in an editorial, "Dr. Kevorkian, though not completely successful in creating a nationally recognized and affirmed 'Right to Die,' did succeed in changing the way physicians treat and perceive the circumstances surrounding death…Relief of suffering is now a primary objective when treating terminally ill patients…Millions will experience far less suffering at the end of their lives thanks, at least in part, to the discussions spurred on by Dr. Jack Kevorkian" (http://newsfeed.time .com/2011/06/03/jack-kevorkian-controversial-assisted-suicide-advocate-dies-at-83/).
Why is it always the people who claim to be serving others that judge the dying the most? You have to be a real asshole to want to further the pain of others. It shouldn't surprise anyone that the law and fundamentalist religion tried to team up to stop Kevorkian? Thankfully they didn't win…the quoted professionals provide historical evidence to that fact…and it is also apparent that the world has changed. Thanks to Kevorkian, people are far more open to a "Right to Die" than they ever have been before. Now, numerous states have statues affirming a right to die under certain circumstances…morphine is often used to hasten the deaths of the dying…doctors are more honest about options when it comes to quality of life…death is often seen as a cure in and of its' self…while I could go on and on, I have no question that Kevorkian was put on this earth to alleviate suffering and he was beautifully successful at it. Isn't justice and true religion about alleviating suffering? Instead of judging people who fight for a "Right to Die"…perhaps we should help alleviate their pain. I know Jesus would.
Amen.