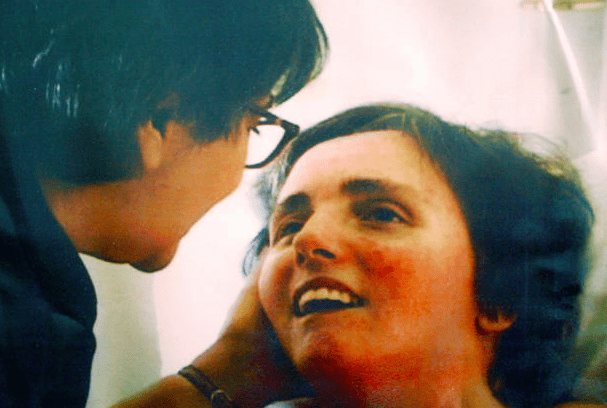 February 7, 2020
From Kevorian to Schiavo: Ethics at the End of Life
Over the last few weeks, I've been thinking about ethical dilemmas that find us at the end of life. Just yesterday, I wrote about Dr. Jack Kevorkian and assisted suicide.  Earlier today, I stumbled across this paper about Terri Schiavo that I wrote during my graduate studies in healthcare ethics at Creighton University.  Though more of a historical paper, I think it helps further illustrate how agonizing end of life decisions can be.  Dr. Kevorkian wanted to help people end their own life.  Schiavo never got that choice…other people (with conflicting interests) were tasked with deciding for her.  So which side was Jesus on?  To answer such a question, you have to determine which side was working to alleviate her pain.  When I was suffering…
The Law and Refusal of Care in Dispute:
Terri Schiavo and The Ethical Struggles of a Nation
Introduction:
The complexities of legal cases surrounding refusal of care decisions are monumental.  These are desperate situations with desperate actors playing the roles of patient, mother, father, husband, wife, son, daughter, guardian, or advocate.  In refusal of care legal opinions, no matter the source, one can feel the raw emotions of judges seeking to represent the ethical and legal interests of the state.  In these decisions courts are asked to determine whether a citizen has the right to live or die based on their desire or the desire of another they have entrusted.  No refusal of care decision is alike and, as a result, judges are forced to make unique god-like decisions of final fate.  There are always going to be different sides and someone is always going to lose, not just a legal decision, but, also, a decision of even greater consequence, the ability to determine the fate of someone loved and fought for. With these complexities and difficulties in mind, the past twenty years has seen no greater publicity, scrutiny, protest, or attention surround a refusal of care decision than the unique case of Teresa Marie "Terri" Schiavo.  The ethics of a nation were on full display as Terri Schiavo lay reliant on a feeding tube in a Florida Hospice, unable to communicate her desires, precariously suspended somewhere between life and death.  This ethical drama is, indeed, a story of us all.
The Ethical Drama Unfolds:
In the early morning of February 25, 1990, Teresa Marie "Terri" Schiavo, a young vivacious insurance saleswoman, collapsed in a hallway of her St. Petersburg, Florida apartment.  Paramedics, responding to her husband Michael's 911 call, found Mrs. Schiavo unconscious, not breathing, and without a pulse.  On the way to the hospital, paramedics were able to resuscitate her, finally, after 30 minutes, restoring oxygen to her brain. After initial emergency treatments to save her life, at Humana Northside Hospital, neurologist Dr. Garcia DeSousa grimly informed Michael Schiavo and gathered family of tremendous damage to Terri's brain and the need to insert a feeding tube.  Within the first six months that followed, Dr. De Sousa, family physician Dr. Victor Gambone, and two other doctors each independently diagnosed Terri Schiavo as being in a persistent vegetative state.  The attending doctors estimated Schiavo to be permanently and irreversibly brain-dead.  The family, however, refused to give up treatment or hope (Schiavo, 1-50/Schindlers, 1-60).
In November of 1990, Michael Schiavo took his wife to the University of California at San Francisco for experimental nerve stimulation treatment. Doctors and nurses worked with Terri for several months and were, ultimately, unable to stimulate any meaningful brain activity.  In January of 1991, Terri returned to Florida and was admitted to the Mediplex Rehabilitation Hospital in Bradenton, Florida.  While a patient at this facility, doctors were able to remove all artificial life-sustaining treatments from Schiavo except her feeding tube. This development allowed Terri to go out to the park and other public places with her family.  A few months later, in July of 1991, Schiavo was transferred to Saba Palms Skilled Care Facility where she would undergo neurological testing, speech therapy, and occupational therapy (Schiavo, 51-101/Schindlers, 55-85).
Terri's parents, The Schindlers, enjoyed a loving and productive relationship with their son-in-law, Michael, for the initial years of her stay at Saba Palms.  The Schindlers encouraged Michael to get on with his life and start dating again.  In the midst of these activities, Michael became Terri's legal court-appointed guardian and, after a urinary tract infection in mid-1993, instituted a do-not-resuscitate order.  The Schindlers, being highly opposed to this action, challenged it on the basis of the state's duty to protect life.  In May of 1998, after years of legal wrangling with The Schindlers, Michael Schiavo filed a legal petition to have Terri's feeding tube removed.  This action began what would become one of the most publicized and controversial protracted legal battles of a new century (Schiavo, 24- 121/Schindlers, 68-92/Fuhrman 167-189).
The Schindlers actively opposed Michael Schiavo's desire to remove Terri's feeding tube in court.  Due to a lack of a living will, an outside guardian, Richard Pearse, was appointed by a Florida State Court to help determine what Terri Schiavo's care should or should not be.  Pearse determined that there was no possibility for Terri to improve, yet, recommended, based on Florida law, that treatment continue, due to economical conflicts of interest surrounding life insurance and probable inheritances on the part of her legal guardian and husband Michael, until the matter could be properly adjudicated (Schindlers, 125-171/Goodman, 25-78).
In late January of 2000, The Schindlers and Michael Schiavo went to trial to determine what Terri's wishes were regarding life-prolonging procedures.  Testimony was allowed from eighteen different witnesses.  Numerous friends of Terri testified that they heard her say on numerous occasions that she would never want this type of life-prolonging treatment. Michael Schiavo claimed that Terri would never have wanted to be placed on a machine if her chances for recovery were miniscule.  The Schindlers claimed that their daughter was a devout Roman-Catholic and would never have violated the Church's teachings on euthanasia by refusing hydration and nutrition.  After weeks of testimony, in late February of 2000, Judge George Greer issued a ruling granting Michael's petition to remove Terri's feeding tube. The decision also stated that Terri was in a persistent vegetative state, had made prior oral declarations she would not want a feeding tube, and could also not be forcefully orally fed. The decision was later upheld by the Florida Second District Court of Appeals and would come to be known as Schiavo I in later rulings (Caplan 1-255/Goodman 55-150).
The Schindler's immediately sought injunctive relief from this decision as they challenged Michael Schiavo's guardianship of their daughter.  By this time, although, still legally married to Terri, Michael was in a committed relationship with Jodi Centonze and expecting his first child.  Michael argued that he did not divorce his wife because he wanted to ensure her desire to not be kept in a persistent vegetative state was honored.  The Schindler's also argued that Michael stood to gain hundreds of thousands of dollars from Terri's death.  Judge George Greer denied their request and determined April 24, 2001 to be the date Terri's feeding tube was to be removed. This action, while subsequently carried out, would only be the beginning of a longer protracted legal battle (Schiavo, 101-189/Schindlers, 155-205/Caplan, 1-255).
In late April 2001, The Schindlers filed a motion for relief based on new evidence of Terri's wishes.  Judge George Greer denied the request.  The Second District Court of Appeals remanded the case back to Judge Greer to allow The Schindlers to file a new motion.  In the mean time, The Schindlers filed a civil suit against Michael Schiavo for perjury, claiming he had lied in the previous proceedings, and Judge Frank Quesada responded by ordering the feeding tube reinserted while the issue was being adjudicated.  Michael Schiavo appealed to The Second Court of Appeals to enforce Judge Greer's previous ruling and was denied.  This sequence of events would come to be known as
Schiavo II
in later rulings (Caplan, 255-352/Fuhrman, 189-211)
.
In August of 2001, The Second Court of Appeals remanded the lawsuit to Judge George Greer.  The Schindlers were allowed to argue that new medical treatments might be able to restore significant enough cognitive abilities so that Terri Schiavo could decide for herself.  The Court also heard new motions challenging Michael Schiavo's guardianship and asking that Judge Greer recuse himself from the case.  Judge Greer denied all three new motions.  The Second Court of Appeals upheld two of Greer's decisions, but ordered a new evidentiary on the claim that Terri might benefit from new medical treatments.  This decision would come to be known as Schiavo III in later rulings.  The Court of Appeals ordered Judge Greer to direct five neurologists to form a new opinion on the matter: two from The Schindlers, two from Michael Schiavo, and one chosen by the Judge.  The new panel determined in a 3-2 vote that new treatments would not be effective in restoring brain function to Terri Schiavo.  In late 2002, Judge Greer upheld the panel's ruling and ordered Schiavo's feeding tube removed. This decision would come to be known as Schiavo IVin later rulings. The Schindlers were granted injunctive relief by another local judge around the time Terri's feeding tube was to be removed (Caplan, 255-352/Goodman 1-254).
The beginning of 2003 brought increased publicity to the case and activists began demonstrations outside of Terri Schiavo's hospice.  On September 11, 2003, The Schindlers asked Judge Greer to allow for "eight weeks of new therapy."  The Schindlers also presented evidence that Michael Schiavo had tried to euthanize his wife on several occasions by tampering with her sugar levels during visits.  Two nurses also testified that Michael Schiavo remarked, "When is that bitch going to die?" on multiple occasions.  Judge Greer, calling them "fantastical," denied all new motions.  On October 15, 2003 Schiavo's feeding tube was removed after The Schindlers exhausted all of their appeals.  Within the week, the Florida Legislature passed "Terri's Law," granting Florida Governor Jeb Bush the authority to intervene in the case.  Bush immediately ordered the feeding tube to be reinserted.  The Florida Supreme Court intervened in late August of 2004 to rule "Terri's Law" to be unconstitutional.  The Schindlers appealed to The U.S. Supreme Court and were denied a hearing about six months later.  In February of 2005 The Schindlers filed a motion of relief based on thirty-three affidavits from doctors and nurses recommending further treatment for Terri.  Judge Greer formally denied this motion and ordered the feeding tube removed on March 18, 2005 at 1:00pm (Goodman, 155-254/Fuhrman, 189-256).
Following Judge George Greer's order, Terri Schiavo's doctors and nurses removed her feeding tube on March 18, 2005 at 1:00pm.  The United States House of Representatives subpoenaed both Michael and Terri Schiavo to challenge this action.  Jude Greer refused to reinsert the feeding tube to allow for this.  On March 20thThe United States Senate responded by unanimously passing a bill to remove the case from Judge Greer's court to federal court.  The United States House of Representatives passed the identical bill ours later.  President George W. Bush flew back from Texas to sign the bill into law at 1:11 am on March 21.  Over the next few days, all of The Schindlers' federal petitions were denied and Terri's feeding tube remained out.  The scene outside of Pinellas Park Hospice grew increasingly restless as prominent activists, including both Jesse Jackson and James Dobson, marched to try to save Terri Schiavo's life.  On March 24, 2005, Governor Jeb Bush ordered The Florida Department of Children and Families to take custody of Terri and transfer her to a local hospital for reinsertion of the feeding tube.  Judge Greer forbade this action forcing Governor Bush to stand down.  The legal battle was over.  Teresa Marie "Terri" Schiavo died one week later at Pinellas Park Hospice on March 31, 2005. Michael Schiavo buried her underneath a tombstone that read: "I kept my promise…" (Goodman, 200-259/Schindlers, 200-251/Schiavo, 300-360/Fuhrman, 200-255).
Conclusion:
The Terri Schiavo case drew in a nation as ethical warriors lined up to do battle to fight for the fate of someone unable to fight for their self. Together we collectively watched as a mother and father fought their estranged son-in-law to determine the final fate of their daughter.  I can think of no other refusal of care case in history that has so captured the attention of the American citizenry and forced the action of all three branches of the federal government, including The United States Congress, The President of the United States, and The United States Supreme Court. In the passionate responses of the populace and their government a people collectively learned that these refusal of care cases speak not only of the desires of the individual players but, also, to the ethics of our collective self.  In Terri Schiavo, her parents, and her husband we saw the best and worst of our selves and took sides based on the role we wanted to play, compassionate life-giver or merciful life-taker.  This case speaks not only to a troubled family's personal battles, but even more so, represents our own individual collective discomfort with the ethics of dying.  In Terri Schiavo we all came face to face with a decision we hoped we would never have to make and, collectively, let out a long sigh of relief when the nightmare was over, scared to close our eyes, for fear that such agonizing discomfort might more personally revisit us at a later date.
Sources:
Athur L. Caplan, James J. McCartney, Dominic A. Sisti (2006), The Case of Terri Schiavo: Ethics at The End of Life,Amherst, New York: Prometheus Books, 352 pp.
David Gibbs (2008), Fighting for Dear Life: The Untold Story of Terri Schiavo and What It Means For All of US,Grand Rapids, Michigan: Baker House Publishing, 288 pp.
Kenneth Goodman (2009), The Case of Terri Schiavo: Ethics, Politics, and Death in the 21stCentury, Oxford, U.K.: Oxford University Press, 259 pp.
Mark Fuhrman (2005), Silent Witness: The Untold Story of Terri Schiavo's Death, New York, New York: HarperCollins, 255 pp.
Mary and Robert Schindler (2006), A Life That Matters: The Legacy of Terri Schiavo, New York, New York: Warner Books, 251 pp.
Michael Schiavo (2006), Terri: The Truth, New York, New York: Dutton Books, 360 pp.