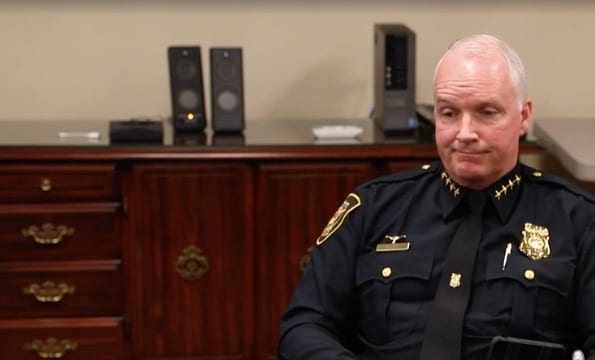 "The shooting at a White Settlement church last Sunday that left two men dead has rocked communities of faith, leaving many to wonder how congregants can feel safe again in their places of worship.
Fort Worth Police Chief Ed Kraus is asking officers who attend faith services to do what they can to add a sense of security by wearing their uniforms.
Kraus took to Twitter late Friday to implore his officers belonging to a religion to wear their uniforms to service, ideally after they first ask their faith leaders if it's OK. The simple act, suggested by Assistant Chief Charles Ramirez, will make congregants feel safer and serve as a deterrent to those who intend harm, Kraus said in a series of tweets."
Fort Worth chief urges officers to wear uniforms to faith services after church shooting
January 4, 2020 / Fort Worth Star-Telegram
https://www.star-telegram.com/news/local/fort-worth/article238966753.html
Each second brought deeper fear.  The night highlighted the blue lights.  In the rearview, the cop approached.  Without saying why, he asked them to step out of the car. The situation grew more and more physical…until they were in the back of the cruiser.  For what seemed like an eternity, the cop went through every single inch of their vehicle.  It seemed that he did site tests on everything he could find. Repeatedly, he came back to the car to taunt them.  Ultimately, the cop didn't find anything.  This seemed to only make him angrier.  They weren't sure they were going to make it out alive…until they did.  The cop's hot breath was sill wafting in their nostrils as they slowly drove away.  Too scared to speak…they drove straight home.  Too scared to cry…they went straight to bed.  Too scared to be alone…they went to church the next morning.
Sitting in the back row, they listened for a word from God.  Leaning forward, they thought they might be hearing something. Then, the terror returned. Standing right next to the altar was the same officer…in uniform…who had roughed them up the night before. They didn't hear anything else. When the intimacy of communion was offered, they ran out the back door.
Chief Kraus is ignorant of the fact that his officers don't always make people feel safe.
God don't wear no damn police uniform…Chief Kraus
…and nor should anyone in our churches.
Amen.