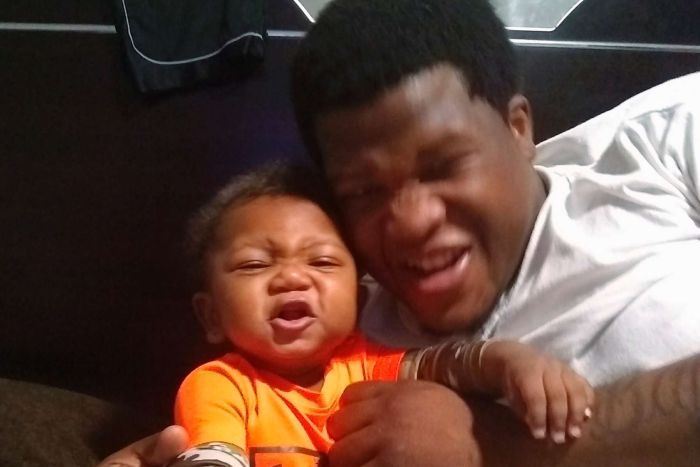 Over the last few days, I have engaged other activists about responding to the murder of Jemel Roberson.
Repeatedly, I've heard the same response…
"Who?"
"Who?"
"Who?"
"I got this."  Who was he talking to? It didn't matter then.  It doesn't matter.  What matters is that Jemel Roberson was dedicated to being the absolute best that he could be.  When he arrived at Manny's Blue Room Lounge in Midlothian, Illinois, he was ready to do his job.  Throughout the night, Roberson randomly thought about his partner and his children.  Though he missed them, he knew that he was doing this for them.  In fact, Roberson was working extra shifts to secure more money for the upcoming holidays.  There were minor incidents off and on all night.  That's the nature of working at a bar.  Regardless, what happened next was more than anybody expected…well, anybody but Roberson.  When the gun battle erupted at the bar, Roberson sprung into action and quickly apprehended one of the shooters.  Taking great care to keep everyone safe, Roberson held the shooter down. When Midlothian police arrived, Roberson felt some relief.  Now, he could go help everybody else.  Despite repeated cries from bystanders that he was a security guard…police opened fire and killed him.  The hero was struck down by the villains (in this case…the police).
Jemel Roberson is no different than Michael Brown.
Jemel Roberson is no different than Jordan Edwards.
Jemel Roberson is no different than Botham Jean.
Jemel Roberson is no different than Philando Castile.
Jemel Roberson is no different than Eric Garner.
The names of those that the police have slaughtered are endless.
Our collective energy is obviously not.
Why is it that the cases of all of the above names got more exposure that the case of Jemel Roberson?
Unfortunately, I believe that we have reached the end of the life cycle of the Black Lives Matter Movement and the Movement Against Police Brutality (a heightened national moment of sustained attention to and protest of numerous/if not most cases involving police brutality and racial violence).  We are just not seeing these cases get the exposure that they would have a few years ago.  The hasthags are simply not as plentiful.  The marches/actions/protests are not happening quit so often or as quickly.  There is no need to belabor the point.  Signs fill our times.
So, what comes next?
Whatever it is, I hope it's better than what #JemelRoberson is getting right now.
Amen.