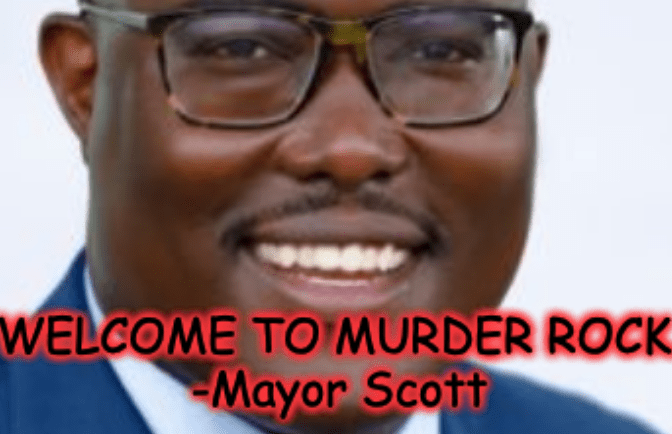 *Words delivered to the Little Rock City Director's meeting on July 19, 2022.
LITTLE ROCK IS MURDER ROCK!
Good evening my name is Rev. Dr. Jeff Hood.  I just moved to Little Rock about a year ago.  My wife is a Professor of Art Education at the University of Arkansas at Little Rock.  We live off of Shackelford between Rodney Parham and Markham.  I could spend all night talking to you about the crime that is happening in our area since we got here.  I could talk to you about the shooting at the Waffle House.  I could talk to you about the shooting at the Circle K.  I could talk to you about the police chase out of North Little Rock that ended in our neighborhood just last night…and pitting them into an apartment complex.  I know that y'all have engaged conversation about the new development at Breckenridge Village…but I wanted to let y'all know that there is already a business there…it happens every night…it's a shooting range.  Sometimes in this life, you got to say your prayers right in order to be right.  So, tonight I want to talk to you about language.  The words that I am hearing coming out of city hall are ridiculous.  To continue saying that violent crime is down 3% while murders are up 29% is absurd.  What type of revolting disgusting type of mind do you have to have to keep on saying such absurdity.  29%!  50 homicides!  That means it is possible by the end of the year that we will have 100 homicides!  What in the world is going on?  This ain't Little Rock this is Murder Rock!  Murder Rock!  Regardless of how you spin it…. This city has become Murder Rock!  All of this language coming out of City Hall is crazy!  "These are domestic incidents."  Do victims of domestic violence not matter?  "These are personal situations."  Do persons not matter?  It's July!  50 murders!  100 families….at least 50 right now.  Dads…. Moms…. Children…. Sisters…. Brothers… absent from Christmas…. Birthdays…. I want to know what this Board…what the Mayor is going to do about it.  No more spin!  No more spin!  People are dying!  I know I can speak loud…but I don't know that I can speak loud enough for the mayor who is absent tonight to hear me…so I got to rely on you to get to him.  This board has got to make him understand that this is not acceptable.  I shouldn't have to come down here and scream to feel like I am being heard.  Families are desperate.  100 homicides!  Think about that number.  Sit with it.  Let it guide you!  You've got to pray right in order to be right.  You've got to speak right in order to be heard right.  So please for God's sake change your language!!!  I don't want to hear that violent crime is down 3% when murders are up 29%!  For God's sake…talk about the 50 people who are dead in this city.