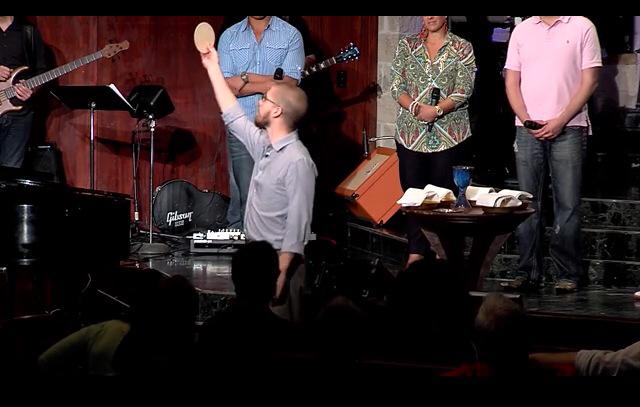 Well…I'm a little tired. I've had a hell of a day to be honest with you. I don't know if any of you share such sentiments. I had two particularly painful experiences today. One was this afternoon…I shared time with a 28-year-old man who is dying of bone cancer. There was a tremendous amount of pain involved in the situation for me. I was just trying to figure out…Where is God in all of this? Right before I came in tonight…one of the first wedding ceremonies that I ever did was one of my dearest friends…and my buddy called me tonight to tell me that he and his wife are getting divorced. We experience much pain and heartache in this life. Many situations make us feel like the world is just abusive. How is this happening? Why am I here? You know we all have similar stories of pain that we can bring to the table tonight. We could probably site similar things to what I mentioned. Yet still we come… Still we come to this church and this table expecting something….believing that something happens. I believe in a God that declares God's self to be love. I believe in a God that speaks these words, "I am the way, I am the truth, I am the life." I believe in a God that declares, "Love is the way, the truth and the life." Tonight we are talking about domestic violence. We are talking about dark spaces. But Jesus says, "I was in prison." Jesus says, "I was sick." Jesus says, "I was hurting." So tonight when we come to this table, let us remember that this broken body and this spilled blood signifies that Jesus was there…and Jesus is here. There is something magical about to take place. Open your hearts and believe in the magic. Believe in love.
This is the body of Jesus Christ. Broken…again…and again…and again…and again…for you and for all of us.
This right here is the blood of Jesus Christ. Poured out for you…again…and again…and again…and again.
I invite you tonight to come to this table and experience the magic.
Amen.