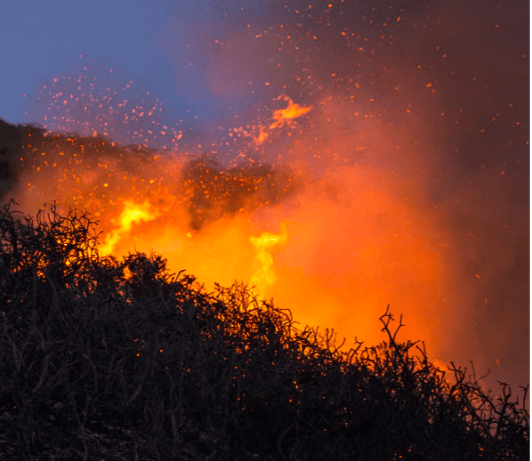 There was a brush fire on Mount Horeb. Moses was stumbling around grazing some animals when God found him. The call was not soft. In fact, the call couldn't have been much louder. Moses started to approach the noise. Was he going crazy? Could he trust such sounds? Was he hearing things? I don't know that he knew. Honestly, I don't know that he cared. I think the only thing that he was certain of is that he had never been so certain of wanting to know something more in his entire life. Gingerly, he stepped. When he saw it, the noise shouted out for him to… "Remove your shoes." The light was blinding. Moses hid his eyes. The flames of the brush did something…they pulled at him like he had never been pulled at before. Challenges burned before him. Immediately and unmistakably, God became God. Moses was in the presence of the great, "I AM." In those moments, God gave Moses a mission…to be the great liberator of his people. The flames still burn.
There was a brush fire in a rural Iowa ditch. The flames were touching the sky when authorities arrived. This was no normal fire. There was something pulling from within. After the flames were extinguished, it became clear that there were human remains within the ashes. In time, those remains were identified as a black resident of an overwhelming white community, Michael Williams. Though it eventually came out that he was killed at the hands of people he engaged with socially, the fire still burns. From it, God…Michael Williams…is asking us about the senseless violence that plagues our communities…and calling us to be the great liberators that our communities so desperately needs. The flames still burn.
There is a brush fire burning in Terre Haute, Indiana. The execution chamber is in flames. Daniel Lewis Lee. Wesley Ira Purkey. Dustin Lee Honken. Lezmond Charles Mitchell. Keith Dwayne Nelson. William Emmett LeCroy, Jr. The federal government has killed these six men this year. In fact…the better way of saying it is…we (US citizens) have killed these men this year. Did you know that you are a murderer? God calls out to us from the brush… "I was in prison and you didn't visit me." "I was in prison and you didn't save me." God is calling us to be the great liberators of our enemies. God is declaring his love for even the vilest amongst us. God is asking us to liberate our neighbors. Though we have killed these men… The flames still burn.
One doesn't have to study Exodus to have an encounter with God. There are brush fires everywhere…and God is still calling out to us from the flames.
Amen.