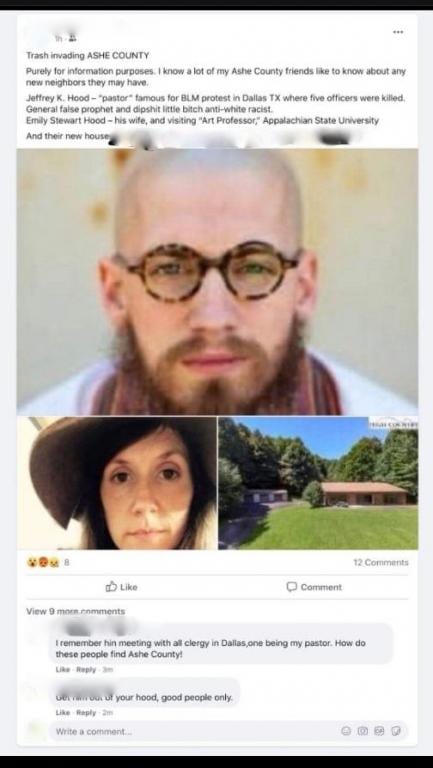 Threats & Consequences at 3:20am: An Update from Ashe County
It is the dead of night. I can't sleep. I thought I had escaped living like this. Now, I know this will never be true. The clock ticks. The huge plate glass window seems to be my only comfort. The authors of various evils lurk in the darkness. I can hear their words. I know they're close. They have been close since we got here. I thought that life would be simpler here. I was wrong. The darkness tells me that. I position myself in the middle. I want to be easily seen. If my elimination is what these people want, I am offering them a target. My only hope is that I will be enough. I imagine my family sleeping in their beds. If something happens, I know that I am the only life that will suffice to keep them alive. I sit. I pray.
God comes. The rifle rises. The finger squeezes. The shooter smiles. The bullet shatters the window. I see the glass fall. I see the bullet coming…it stops in front of my eyes. Nothing moves. God remains.
I'm not afraid to die. The pursuit of justice is dangerous. Some might call me a fool. I simply know that I am called.
The threat and actualization of violence has always been a part of my work. There are people who want to kill me. Strangely, such people legitimize my work. They let me know that I am close to the evil that they want to protect. So, on some level these threats are helpful. I'm used to them. They're part of me.
We moved to North Carolina two months ago. From the beginning, people began to recognize who I was and started making threats (most recognize me from organizing the rally before the July 7, 2016 police shooting in Dallas/and the subsequent media firestorm that followed and some from knowledge of my more recent work). Now, things have escalated. This past week, numerous neighbors started posting pictures of our house and our address…with the implicit encouragement (from both comments and from the original poster) to, "Get the trash out of Ashe County." Not long after that, I realized that our children had been compromised. Good people throughout our community contacted us to warn us that we are at great risk. After realizing that things had escalated beyond just me, I surprised myself by contacting the Sheriff's Department.
Early this morning, I filed a criminal complaint against the woman who was orchestrating all of this evil (responsible for hundreds of implicit/explicit threats on FB). Though I often tolerate threats against me (with the belief that my grace should be endless), I will not tolerate threats against my family. That is my line. Cross it…and there will be consequences.
The darkness remains.
Sleep comes quickly.
In my final moments of luminosity, I hear the sweet words, "Lo, I am with you always…"
Amen.