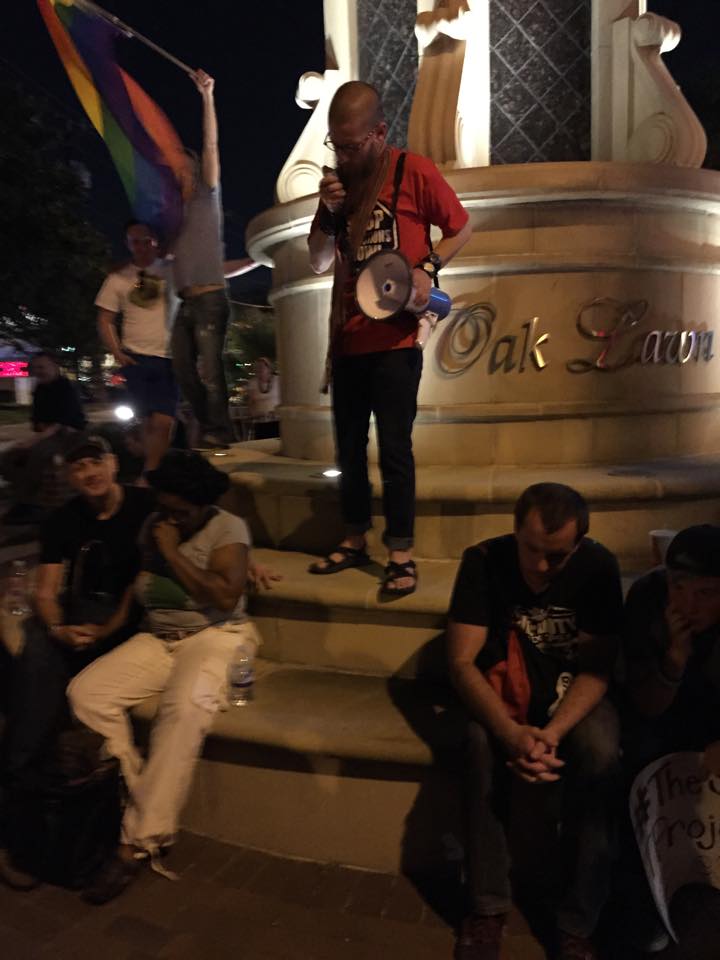 *Prayer given on 10/11/15 at a rally to respond to recent beatings and murders in the Dallas Gayborhood.
Almighty God…you are known by many names and found by many paths…we thank you for your presence with us tonight. Let us first apologize to you and our neighbors. We repent for all the times that we have sat on our asses and done nothing about the violence that has far too often afflicted our community. We repent for supporting and belonging to establishments and institutions that care more about our money than they do our lives. We repent for spending too much time in closets and failing to get out in the streets. Oh God…we repent.
On this day we join together in prayer for that great heavenly crowbar. Wedge that thing between our asses and our seats…push down with all your divine might and eject us from our places of comfort…and into the struggle for liberation. Then oh God we pray that you will take that crowbar over to all the bars and restaurants that line these streets and wedge it between the ass and the seats of all who are comfortable tonight in the midst of such grave injustices. Wake us up. Then I need you to take that crowbar to one more place oh God. The churches that fill up the Gayborhood too often talk about love but do nothing to save lives…oh God we need you to take that crowbar and get underneath the holy asses that line those pews…get them stepping for justice.
Lastly, oh God…I know that you have heard all of the prayers for love and peace tonight…so I won't spend all my time there…but I am going to ask you for something that you gave your son Jesus…rage. Help us to rage against injustice God. We know that you are the God that went into the temple and tore shit up. Help us to tear up injustice oh God. We are far too comfortable and complacent right now God…we need rage. We need to feel like these beatings and murders happened to us or those we love…oh God grant us a fiery rage.
We know that you are the God who is the eternal fire. Keep that eternal fire right up under our asses as we depart tonight. Let it not go out until that day that we see justice.
Hallelujah! and…
Amen.