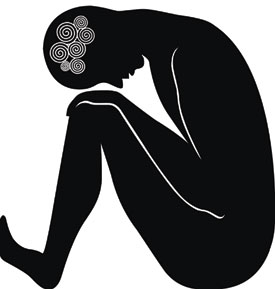 I once spent over $14,000 on books in one month. I sold and spent anything I could get my hands on. I would've done anything to buy more books. In fourth grade, I was paranoid of tornadoes. Day after day, I fought anyone who attempted to force me outside. I once tried to cut down the largest tree in my backyard by ramming it with my car. For multiple early morning hours, I tried over and over. Multiple people threatened to call the police. Throughout my life…in numerous instances and in a variety of ways…I have lost my mind. Those who treat me call it Bipolar Disorder. I call it crazy. Regardless of the terminology, I'm prone to dangerous bouts of mania and paranoia without proper medication. Matthew Ajibade was too.
On New Year's Day 2015 in Savannah, Georgia, Matthew Ajibade lost his mind. When officers arrived to the scene, Ajibade's bloodied girlfriend told them that Ajibade was having a mental breakdown and desperately needed the medication she was giving them. Instead of seeking treatment, the officers took Ajibade to the Chatham County Jail. During the booking process, Ajibade remained combative and broke the nose of a Chatham County Sheriff's Deputy. As payback, deputies beat the shit out of Ajibade and placed him in an isolation cell. Once Ajibade was compliant and strapped to a restraint chair, deputies took a Taser, pressed it to his genitals and shocked him with 50,000 volts. For multiple hours, no one monitored or checked on Ajibade. Around 1:38am, deputies discovered Matthew Ajibade dead. The Chatham County Coroner ruled the death a homicide by blunt force trauma. Though nine deputies were eventually fired and three deputies were found guilty of midlevel criminal offenses, justice wasn't served. The Chatham County Sheriff's Department tortured Matthew Ajibade to death. The Dallas County Sheriff's Department acted similarly with Joseph Hutcheson.
On August 1, 2015, Joseph Hutcheson was mentally ill suffering paranoia and on drugs. Hutcheson lost his mind. Desperate for help, Joseph Hutcheson parked his truck on the curb of the Lew Sterrett Justice Center in Dallas, Texas and ran inside. Upon entering, Hutcheson screamed, "Don't hurt me, I just need some help." Deputies tackled him. As Hutcheson screamed that he couldn't breathe, a witness described one deputy restraining Hutcheson with "a knee on his back" and another deputy restraining him "with a knee on his throat." Hutcheson's face turned from white to blue. Around 11:30am, Hutcheson was pronounced dead. The Dallas County Medical Examiner ruled the death a homicide. No one involved has faced any repercussions over the incident. The Dallas County Sheriff's Department tortured and choked the life out of Joseph Hutcheson.
Forget overseas, the terrorists are right here and they target the least of these. Law enforcement continues to torture and kill those who lose their minds and are in desperate need of help. I suffer from Bipolar Disorder just like Matthew Ajibade. When I'm off my medicine, I experience paranoia just like Joseph Hutcheson. What happens if I lose my mind again? Will I be the next one murdered?
Amen.