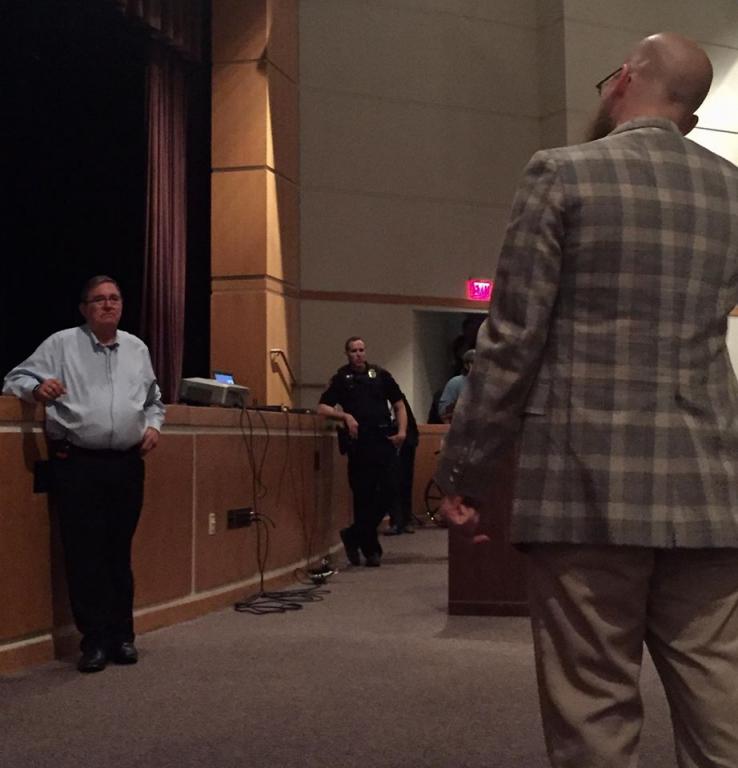 *From Congressman Michael Burgess' Townhall at Denton High School in Denton, Texas on 06/18/2018
JH (Jeff Hood): Dr. Burgess my name is Reverend Dr. Jeff Hood I'm a theologian and an activist here in North Texas.
CB (Congressman Burgess): I'm familiar with your work.
JH: I want to begin by saying that I am very angry at you right now. I find the things that I hear from you in the media to be absolutely disgusting…instead of as a critic…I am here primarily as a follower of Jesus Christ. I believe with all of my heart that Mary, Joseph and Jesus sought asylum in Egypt and I feel in this moment…and it's breaking my heart…and I know you're to come back at me with some righteous explanation…but it bothers me to think that Mary, Joseph and Jesus would be ripped apart at our border.
[Applause]
CB: …forever not to seeking asylum
JH: hold on…hold on Congressman
…when we talk about loving our neighbors as we love ourselves…loving the marginalized…loving the oppressed…loving the stranger. Dr. Burgess I want you to have an opportunity to respond…because there's so many times where I disagree with you…again with all of my heart…but I want you to have the opportunity to be a witness to your faith the faith…that you constantly talk about…I want you to talk to this crowd…I want you to talk to these cameras…tell them Dr. Burgess…at what point are you going to stop claiming Jesus and start acting…voting…and doing Jesus.
[Applause]
CB: You know this problem did not just start this week or this month…it has been going on for several years. I don't recall hearing this passion from you at a town hall in 2011…when the same problem was going on.
JH: With all due respect Congressman, this is a town hall…where I question you…not you question me. I asked you a question Congressman. And sir and sir…I think it is again disgusting and despicable to tell me that in 2011 I didn't care about immigration. I've been caring about the gospel of Jesus Christ the entire time I'm asking you if you care about the gospel of Jesus Christ.
CB: well the answer to your question is yes…good we'll move on.
JH: I look forward to seeing it Congressman. I look forward to seeing it and let me say it one more time…
I look forward to seeing it!
[Applause]
CB: [Side eye]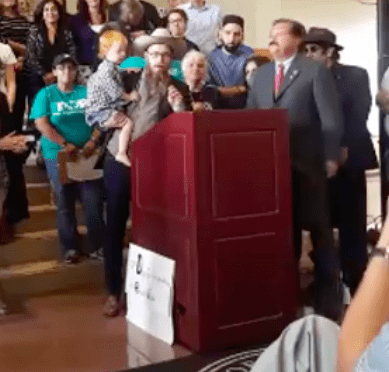 *From a Press Conference Fighting Family Separation at Dallas City Hall in Dallas, Texas on 06/20/2018 // while holding my daughter Madeleine
Good afternoon. I arise this day to engage you with a story.   I want you to imagine a child in Guatemala…starting off with their parents on a very treacherous journey…traveling with all of these towns and cities that are often more treacherous than the towns and cities that they left. Facing danger every hour. Imagine this family crossing the border. Imagine that child being ripped from the arms of their parents. And lastly, I want you to imagine that that child is white. You see…we don't have this going on our northern border. We seem to have a bunch of white folks who don't care about this issue…who seem to be comfortable sitting in their living rooms watching these images and shows…you constantly hear them saying, "Well..they shouldn't have come across the border." Let me tell you something…I am ready for the white people in this nation and in this city to step across the border of hate and stand with all people. Let me make it plain… If Jesus crossed our border…he would be put in a detention facility. I want to let all the Christians out there who think they know Jesus… If you haven't been down to the border…you don't know a damn thing.
Amen.