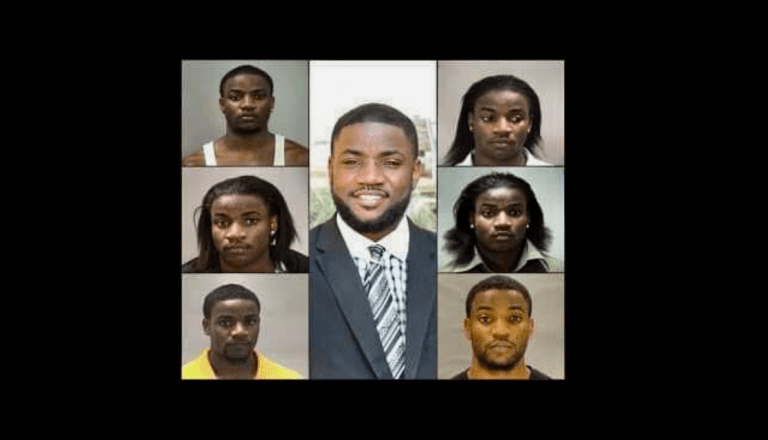 The Movement.
The energy.  The sounds.  The passion.  The unity.
That was then…this is now.
CARL GOVAN
(In Prison)
October 2017
…prosecutors say Govan and his associates pulled off one of the largest known home scams in Dallas County in recent years, ripping off homeowners and buyers on as many as 46 properties. The alleged scammers took at least $320,000 from victims and were about to close on another $223,500 worth of deals when police intervened in 2016, according to a Dallas Morning News review of deed records and court documents.
-Naomi Martin, DMN
https://www.dallasnews.com/news/dallas/2017/10/06/dozens-southern-dallas-swindled-homes-governments-nose
DOMINIQUE ALEXANDER
(Under Investigation & Indictment)
April 17, 2019
Dallas police are investigating a domestic violence allegation against activist Dominique Alexander who leads the Next Generation Action Network.
WFAA first reported the incident Wednesday morning after multiple sources confirmed his girlfriend showed up at the Northwest Patrol Division with injuries and filed a complaint.
…
Alexander was convicted of shaking a 2-year-old baby in 2011. He was sentenced to five years but released on probation shortly after his sentencing.
Alexander has also been convicted of theft, making a false report and evading arrest. He's also currently under indictment in Denton County for felony theft.
-Rebecca Lopez, WFAA
https://www.wfaa.com/article/news/local/activist-dominique-alexander-under-investigation-for-domestic-violence/287-510d25c2-f6f4-4dee-8da5-76e88c61bfac
DOMESTIC VIOLENCE SURVIVORS IN MOVEMENT
Over the past few years…
(Some in Jail)
"He rapped me."
"He kicked me down the steps."
"I was in the hospital for days."
"The shelter wasn't too bad."
"Nobody would let me call the police."
VARIOUS LEADERS
In recent months…
"I ain't messing with no fucking Transgenders…"
"It's the man's business…"
"Some people deserve to be hit."
"I'm going to get mine…"
"I got them protestors eating out of the palm of my damn hand."
"I don't give a shit about nobody really."
… and just recently
KEISHA NIXON-POPE
(In Jail)
August 5, 2019
Keisha Nixon (-Pope), 47, is being held in the Dallas County jail on a charge of aggravated assault. Her bail is set at $50,000.
…
He told police that he and his wife were arguing in their master bedroom and that she shot him with a gun he had never seen before. He said she shot him in the stomach and he fell to the floor, the warrant said.
"The victim then stated he heard his wife state to him, 'You're going to die right here,' and removed his wallet and cell phone from him," the warrant said.
He told investigators his stepson then came into the room with a black tool bag and began hitting him in the back and the back of the head. He told police he laid on the floor for a long time before he got enough strength to try to flee.
The victim told police he knew he had to get out of the house to avoid being killed so he ran toward the balcony and that as he did so, he heard his stepson yell, the warrant said.
"Mama, don't let him get away," Cleveland Nixon said he heard his stepson yell.
Cleveland Nixon told investigators he heard more shots being fired as he jumped about 30 feet to the patio below.
– Tanya Eiserer, WFAA
https://www.wfaa.com/article/news/crime/youre-going-to-die-right-here-woman-told-estranged-husband-after-shooting-him/287-b38a173b-3d24-44cb-b102-1b2d4301b9d7
* While complex, this case speaks to the level of violence that has constantly surrounded all of us. Something tragic happens every week.
ACTUALLY, THERE ARE TOO MANY CASES TO LIST THEM ALL.
The Dallas Movement has followed the path of its' leader…arrests and violence have become the norm.
This ain't about the cops…this is about us.
We have fought injustice on the outside and failed to fight injustice on the inside.
We have destroyed what we have fought so hard for…by following the lead of criminals and not the stirrings of God in our souls.
We are dead…
…but I don't believe in death without resurrection.
May our reckoning also be our rising.
Amen.