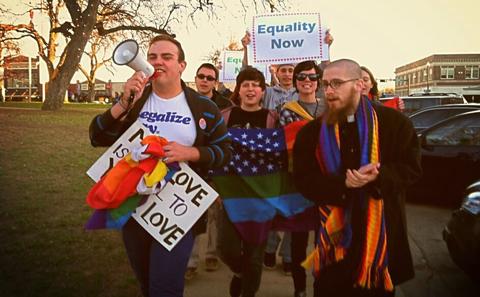 The end is near.  The writing is on the wall.  The courts are ruling in favor of marriage equality one after the other all over our county.  So what happens when marriage is just marriage?  I think there is something to be found both in the struggle and at the end of the road when the rights have been secured and the victory won…a mandate for all of us to champion love.
There is an older lady I have known who was married to another woman for a long time.  One spouse died and the widow grieved.  About a year later, the widow met a man and fell in love.  The two married.  I grew confused by the turn of events.  I approached the woman and asked, "How do you identify?"  I will never forget her reply, "Young man, when you get to be my age you learn to just identify with love."
There is a danger in forgetting that love is love.  It takes us to a place where love must identify its kind and sort in order to have meaning or value.  The struggle for marriage equality should be one that strengthens all loves and marriages.  There should never be a time one love is elevated or lowered over or under any other love.
In October, I performed the wedding of two women.  I will never forget how awkward it sounded when anyone at the wedding used the phrases same-sex wedding or gay marriage.  For most gathered, the celebration was a beautiful wedding for two people who are madly in love and deeply committed.  For the couple and their close friends that was enough…it should be for us too.
Let us prepare for this coming day where love is love by preparing our language for it now.  Perhaps instead of gay and same-sex marriage we can use the language of marriage equality and equal marriage.  This language seems to liberate us from a space of needing identity to qualify love…and gives language to describe where our hearts so often yearn to be…that queer and holy space where love is indeed love.
Amen.