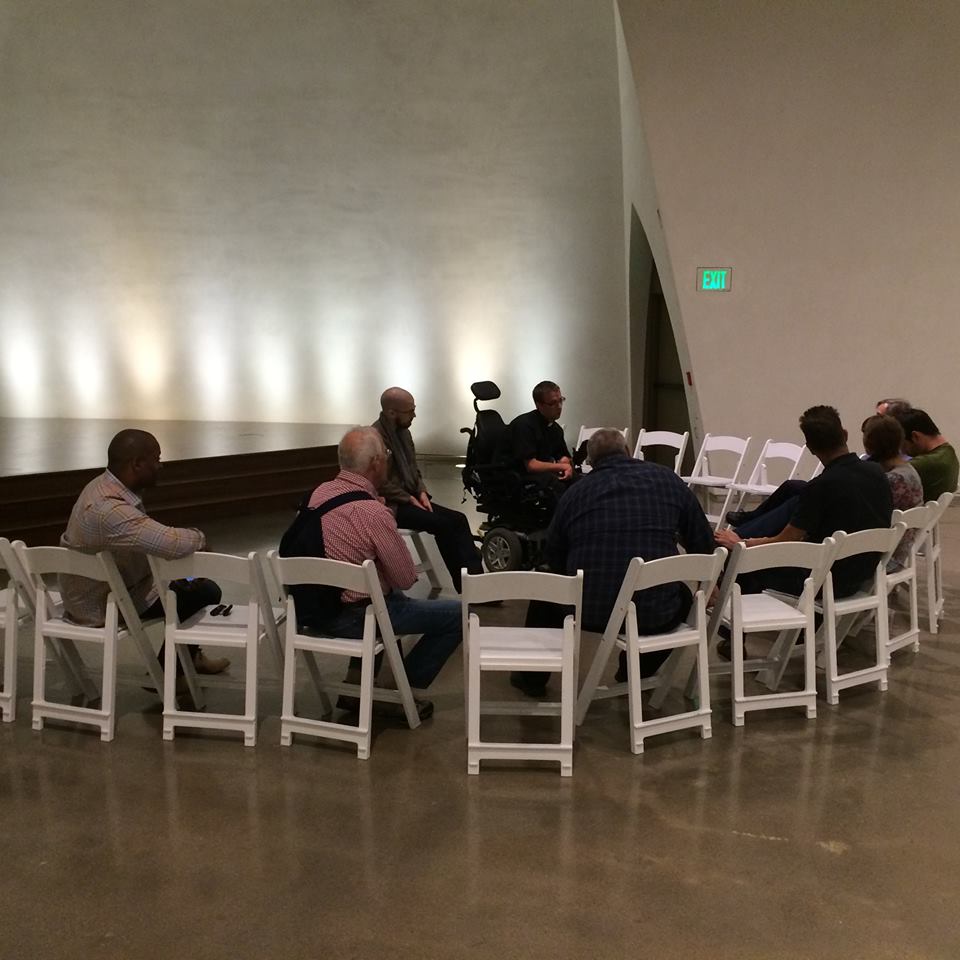 "I can't preach in your pulpit," United Methodist Rev. Justin Hancock informed the small audience at the Cathedral of Hope United Church of Christ. Everyone looked around stunned, until someone finally gathered the nerve to ask, "What do you mean?" "Your pulpit is not accessible to persons in wheelchairs," Hancock poignantly replied. Ours is a congregation that takes pride in being a welcoming space for all people. Founded in 1970, the Cathedral of Hope UCC is the largest LGBT church in the world. Regardless of such platitudes, Rev. Hancock helped us to understand that his inability to preach in our pulpit has nothing to do with his ability or theology and everything to do with the fact that he has a form of cerebral palsy that leaves him confined to a wheelchair. To say that this was a convicting moment for the gathered is an understatement, but the worst was yet to come.
Through description of going on job interviews at numerous churches all over Texas, Rev. Hancock spoke of another tragedy. In congregation after congregation, hiring committees expressed tremendous confidence in Hancock. Time after time in place after place, the call would inevitably come: "Rev. Hancock you are a tremendously talented and were a inspiration to us in the interview, we just don't see how you would connect to the people of our church." People of faith constantly express an idealized belief that the call of God is what qualifies someone for ministry. The truth is that we don't live this out. Physical characteristics beyond someone's control disqualify people all the time. Under an exemption from the Americans with Disabilities Act and a recent US Supreme Court decision, religious communities have the right to discriminate against persons with disabilities.
Pushing further, Rev. Hancock challenged us to think about what it would mean for us to truly open our communities and hearts. "Each time I enter your space of worship and see row after row of pews, I know that you don't really want all of me in your congregation. You want me to sit in the space that you have carved out for me and stay in my place," Hancock asserted. I began to realize just how much we demand that people with disabilities stay in the spaces that we allow for them. Most churches are not ready to include anyone with disabilities that cannot be easily accommodated and controlled. Oppression is always about control. Rev. Hancock also pushed us to expand our definition of disability. From mental illness to narcolepsy to HIV/AIDS, Hancock reminded us that people who are disabled are not always confined to wheelchairs and concluded with, "How can you truly be inclusive of all of God's children?"
Disability is a category that most of us fail to include in our calculations of inclusion. What causes us to hesitate? I believe that we are afraid of the expansion of our minds and hearts. If we expand, we will inevitably have to change. With change, comes the requirements of newly realized responsibility. In living out our responsibility to the oppressed, we will discover the loving God that created all of us in God's image. Now is the time to do right by our disabled friends. Now is the time for our repentance and transformation into true practitioners of God's inclusive love.
Amen.